One of my favorite past-times when it comes to video production is to look for inspiration in various places (art, cartoons, video games, movies, etc.). This time I find it in a little known film from the 1980s starring two of the era's biggest stars.
9 1/2 Weeks (imdb) may well be one of the least understood — or at least, under-appreciated — films of the 80's. That could probably be said of its director too.
That's unfortunate on both counts. This is a gem that featured two then megastars at the peak of their careers. Mickey Rourke and Kim Basinger deliver knock-out performances. With lesser talent, surely 9 1/2 Weeks might come off as parody or poor satire. Their movie star looks surely helped, as did some pitch perfect chemistry.
Adrian Lyne gave us some of that decade's finest adult dramas, including Fatal Attraction (1987) and Jacob's Ladder (1990). The jury, however, is still out on Flashdance (1983). A shame that he doesn't seem to be getting the recognition he deserves. Maybe that will change over time.
The problem with the box office performance of this forgotten gem might have to do with its marketing. It comes across as soft-porn (though, by today's standards it's extremely lightweight). On the surface, John and Elizabeth are just another couple in a doomed short-term relationship. In just a few months things go from basic romantic courtship to outright strange — sex games, power plays, domination, etc. But upon repeated viewings (I think the film holds up extremely well, even some thirty years later), there is a lot more going on here. Perhaps the most powerful scenes are when nothing is being said. Like, for instance, when Kim Basinger's character is staring across the room a an aging artist who is frail and sick, and appearing at odds with his work and people around him during an art exhibition.
Yes, this is not exactly Bergman or Hitchcock. But there are interesting themes running below the surface. John is a sophisticated banker. Elizabeth's runs a local art gallery. Could what we witness also be a reference to capitalism vs the arts (or socialism)? Maybe. Maybe not. Nevertheless I think there's more here than just a couple going through the ups and downs of dating.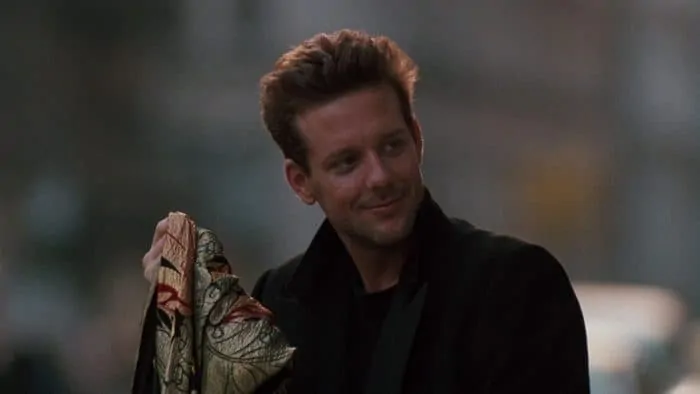 Then there's the music.
Ah, the 80's. It's triumphant. Impeccably matched throughout. Basinger's strip tease to Joe Cocker's "You Can Leave Your Hat On" is likely the most iconic example. There's other good stuff in there too from the likes of Luba, John Taylor (of Duran Duran), Devo (!), Eurythmics (the terrific "This City Never Sleeps") and, even, Canadian pop star Corey "Sunglasses at Night" Hart ("Eurasian Eyes").
But with all those fine ingredients — top notch director, superb performances by Rourke and Basinger, and memorable soundtrack — my favorite part of 9 1/2 weeks, and one of the reasons, I like re-watching it every few years, is… the atmosphere.
If you're like me, you like films with mood. Alien. Bladerunner. The Godfather. There Will Be Blood. Black Swan. Eraserhead. All of them have unforgettable atmosphere and art direction. Sets, music, costumes have something to do with that. Though I'm guessing the singular vision of a driven director — auteur! — is the most compelling explanation for why these movies have such amazing visuals.
50 Shades of Grey? Pfft.
All to say, I like trying to incorporate style and elements from my favorite movies. And, strangely enough, 9 1/2 Weeks, is one of them. Here's two videos I shot recently where I tried to channel some of that mood and feeling.
Wrong's What I Do Best
Shot at the San Francisco Art Institute for the opening of "Wrong's What I Do Best" exhibition. Some of the interior shots were almost color-less, and appeared de-saturated. It reminds me of scenes from 9 1/2 Weeks particularly the final one when the couple is breaking up. Simple, eloquent grey tones. Then there's the artist. In one scene in the video below she's talking and everyone listening is in a circle some 10 ft. or so away. I just found that interesting. And this video has many, many meanings for me personally.
Sausalito Art Festival
This one is just a lark. I grabbed a Canon T6s camera, and followed Loni Stark to the Sausalito Art Festival. I decided to de-saturate the opening and boost the grain to try to simulate the opening of 9 1/2 Weeks when Kim Basinger is walking through the streets of New York. Later, at the actual festival, the color is back.
Of course both of my efforts are missing a key ingredient: sex. (sorry about that)