I'm sure I'm not alone when I humbly suggest that some of today's most interesting wines and wine bargains come from a place called Livermore.
Sure, it's not Napa or Sonoma. And that's largely the point. Livermore is inland, located about 45 minutes north of Silicon Valley (up 680 North) on the way to Sacramento, or to Northern California wine country. Do some quick Googling, and you might be surprised to learn that much of the region's wine history started right here, in Livermore. Wente planted the first Chardonnay grapes here. Concannon is now in the hands of John Concannon, a fifth generation vintner.
My pick today comes from the place that still feels like old school country farmland:
Murrieta's Well "The Whip"
The Whip is a white blend. Just about every major white grape is here, save for Riesling: Semillon (29%), Chardonnay (27%), Sauvignon Blanc (18%), Orange Muscat (12%), Muscat Canelli (8%), and a dash of Viognier (6%).
In my books, this is a quintessential summer wine.
It's fresh, crisp, easy drinking. As I learned over the weekend in a tough round of in-depth testing and food pairing exercises, The Whip pairs well with all sorts of casual foods: BBQ pizza fresh off the stone, mixed nuts, cheeses and crackers, and various fruits.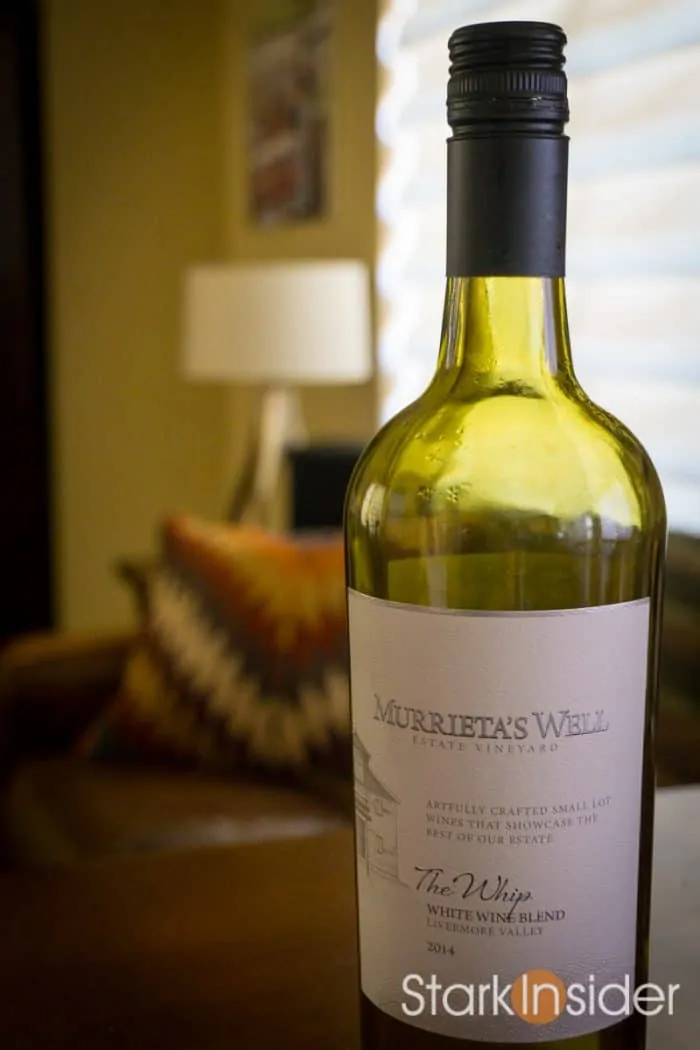 The hint of Orange Muscat gives this wine a unique flavor profile — you get a bit of zing, but, thankfully, avoid the over sweetness you might find in a wine that might otherwise lack the balance found here. Good stuff!
I admit it, I love myself a glass of Chardonnay. But in the summer months, with the heat, I prefer something lighter bodied. And this one fits the bill indeed.
Murrieta's Well has re-opened once again after a round of renovation. I suspect that's why they recently sent Stark Insider a few bottles (including "The Spur" red wine blend). "The Whip" retails for only $24. A perfect match for a poolside party, or casual get together with friends for whatever the occasion (life?).
Ah, Livermore. You really do know how to show us a good time.
Murrieta's Well

2014 The Whip White Wine Blend

260 barrels produced
13.5% alc.
30% French oak / 70% stainless steel
Released December 2015
Winemaker: Robbie Meyer
$24
Highly recommended