In the market for a new camera for shooting videos?
Whether you're researching and shopping for yourself, or as a gift for a loved one, I have some good news and some bad news.
The good: there's an amazing number of quality cameras out there that shoot superb video, and don't cost an arm and a leg.
That downside?
It's hard to navigate the seemingly endless sea of choice. Which camera to buy?
I've been shooting video using mirrorless and DSLR cameras for over 10 years for this web site, Stark Insider. For 2016, I decided to update my top 5 cameras list. These are cameras I've either owned, rented, or borrowed (ah, friends!). To make this list I must have shot at least one complete video using the camera. Out of all the cameras out there — Nikon, Sony, Canon, Panasonic, Olympus, Blackmagic, Leica — these are my top 5 favorites. If I were buying my first DSLR or mirrorless with the primary goal of shooting videos, and sharing them on YouTube, Facebook and Vimeo, I'd look closely at buying one of these five cameras.
As always, a quick caveat: Without getting too preachy, I'd urge you to remember these are just tools. All of these cameras are fantastic. But, at the end of the day, none of them will make us the next Spielberg.
A tool is a tool. The right one can help, of course. Everything else though is ultimately far more important: composition, audio, story, lighting, etc. Just something to keep in mind. Don't pixel peep. Buy a camera, get out there and shoot some videos.
These are mid-range choices, ranging from about $500 up to $1,600 (USD). All of them highly recommended.
Enjoy the process, shoot as much as you can and learn as you go!
Clint's Top 5: Best DSLR and Mirrorless Cameras for Shooting Video (2016)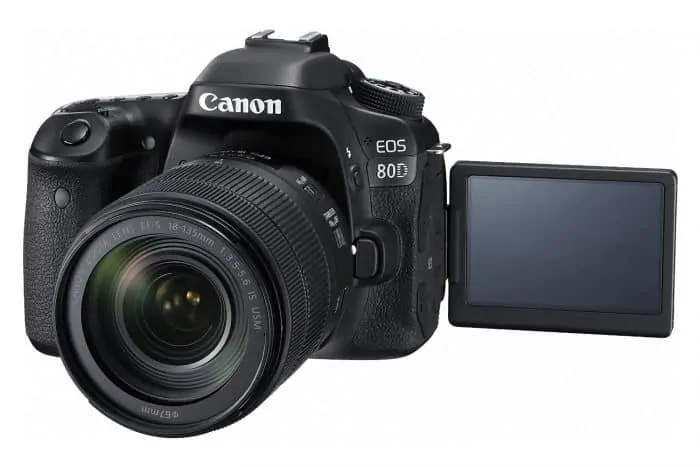 Buy: Amazon
Sensor: 24MP APS-C
Best Feature: Canon's Dual Pixel AF for continuous auto-focus and subject tracking while recording video
A great all-rounder, Canon updated the venerable 70D (still a great camera if you can find a deal) with the beefed up EOS 80D. A new sensor, upgraded processor and improved viewfinder, in particular, make this update pretty sweet. As always, Canon's build quality is top notch. All the buttons and dials are in the right place, falling ready to hand and fingers. Image quality – very impressive. Batteries go forever. Memory is standard microSD cards which are very affordable. And the touchscreen makes navigating menus and focusing a real treat.
Here's a two-cam shoot where I used the 80D as a b-cam alongside the Canon C100:
WATCH: "Opera!" Shot on Canon C100 & EOS 80D
One nit: no 4K video here. Still, if you deliver to YouTube and social media, this shouldn't be a big deal at all.
I've shot on DSLR for over 10 years (T2i, 60D, 70D, and now 80D), and the 80D is my #1 pick for best all-around camera for shooting video. Highly recommended.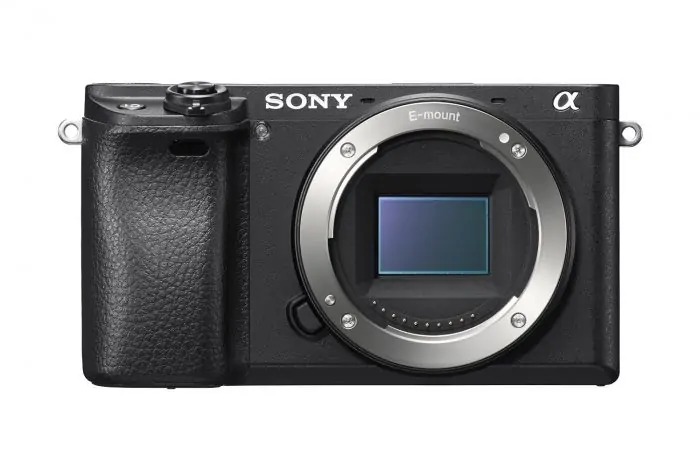 Buy: Amazon
Sensor: 24.2MP APS-C
Best Feature: 4K video with pro tools including focus peaking, histogram, zebras, plus option to shoot in S-Log3 log mode
There's a reason why a lot of shooters are leaving Canon and Nikon behind and jumping on board the Sony train. This mid-range Alpha a6300 mirrorless camera is the perfect proof point. Compact, yet retaining a APS-C sensor, the Sony a6300 offers up an interchangeable lens mount (Sony's e-mount), 4K video recording, pro-level video tools (focus peaking, histogram), and outstanding image quality. Out of all the vendors, Sony appears to be the one offering the most innovation. I won the predecessor, the a6000, and love it. It's so small that it can easily go with me on just about all occasions. The same can't be said for the much larger 80D (above). Something to keep in mind when choosing your next camera. A fantastic camera that will last for years to come.
DPReview awarded the Sony a6300 a Gold Award (85% score), high praise indeed. If I wasn't so invested in Canon glass and accessories, I would strongly consider building out my kit around Sony. Likely I'd start with the a6300, add an A7S of some sort, and also either a Sony FS5 or FS7 cinema camera. It would be a penultimate set-up.
Quick tip regarding the a6300: the kit lens is decent enough, but for any serious work consider a Sony prime.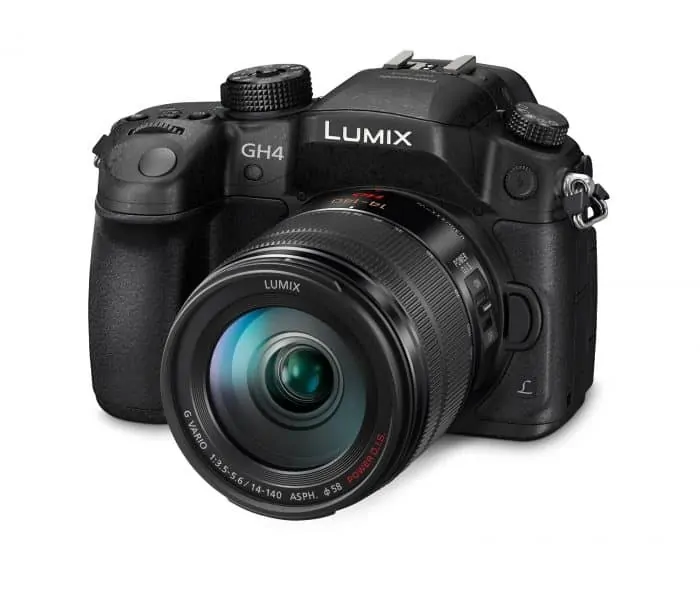 Buy: Amazon
Best Feature: Outstanding 4K video, with razor sharp definition, and superb controls
An enthusiast favor. Check forums and you'll find a passionate community of enthusiasts and filmmakers alike who adore the Panasonic Lumix GH4. It's the real deal. The fact that you can tap into this community should not go unnoticed — there's much to learn thanks to the willingness of others to share their tips, and advice for shooting with the GH4. Smaller than the 80D, but slightly bigger than the a6300, the GH4 feels great in the hand. If you put a DSLR in the dryer for an hour, it might come out shrunken down, and looking like this Lumix (note: please don't attempt!).
Superb 4K video. Plenty of video tools. Outstanding optics. The body is weather sealed, auto-focus is accomplished via a snappy 49-point system. What's not to like about this mid-range hybrid? Another winner.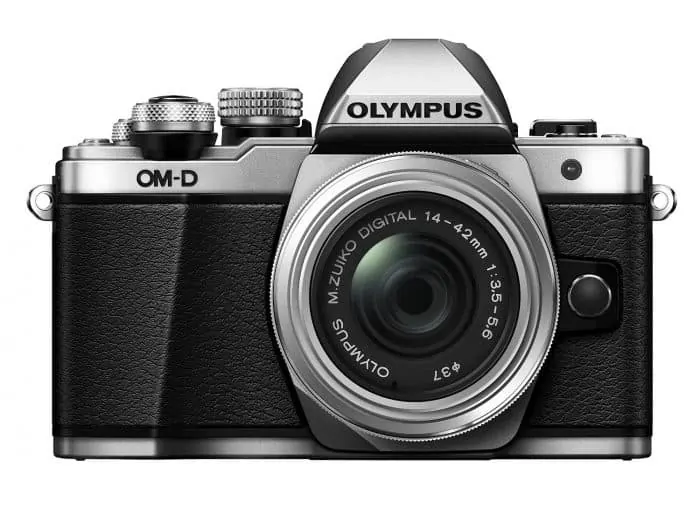 Buy: Amazon
Sensor: 16MP Micro Four Thirds (MFT)
Best Feature: In-body 5-axis image stabilization helps produce buttery smooth video footage
Look at this thing (above)! The Olympus OM-D E-M10 Mark II (a mouthful to be sure) would handily win any camera beauty contest. It's a gorgeous mix of retro-Vietnam journalist mixed together with contemporary design and build quality. It's truly magnificent to behold. Thankfully, the looks are more than just a superficial act by Olympus. This is a superb camera — and I'd suggest the best bang-for-the-buck on this list.
There's a few special traits with the E-M10 II worth pointing out. First, this is one of the few cameras to offer in-body image stabilization. In this case, it's a 5-axis system. That means you can expect steady and smooth video, without needing to invest in an expensive after-market stabilizer (gimbal, for example). It works amazingly well. Also, I appreciate "silent mode" on this camera. Perfect for shooting photos in museums or other locations that require discretion.
I also like what Olympus has done with the control layout. Two dials at the top right fall readily to your fingers, and allow for an amazing latitude of control (ISO, aperture, shutter, etc.) without the need to relocate your hands. Very well done and thought through. If you're budget can't quite stretch to the other cameras on this list, give the Olympus EM-10 II consideration. I think you'll be impressed. Not to mention you'll own one of the most amazing looking cameras ever designed.
Buy: Amazon
Sensor: 16MP Micro Four Thirds (MFT)
Best Feature: That cinematic image!
Once again the Blackmagic Pocket Cinema Camera makes my top five. This is the camera for an aspiring filmmaker. It doesn't take photos. The sole goal of the BMPCC is to produce a killer, cinematic-quality image. And, boy, does it deliver. Know what you're getting into with a camera like this. Far from a point-and-shoot, like other "cinema" grade cameras, this Blackmagic model requires proper attention to exposure, lighting and camera movement. Get all that right, however, and you can easily put these images up on a big screen, or, even, at a movie theater. Don't let the fact that this camera "only" shoots 1080p video dissuade you; the image is organic, features wide dynamic range (for creating soft, beautifully expressive light) and is the closest you'll get to film on this list. I regret selling mine. If you want to challenge yourself, and have interest in things like color grading and indie filmmaking this is an ideal entry point.
Best Tool for the Job?
Again, all of the above cameras are superb, with each boasting unique super powers.
But, if you're still not sure which is best for the job at hand, here's some quick suggestions. Take this as a guideline only, just my thoughts on which camera (tool!) is best suited for a particular task.
Wedding and Events – Lumix GH4
Filmmakers, those wanting to learn about film production – Blackmagic Pocket Cinema Camera, Sony a6300
All-rounder for photos and videos – Canon EOS 80D
Landscape, travel – Sony a6300 (APS-C sensor, 4K)
Documentary – Canon EOS 80D (auto-focus)
Around the home – birthdays, holidays, family events – Canon EOS 80D, Olympus E-M10 II
Sports – Canon EOS 80D (auto-focus), Sony a6300 (4K, fast)
Music Videos – Blackmagic Pocket Cinema Camera, Sony a6300, Lumix GH4
Corporate – Any of them, depending on goals
Top 5 Cameras for Shooting Video: It's a Wrap!
There you have it. Us videographers and filmmaking enthusiasts are living in a golden era of choice.
Clinton's Top 5 DSLR and Mirrorless Cameras for Shooting Video
All of them… winners. Take your pick depending on the task at hand. And then go for it. The rest is up to us: story-telling, personality, plot, purpose, lighting, composition, sound.
I kindly urge you to get a camera, shoot as much as possible. Learn from your mistakes, refine your style. Try to avoid paralysis-analysis and pixel peeping. Really, these are all very special tools that enable us to get the job done, often with spectacular results.
Happy shooting!