San Jose Stage Company is calling their 2016-17 season a "provocative journey."
We can see why.
The theater's 34th season (full line-up and details below) aims to take audiences around the world, with stops in Africa, Ireland, the Middle East, before heading home back to America. Phew. It's looking to be quite the ride.
Obie-winning We Are Proud to Present opens the season. Produced in conjunction with African-American Shakespeare Company (San Francisco) the play explores early 20th century genocide in Namibia, Africa — revealing perhaps that the "past is ever-present." Bay Area artist L. Peter Callender directs.
"This is a play within a play," says Randall King, Artistic Director of San Jose Stage Company. "Partnering with the African-American Shakespeare Company is extremely exciting and somewhat metaphorical as we bring our two companies together to produce this play that is about a theatre company producing a play – revealing our struggles with race, culture and sins of the past. It's the perfect show to kick off our season of bold and compelling collaborations."
Rounding out the 2016-17 season at The Stage: The Night Alive, Disgraced, The Memory Stick, and a TBA summer musical (a SJ Stage tradition).
"This season offers a diverse line-up of powerful stories and strong characters reverberating the truth of today's world," said King. "We want our work to further tolerance, acceptance, and a greater understanding of one another. And this season strikes that chord, taking us on an incredible journey of self-reflection and exploration."
The Stage is one of our favorite places to see a show — no question, Randall King and team produce quality work that often, if not always, belies their operating budget.
For an idea of what to expect should you decide to see a show at SJ Stage (or any of the other wonderful theaters across the San Francisco Bay Area) here's what their amazing Addams Family Musical looked like. Watch as Loni Stark meets the cast and creative team in a BTS video:
And that time Loni got her inner Zombie on thanks to actor Will Springhorn Jr.: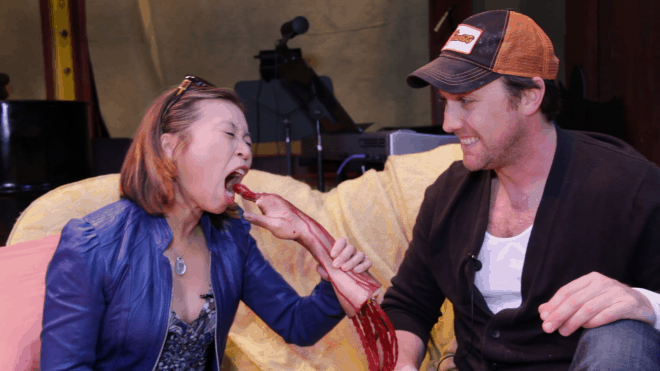 We at Stark Insider are looking forward to another year of innovative productions at SJ Stage.
Hope to see you out there. Please support the arts.
Let the show begin…
Theater & Arts:
San Jose Stage
2016-17 Season

We Are Proud to Present

By Jackie Sibblies Drury
Directed by L. Peter Callender
September 28 – October 23, 2016
Opening Night: Saturday, October 1

In the rehearsal room, a performance piece on a little-known episode of early 20th century genocide in Namibia, Africa takes a jolting turn when the actors – three black and three white – tap into personal resentments and ingrained prejudices. Tensions mount as they expose more of themselves than they ever imagined, unleashing a spiral of conflict as actors unravel strands of history and realize the past is ever-present.

The Night Alive

By Conor McPherson
November 23 – December 18, 2016
Opening Night: Saturday, November 26

Tommy's not a bad man. He's getting by renting a run-down room in his Uncle Maurice's ramshackle Dublin house and doing his best to avoid his wife and kids rolling from one get-rich-quick scheme to the other with his friend Doc. But when he rescues Aimee, a mysterious woman, escape from squalor seems possible. Together there's a glimmer of hope they could make something more of their lives. Something extraordinary, perhaps. With inimitable warmth, humor and heart, Conor McPherson's award-winning play deftly mines humanity found in the most unlikely of situations.

Disgraced

By Ayhad Akhtar
Directed by William Ontiveras
Feb. 8 – March 5, 2017
Opening Night: Saturday, February 11

Can anyone ever truly escape their past? Amir Kapoor is living the American Dream and quickly climbing the corporate ladder at his powerful Manhattan law firm. But when Amir and his wife Emily, an artist inspired by Islamic painting, host a dinner party for friends and colleagues, the pleasant evening quickly erupts into a volatile cultural debate over race, religion, and class in the modern world. This combustible drama is the "emotionally shattering" (Newsday) tale of the stories we tell our friends, the secrets we tell our lovers, and the lies we tell ourselves to find our place in the American Dream.

The Memory Stick

By Donal O'Kelly
April 5 – April 30, 2017
Opening Night: Saturday, April 8

Cultures collide when Bridget, a young Chicagoan, meets a Lakota Sioux and a fellow American from Jersey on an army base in Kandahar, Afghanistan. But it isn't long before they discover they have more in common than expected as secrets are revealed that ultimately turns one of them into a whistleblower suspect. Mystical Native American and Irish history blends magic, politics and realism in this suspenseful examination of the 1916 Easter Rising.

Summer Musical (TBA)

May 31 – July 23, 2017
Opening Night: Saturday, June 3