The Neon Demon premiered in Los Angeles last night, and lots was happening on the red — purple! — carpet, with much of it captured on Facebook Live feeds.
Director Nicolas Winding Refn continues to double down on his quirkiness. Hard to tell if it's an act, but based on an email he sent to Ryan Gosling before the most awkward film panel of all time, it would seem he's the ultimate puppet master, and will push the weirdness envelope to no ends to garner attention.
In that email, he outlined exactly how Gosling should introduce himself and Elle Fanning at the post screening talkback. A key point in the opening would be, repeated in all-caps no less, to refer to Refn as "BRILLIANT".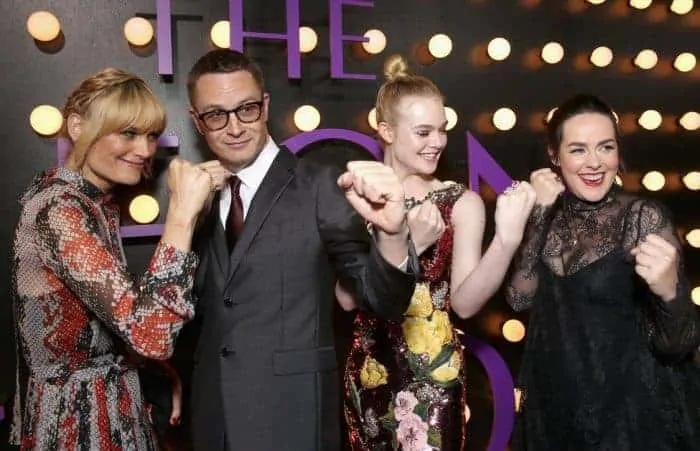 Gosling would read that very email on his iPhone kicking off an excruciatingly awkward panel.
Punctuated by awkward questions ("What's it like being brilliant" and "Does everyone really have a sixteen year old girl inside of him?"), awkward silences (true to a Refn film), and awkward answers ("Yes" and "No").
Then, in an epic moment of creepiness, Refn proceeded to explain, in detail, how he directed Jena Malone and another actress in a scene involving necrophilia. "I asked her if she could produce more saliva on her nipple…" and that sort of thing.
This all the day after — the charming, bubbly, likable — Elle Fanning graduated from high school.
Gosling tried in vain to get the panel on track, "So you're not going to answer the questions you asked me to ask?"
And, the weirdness and awkwardness continued as an L.A. crowd laughed (nervously it seemed) and, more often, sat in silence.
In other words: it was a great panel!
Refn fans will soak it up. Others I'm not so sure.
Like everything else last night at the premiere, the event was streamed using Facebook Live, so you can watch a replace of that most awkward of awkward panels.
Watch: Ryan Gosling moderates Neon Demon panel with Elle Fanning and Nicolas Winding Refn
Oddly, for a filmmaker known for producing stunning visuals (Drive, Only God Forgives), the camerawork is almost unbearable. So much for slick production value here. Nevertheless, if it's all about the feeling, and being in the moment, it surely works.
Great art? Who knows.
All entertaining in a train wreck sort of way. The Neon Demon opens nationwide June 24. And, yes, this probably isn't that last time I'll write about that film, or its auteur maestro NWR.
That's Entertainment!