Works by MacArthur winning playwright Sarah Ruhl get attention, and this west coast premiere of For Peter Pan on her 70th Birthday that just opened at the Berkeley Rep is no exception.
Artistic director Tony Taccone's notes that Ruhl's play "breaks the traditional rules of dramatic structure. A naturalistic story of a family bereavement morphs into a fantastical expression … of faith and wonder." Taccone is right, as usual. The magic in this play is all in that fantastical morphing, which shimmers in its quiet way, infusing the play with lightness and warmth. The catch is you have to wait until the last third to get there.
Ruhl gently probes our take on the illusions of growing up, acting, and gender.
For Peter Pan is a whimsical treatment of growing up, passing for what seems to be grown-up, and getting older. Like other excursions into this material, it begins with a death bed scene, prefaced by a bit of prologue delivered almost like a mystical curtain speech by the elfin Kathleen Chalfant, of House of Cards fame. This prologue sets the tone for unwrapping the mysteries therein.
Adult children, including Ann (played by Chalfant) cluster around the hospital bed of their father George (Ron Crawford). Constricted and restrained, characters mouth platitudes so implausibly hackneyed that the audience is left wondering whether they were delivered ironically. Not until one character urges the dying George "go to the light" with such sincerity, do sectors of the audience break out in laughter.
The wake scene that follows is punctuated by the father's ghost wandering in and out, trailed by his dog. Higher in energy, the scene still seems directionless as the drunken political squabble contained therein.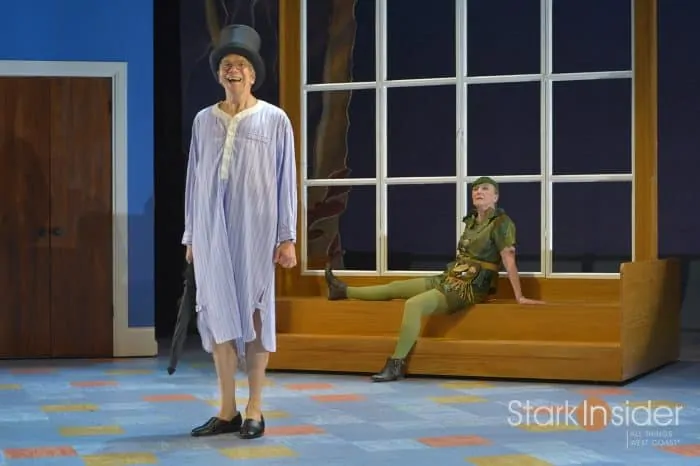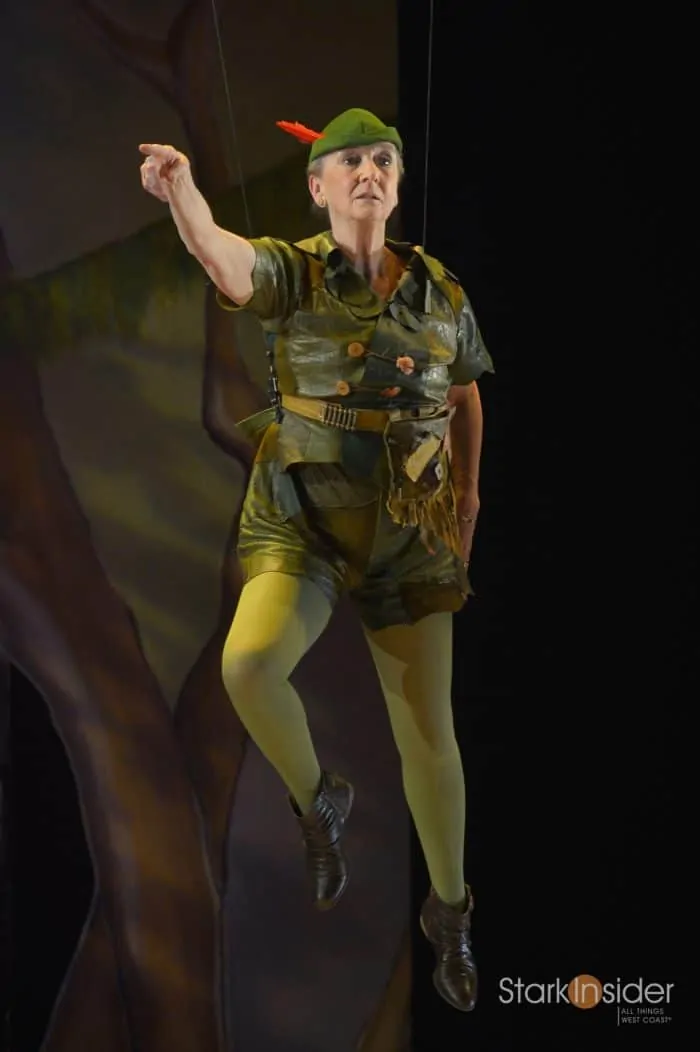 The third scene is higher energy, with the quirkiness of Ruhl's Dead Man's Cell Phone, without the forced quality, as it morphs organically from Ann's dream of a reenactment of Peter Pan, in which her siblings becoming Wendy, Hook, and the Lost Boys. Light and quixotic, this functioned on several levels, returning Chalfant's character to a reprisal her role of Peter, one she enjoyed in a Davenport, Iowa children's theatre in 1955. Tender and poignant at times, Ruhl gently probes our take on the illusions of growing up, acting, and gender.
For Peter Pan is directed by Les Waters, who helmed so many Sarah Ruhl plays. It will be on stage at the Berkeley Rep through July 3rd.
Photos courtesy of Kevin Berne/Berkeley Repertory Theatre