Luiz Valdez's new play Valley of the Heart enjoyed a World Premiere at the San Jose Stage Company. Cy Ashley Webb has the review.
The texts to friends went out as soon as I got home. "Just saw the most astonishing play," I wrote. This review feels like a continuation of those conversations.
Playwright, director, and founder of El Teatro Campesino, Luis Valdez calls Valley of the Heart a memory play.
Part of that memory lies under our parking lots and freeways, reduced  to the Libby's Fruit Cocktail can, soaring on the old Libby's water tower, now stuck in the middle of an office park, a mile or so from the "Cherry Orchard Shopping Center," niggling reminders of what existed here 50 years ago.
As much as Valley of the Heart is about that hazy half-formed memory, it's also about Luis Valdez, who is writing his personal story.
Like the Montaño family onstage, the Valdez family worked for Japanese farmers, who appear here, as the Yamaguchis. Like Valdez's family, the Montaños assumed possession of the farm after their Japanese employers were interned during WWII. Their loss of the farm becomes our loss, writ against our disconnection to the land making up Silicon Valley. Thanks to Valdez' magic, the two losses spin together faster and faster, leaving some in the audience sobbing aloud.
Valley of the Heart is that big: an epic multi-generational story, larger in scope than the Grapes of Wrath, and worth every one of the 180 minutes making up its run time.
The dynamic Lakin Valdez, who recently appeared in Between Riverside and Crazy at ACT, played Benjamin Montaño, who becomes married to the Yamaguchi daughter Teruko, played by Melanie Arii Mah. The story of this couple, separated during the Japanese internment, mirrors that of a friend of Valdez.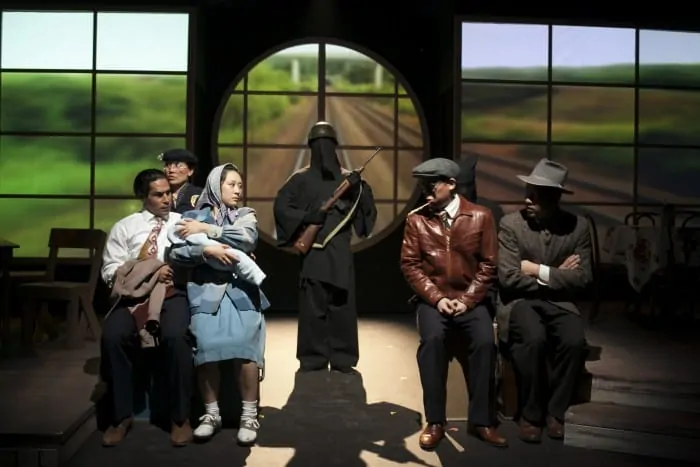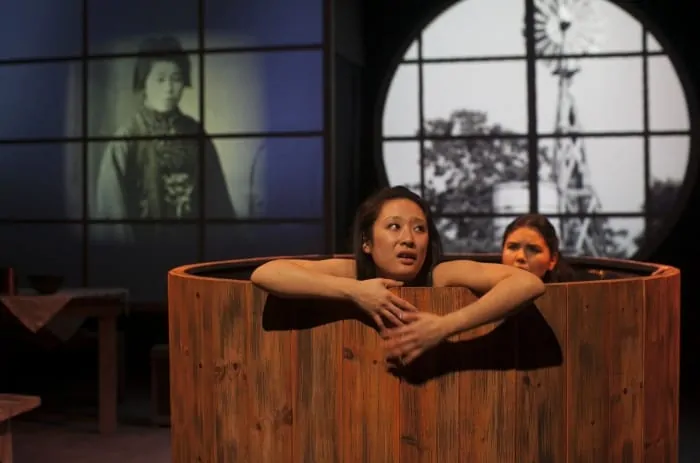 Randall Nakano plays Yamaguchi patriarch, Ichiro, and Gustavo Mellado appears as the head of the Montaño famly, Cayetano, Both play complex men, embroiled in forces larger than themselves.
Christina Chi appears as Hana, Ichiro's wife, and Rosa Maria Escalante, as the Montaño matriarch, Paula, both figures of enormous self control and fortitude.
Valley of the Heart (which has already been extended to March 13th, thanks to record-breaking box office) is the first product of a three year partnership between San Jose Stage and El Teatro Campesino. San Jose Stage has also commissioned a new work by Luis Valdez called Adios Mama Carlota – Empress of Mexico that we will hopefully see soon.