Cy Ashley Webb's 400th theater and arts article for Stark Insider is a review of Between Riverside and Crazy now playing at the A.C.T. in San Francisco.
Riverside Drive: home to everyone from the Oscar Madison to Liz Lemon, George Gershwin to Robert Oppenheimer. Even smart boy Paul Krugman supposedly shelled out some of his Nobel Prize bucks for new digs on this street. However, none of them had what Walter "Pops" Washington had: a rent controlled apartment.
Making this all about a rent controlled apartment would be too simple though – and nothing's simple about Pops, brilliantly played by Carl Lumbly. Part of Lumbly's magic is the complexity he brings to his characters. Here he gives a fierce vitality to this aging ex-cop, widower, and alcoholic who admits that he might have lied about white cop calling him nigger – before the cop blasted him through the nuts. On the face of it, there's not a lot to like here – but Lumbly makes him a hero.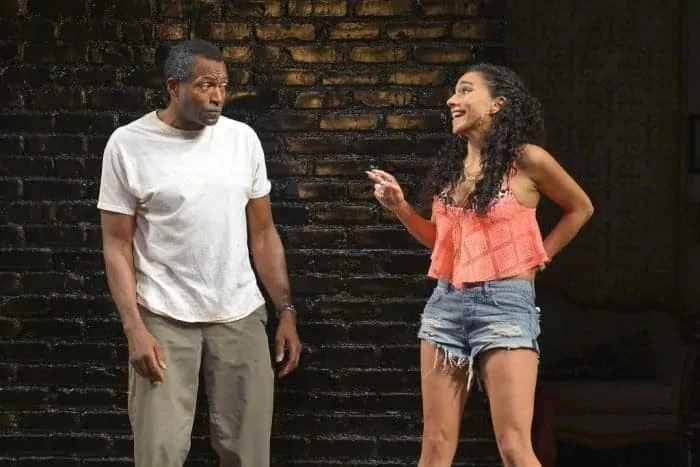 This vitality is on display for son Junior (Samuel Ray Gates), Junior's girlfriend Lulu (Elia Monte-Brown), and Oswaldo (Lakin Valdez), a dubious friend of Junior's, all of whom share the roof. I confess, I cringed a little during the first few moments, before realizing that what looked like overacting was really Oswaldo just being a doofus. Together they form part of Pops' world.
The only Caucasians in the play, Detective Audrey O'Connor (Stacy Ross) and Lieutenant Dave Caro (Gabriel Marin), enter into this world, but not as residents. They're here to convince Pops to do something. Like others outside his world, they want him to act: drop the lawsuit, deal with the eviction… they're part of the forces that swirl just off stage. His ex-partner O'Connor tries to leverage her limited familiarity – a familiarity that Caro, who is not entirely unsympathetic, lacks.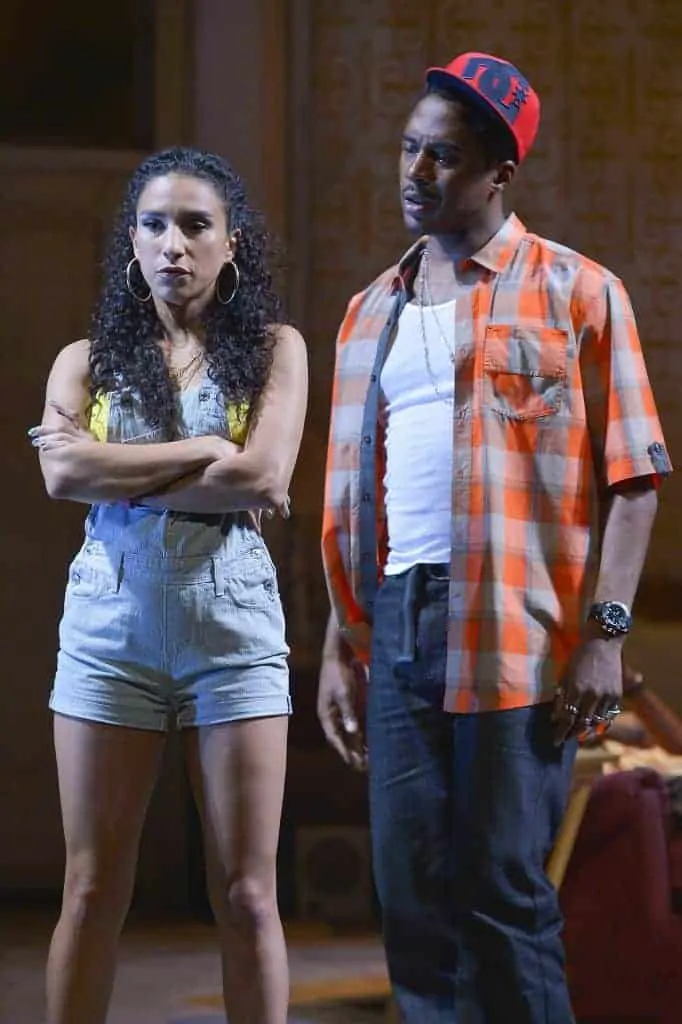 These actors completely fill these roles. Even Marin's Dave Caro, the outsider, makes you ponder how much he's revealing at any one time. This tension keeps the play buzzing all the way through.
This play reminded me of Trees, which was on stage at the San Francisco Playhouse earlier this year. In that play, Lumbly played Leo, adult son of an aging mother whose dementia controls the roost. Here, there's a vaguely similar dynamic at work, with Lumbly playing the damaged parent.
Between Riverside and Crazy is in my top five thus far for 2015.
Christopher Barreca's set of the faded, cluttered Riverside Drive apartment was note perfect, down to the white microwave that probably looked real modern in its day.
Director Irene Lewis paced this two hour and fifteen minute (one intermission) play beautifully, slowly exploring the family dynamic in the first act, before letting the second act take you places you wouldn't imagine when Catherine Castellanos poses as a Church Lady visiting Pops.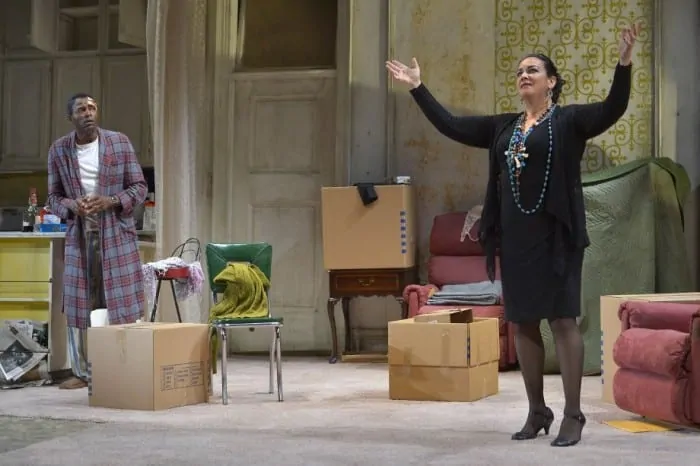 Reviewers have been calling Between Riverside and Crazy an urban dramedy, which is a good characterization of this play. If you're a recovering New Yorker, you'll love this play even more. It might even make you a wee bit homesick for the days when characterizations of the mayor as "that pretentious Guinea windbag" filled the air, and race was described in terms of "black, white, and green."
Between Riverside and Crazy is in my top five thus far for 2015.
Photos: Kevin Berne