Ilana Walder-Biesanz reviews 'A Gentleman's Guide to Love & Murder', the Tony award-winning musical now playing the SHN Golden Gate Theatre in San Francisco.
It's easy to see why A Gentleman's Guide to Love & Murder won the 2014 Tony Award for Best New Musical. Steven Lutvak's score is full of upbeat tunes in old-fashioned musical comedy style. Legit singing and a death-filled plot do not a serious show make; this is froth through and through. It's a fun few hours that race by, as long as the only emotion you're hoping for is amusement.
The opening number, "A Warning to the Audience," tells the faint of heart to leave the theater at once, as a grisly tale of murder and revenge is in store. Admire the cleverly rhymed lyrics, but don't heed the warning; any darkness here is too comically overblown to inspire horror. The prologue out of the way, we quickly learn that the penniless Monty Navarro is actually the son of a disinherited heir of the prominent D'Ysquith family and eighth in line to an Earldom!
Between his desperate financial straights and his gold-digging crush Sibella, it's easy to see what's coming next. Monty murders his way to his title, make opportune use of tall towers, perilous ice, treacherous wood, angry bees, and heavy dumbbells. Thanks to actor Kevin Massey's earnest, young face and clear voice, he is, as everyone repeatedly sings, "The Last One You'd Expect."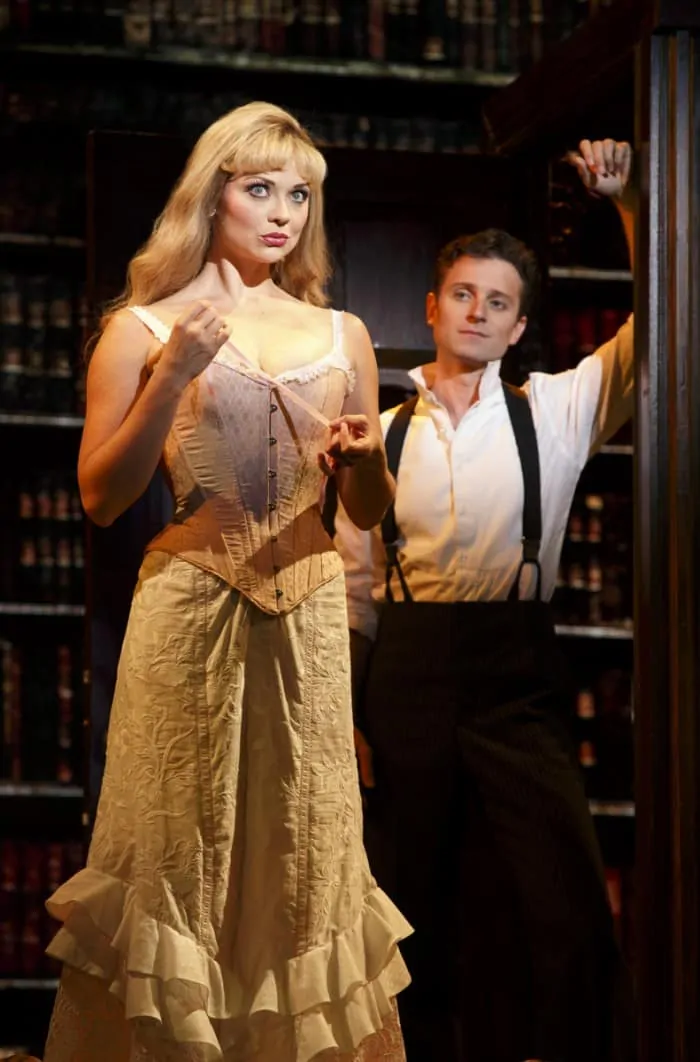 Eventually, people start to wonder, "Why Are All the D'Ysquiths Dying?" When the final obstacle to Monty's ascent finally kicks the bucket, Scotland Yard catches up with him. Only this time, he didn't do it! The fun of the second half of the musical is the suspense: Who actually killed the former Earl? Will Monty be convicted? Are his jealous wife and lover working for him or against him?
A spectacular cast holds the production together.
What keeps this show spinning is that it never takes itself too seriously. A framed bijou theater-within-the-theater becomes the setting for cheesily orchestrated deaths. When the Reverend Lord Ezekial D'Ysquith falls to his gruesome end, backdrop projections show a spinning spiral staircase, and then a cloud of dust and a growing red stain. Major Lord Bartholomew D'Ysquith's unfortunate decapitation is shockingly complete, with a bouncy head. The scenes of love are similarly comical: when both Monty's beloved Sibella and his fiancée Phoebe end up at his home at the same time, a classic door-slamming farce-plus-musical-trio ensues.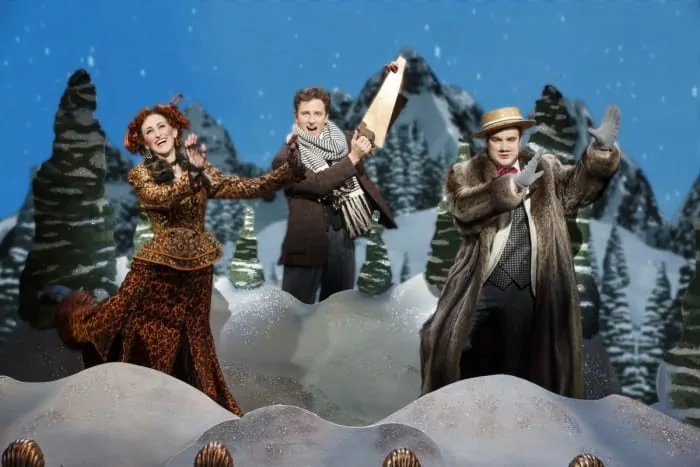 A spectacular cast holds the production together. I was shocked during curtain call to discover that only eleven actors played all of the roles. Most of this is thanks to John Rapson, who becomes every single heir of the D'Ysquith family, male and female. (How many actors can claim to have died eight times in a single show?) Each is ridiculous in a unique way, and Rapson's comedic talents and extraordinary vocal range bring them all vividly to life.
The Arts
by Ilana Walder-Biesanz
The two women in Monty's life are also strongly presented. Kristen Beth Williams' Sibella is blond, vain, and brash—the perfect counterpart to Adrienne Eller's more proper, bookish, lyrical Phoebe. Their voices blend beautifully with each other's and with Massey's in "I've Decided to Marry You." The rest of the chorus rounds out the cast ably, sounding and acting like many more people than they are as they become tour guides, newsboys, inspectors, servants, and family friends. The orchestra, led by Lawrence Goldberg, supports them with crisp, energetic playing at a jaunty pace.
You won't walk out of Gentleman's Guide with a new favorite showtune or a new insight into the world, but you will walk out tapping your toes, with a smile on your face.
Photos: Joan Marcus