In a world of seemingly expanding varietal choices, it seems wine consumers still bank on big name players.
Case in point: a recent survey by Sonoma State University revealed that 50% of respondents chose Chardonnay as their favorite varietal. Rounding out the top 5: Merlot (the come back kid!), White Zinfandel (Ugh), Pinot Grigio (Meh), and Cabernet Sauvignon (the other "universal" grape).
In May 2015 SSU polled just over 1,000 American wine consumers across 50 states.
27% of those who participated were "younger" Millennials (21-29), 29% "older" Millennials (30-37), 23% Gen Xers (38-49), and 21% were Baby Boomers (50-68).
This was the school's second time running the survey.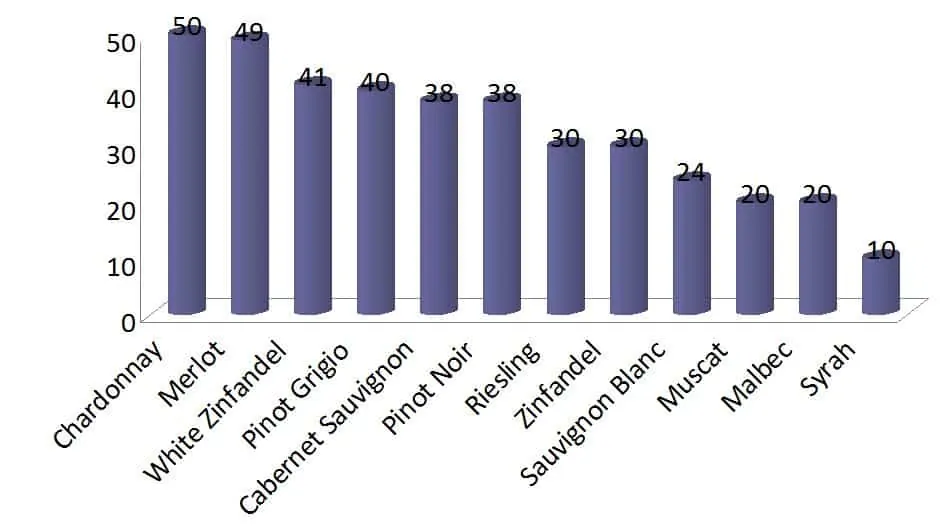 Given the demographic distribution it's interesting to note that, despite hearing how Millennials like to try new wine varietals and experience new things, the data suggests that old standbys die hard. Then again, it could be that other age groups are skewing the data towards known grapes such as Chardonnay, Cabernet and Riesling (7th most popular choice).
Incoming Fruit Bombs
When it comes to palate preference it would seem I'm among the minority. Most prefer their wines either fruity (58%), semi-sweet (57%), smooth (56%), or — say it ain't so — sweet (49%).
Meanwhile, fans of tannic wines?
Rare beasts we are, coming in last, represented by just 9% of respondents.
Price is Still #1
According to the SSU survey at least, price matters most. More than brand. More than vintage. More than medals. And, interestingly, far far more than being labeled something like "organic," "sustainable," or "biodynamic." All three factors are at rock bottom when it comes to key factors driving wine buying decisions.
Facebook Rules Social
As for social media use among wine consumers, an overwhelming 84% said they used Facebook.
That YouTube would come next, at 47%, perhaps reinforces the shift to online video in recent years. In third place, Twitter at 45%.
Takeaways for Wine Marketers
The results are neatly summed up on this Wine Business article by Dr. Liz Thach, a professor of wine, and Dr. Kathryn Chang of SSU. In their conclusion, they note that the domestic wine industry is "both a predictable and contradictory personality." For example, Chardonnay has dominated for a decade, yet Americans drink more red than white wines. And the two authors suggest that although many claim they love dry wines, it's the fruity and semi-sweets that ultimately drive sales.
8 Takeaways from the SSU Wine Survey

by Dr. Liz Thach, MW and Dr. Kathryn Chang

Craft wines to match preferred taste styles (which should be fruity, smooth and perhaps a little sweet)
Focus marketing messages on the relaxation and social benefits of wine. (It is not legal to mention the health benefits that Americans perceive about wine.)
Adopt social media platforms to interact with your consumers.
Make sure your wine/winery is accessible via mobile phone websites and wine apps.
If selling nationally, make sure your wines are available in wine/liquor stores
Consider adding a lower-priced tier to match the popular $10 to $15 price point, or the $15 to $20 category.
Encourage wine tourism by working with local associations to promote your region to more visitors.
Research methods to sell less-expensive wine online at low shipping rates, similar to what is happening in China where wine e-commerce is much more popular.
Those interested in mobile, may be surprised to learn there's plenty more growth in that area. Only about one in four respondent said they had a wine app on their smartphone (Vivino is tops, followed by HelloVino, WineSearcher, and Delectable).
If you're in the wine industry, or just enjoy following wine and consumer trends the report is a quick and interesting read, and can be found here on the Wine Business site.
Meantime, where's my waiter's friend? I have a sudden hankering for that Landmark Chard from Sonoma I have chilling…