Under any normal, rational scenario I'd say — and I'd suspect you'd agree — that an arsonist is not such a good thing.
But, when it comes to wine…
Dunnigan Hills is one of those places, located in the far Northern reaches of California (in Yolo County) that, like Lodi, Mendocino, doesn't ignite widespread consumer recognition. That's too bad. Spectacular wines are here for the taking. That the region remains a small secret, though, probably benefits those of us who are on a perpetual mission for wine bargains.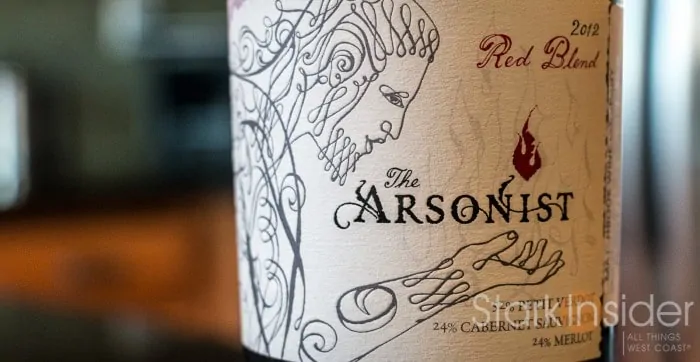 The Arsonist is a pretty darn good Bordeaux style red blend:
52% Petit Verdot
24% Cabernet Sauvignon
24% Merlot
You get the heft of that Cab (tannins!), playfulness of the merlot (herbal notes), and, with the majority of the grapes being from the Petite Verdot, you get that dry, French sensibility. Mais, oui. It's a very satisfying pour.
Not a lightweight, to be sure. This is, as they say, a "chewy" wine — and you'll know that could make for some purple lips if you and your significant other decide to enjoy a bottle on a mellow Saturday night.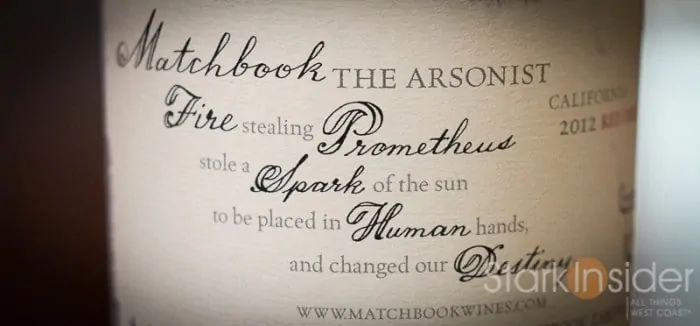 Aside from jail, turns out an arsonist can also pair well with a slab of grilled New York strip. Trust me, I just had to do some first-hand testing myself last weekend on a balmy evening here in Silicon Valley. I'll take that with a side of steak-frites every time.
Matchbook made 2,878 cases of this 2012, and at just $22 it's a heck of a deal for a wine that's aged for no less than 28 months.
Fire stealing Prometheus
stole a Spark of the Sun
to be place in Human hands,
and changed our Destiny
Wine stories. Or haiku. Or poems. All good.