UPDATE 9.14.2015 11:55am PT – We've been informed 8 new performances of Amélie, A New Musical have been added, and the show now runs through October 11.
Amélie, Jean-Pierre Jeaunet's 2001 hit film (5 Oscar nominations), has landed on the stage.
The new production opened over the weekend at Berkeley Rep, and, if you know the Rep, you know it's going to be much talked about, and widely watched. After all, this is the place that famously gave birth to smash American Idiot — a musical that eventually headed East to Broadway for a successful run.
The show, written by Craig Lucas (Prelude to a Kiss) and directed by Pam MacKinnon (Who's Afraid of Virginia Woolf?) has a lot of what you'd expect: a stunning set, lavish costumes, and a live band. A positively phenomenal band. Since we began covering shows at Berkeley Rep in 2009 for Stark Insider, we've come to expect nothing short of greatness. And so it goes. But, on this opening night at least, amidst what might otherwise be an outright hit were a few rough patches.
The story concerns titular Amélie, a shy dreamer who discovers a lost photo album on the streets of Paris. As she searches for its meaning and ultimately its owner we're taken on a whimsical journey of discovery, and creative spontaneity. Love eventually blossoms. But not, of course, before some misunderstandings, and unfortunate timings are resolved. Young Amélie (Savvy Crawford – now there's a name!) is a feisty one, adventurous and inquisitive. Her mother (Alison Cimmet ) dies from an accident that I would label quite French; the dark humor juxtaposed against the song and dance is marvelous stuff. Grieving, her father (John Hickok) builds a Gnome shrine in her honor — later, one of the play's notable highlights comes when the Gnome (David Andino) escapes, and takes hysterical selfies at various landmarks across the world.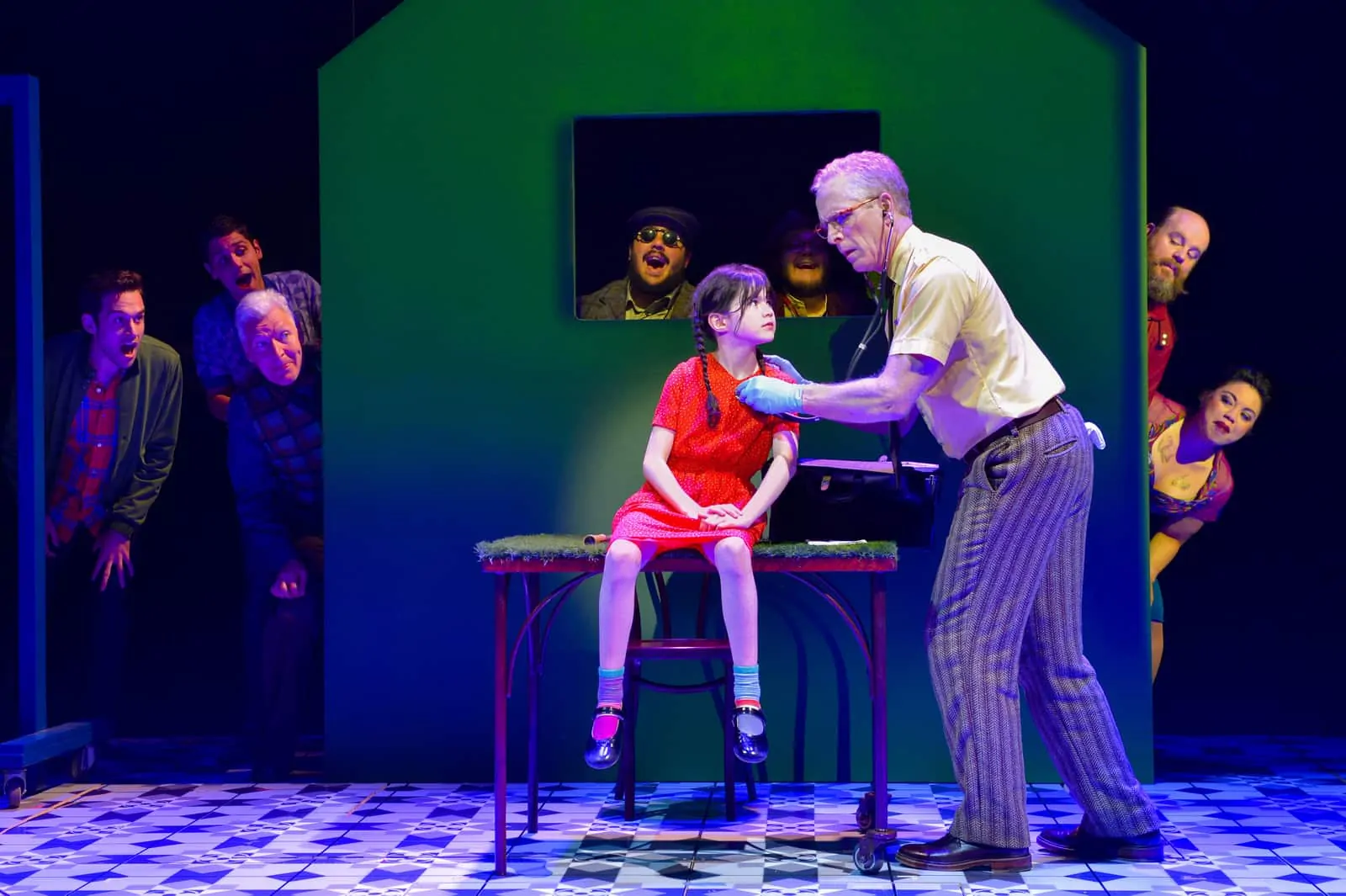 Samantha Barks plays the adult Amélie. Her growing star power is largely on display (and possibly why two large black Escalades with drivers awaited on the streets of Berkeley post-show). Barks is one to watch — and attaching her name to this project is a win for all involved. No doubt it will draw significant attention from her fan base, those who would be interested not only in her participation, but also in the Amélie musical itself. She sings, dances, and acts with aplomb. There's certainly a lot to like. Adam Chanler-Berat does well too as her strong-voiced, mysterious lover Nino.
So, on paper, this show has it all.
But…
There's something missing. A spark. A je ne sais quoi.
It's there at times. However, the scenes and musical numbers often seem disconnected, possibly lacking a stronger narrative to string them together. On their own, most are wonderful, yet the story develops slowly and it's not exactly clear early on what is motivating Amélie, other than daily, if isolated, life as a waitress in Paris. And, unlike the musical Matilda, which also features a bright, imaginative female lead who grows up before us, there's no Miss Trunchbull here — no one to get in the way of her pursuits, to create tension.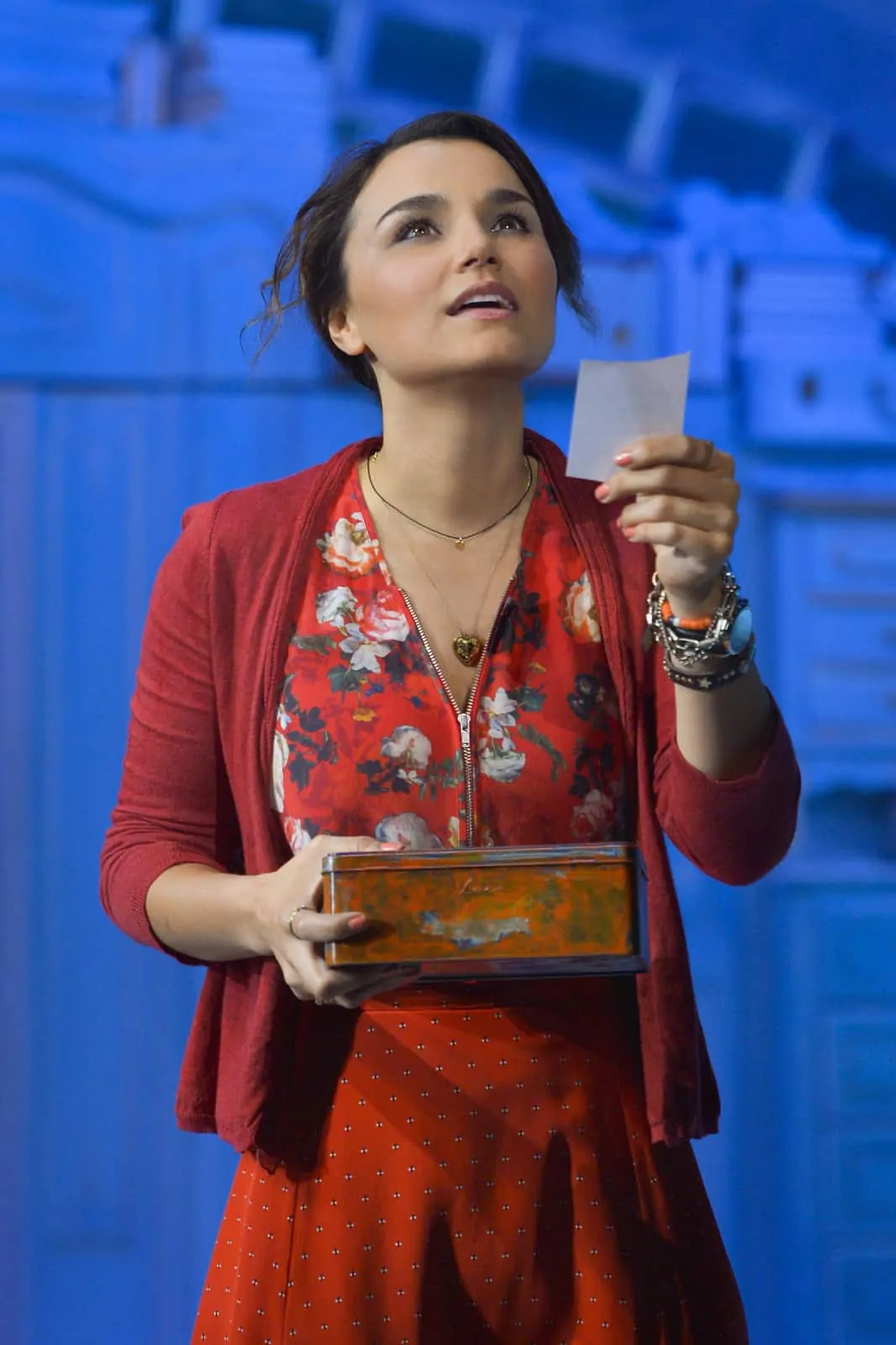 Comparisons to the film will be inevitable (and this is a film that no doubt paved the way for Wes Anderson's equally colorful, quirky Grand Budapest Hotel). On the big screen, there's a quirky charm to Amélie that's somewhat missing here. We don't get to know her as well. As she dreams in one scene, for instance, and envisions the world mourning for herself, rather than Lady Di, there's a distinct lack of emotion, despite the spectacular imagery. Perhaps it's the massive stage, or that Barks might need to evoke more idiosyncrasy in her delivery and facial expressions. Audrey Tautou breaks the fourth wall in the film, and that feels like a lost opportunity in this adaptation; to better see the world through her innocent and naive eyes.
Re-watching the film after attending this world premiere, I realized the epic challenges of adapting such a prolific work for the stage. The task is surely daunting.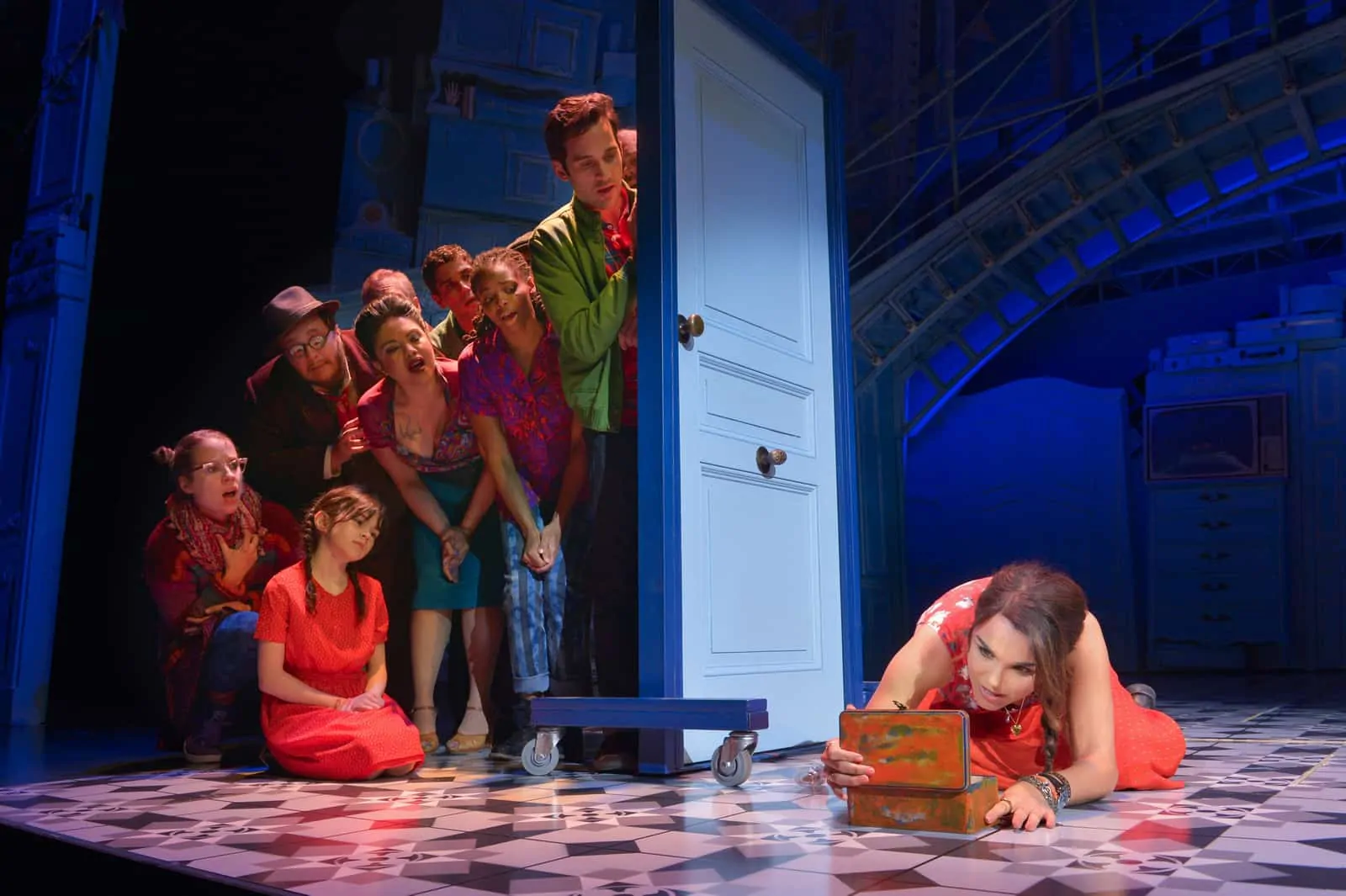 The scenes that do work in Amélie work wonderfully well. 
In the critical scene when the two lovebirds finally (finally!) meet, actors use blue arrows to show Amélie the way to her mysterious man. When they embrace, and eventually kiss, the charm level is off the charts. It's great fun. In another, Barks looks distinctly Audrey Hepburn, adorn in sunglasses and scarf, moving gracefully.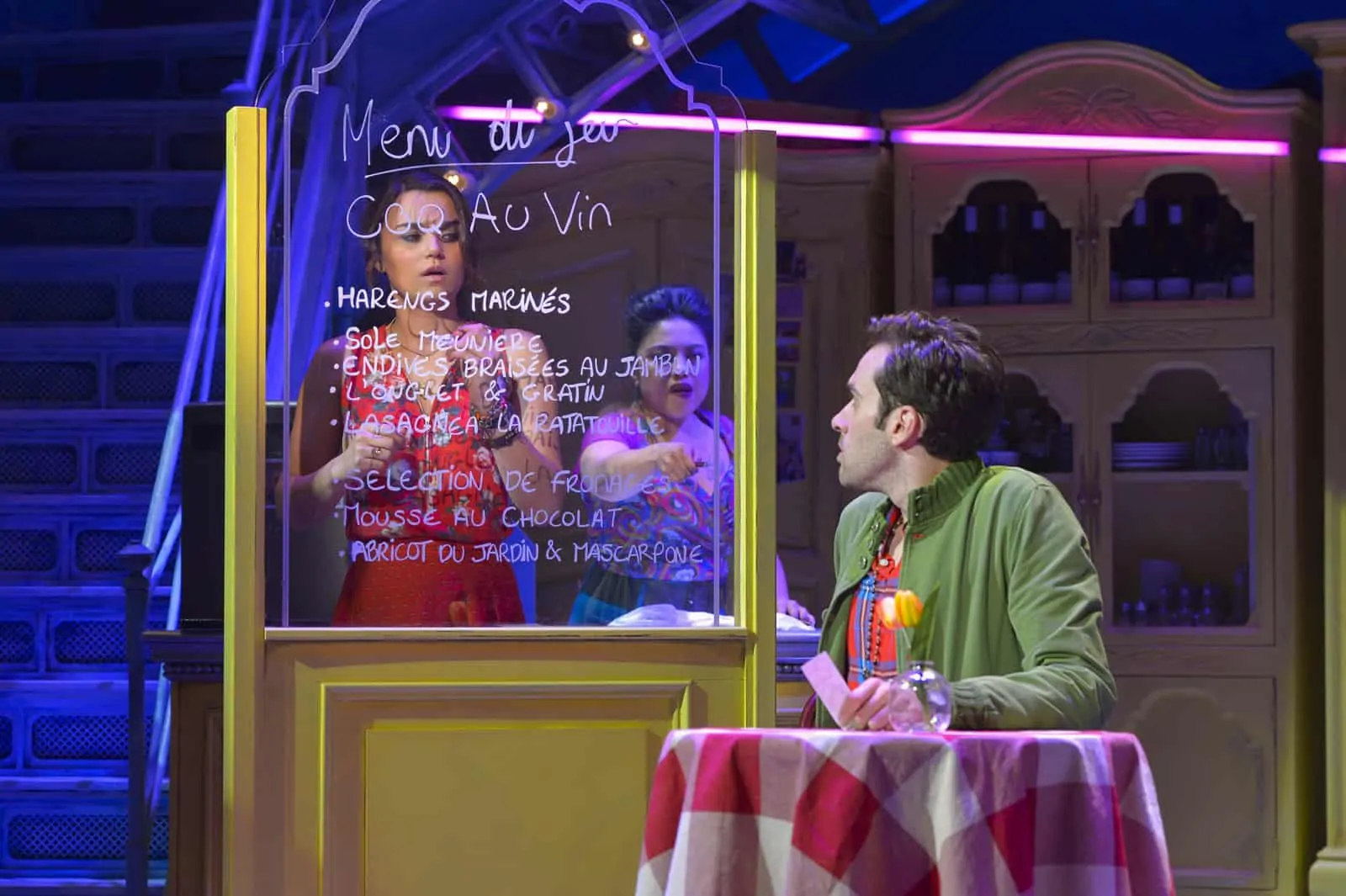 Unlike American Idiot, which had ground-breaking, award-winning songs to pick from, Amélie relies on entirely new material. Some songs work, others don't. I especially liked the wildly entertaining Elton John serenade, the Gnome adventure, and the cafe number which sees various cast members recount love's bumps and bruises — especially delightful is Maria-Christina Oliveras as she shares her misadventure as a circus performer. However, I wasn't humming any of the numbers as I headed out to Addison Street. Still, the band (Kimberly Grigsby) is killer. This is easily one of the best sounding bands I've heard perform in a musical.
Truly, once again, Berkeley Rep raises the bar for design. I find myself writing that often.
Another strong point: the overall feeling this production connotes.
You feel the wonder of Paris. If you're not entirely convinced by the characters or long for the serendipity found in oodles in the film, the set, lighting and effects are outstanding. I'm a sucker for artful projection. Here it's used to jaw-dropping effect: when Amélie sprays graffiti in despair; when Nino posts bulletins across the city; and when we visit a spectacular looking train station. Also, look for eye-popping neon. Truly, once again, Berkeley Rep raises the bar for design. I find myself writing that often.
WATCH: First Look: Amélie, A New Musical
While this musical feels slightly incomplete at times, there's enough here for an enjoyable evening of theater. I suspect once some of the kinks are worked out, and the show tweaked as it evolves, it could be yet another smash for Berkeley Rep. I'd much rather see a new work come to life, than sit through another re-hashed classic.
Like Amélie herself, the stage is all about discovery and imagination. To experience it, especially something fresh, is a wonderful thing.
#AmelieMusical world premiere! Ready for our hearts to be captured @berkeleyrep, xo @StarkInsider pic.twitter.com/oTEhwufKtl

— Loni Stark (@lonistark) September 12, 2015
Such an amazing opening night!! Thank you to all my lovely friends who travelled to Berkeley!! Love you!! pic.twitter.com/SPufqbUZtZ

— Samantha Barks (@SamanthaBarks) September 12, 2015