Fred's Diner is kind of a quirky joint. That's my initial gut reaction after spending time at one of San Francsico's newest eateries.
The vibe is distinctly 1950's Americana. A jukebox at one end tees up no shortage of Elvis, and Buddy Holly. And the wait staff — entirely good looking women — are dressed in pink getups that evoke an era of drive-ins, Coca-Cola milkshakes and Pontiac GTOs. Welcome back to American Graffiti!
I will say some of the other patrons are, well, let's say, a bit on the sketchy side. Don't be surprised to see a homeless person or two in a booth. I'm told one even tried to hold up the place last week — and failed miserably after his supposed gun was revealed to be a mere twig.
The food?
Well, hard to say. At times it can take an incredibly long time for dishes to arrive. Seems like the wait staff are too busy sharing stories, laughing it up, and yammering about this or that. Strangely, all them have British accents — I'm not sure if that's by design, but that seems a little odd given that we're in a 50's style diner, in San Francisco.
One espresso I ordered came served with whip cream on top. That seemed rather… unconventional. Then again, did they serve latte style drinks in the 50's?
Fred himself makes occasional appearances. Some of his humor seems a little haughty. It might work, say, in a pub — after about 5 rounds of Guinness, and well into the morning hour. But I'm not so sure we need to hear so many f-bombs when trying to enjoy a simple bacon sandwich (I recommend getting it on white bread). I know this: he's very protective of his daughter, Melissa, who seems destined to eventually take over the place.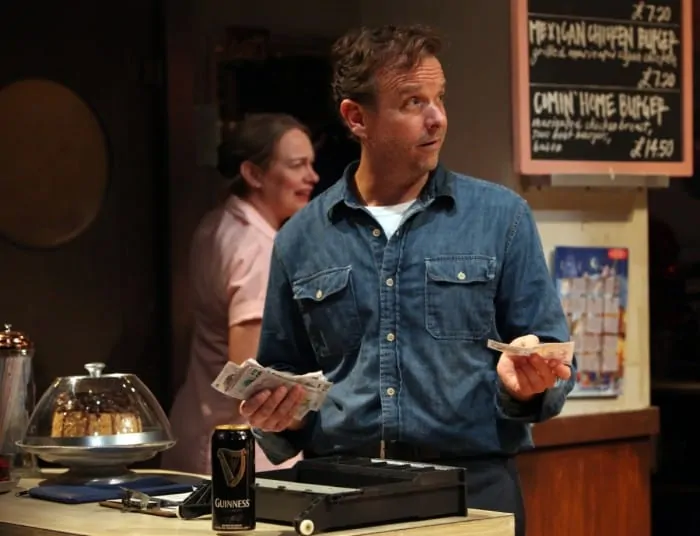 Above all, I must say the atmosphere here at Fred's Diner is sort of gloomy. It's as if the pink outfits, the jukebox, the Christmas lights strung all about, are all there to sort of conceal a secretive layer.
More than once, I caught myself thinking, "Hey, there's some really good acting going on here!"
I got to know the servers over my past few visits. I must say, troubled as they may seem at times, their dreams are the dreams of us all.
I'd never hurt you on purpose baby.
Melissa, who doesn't have a boyfriend (there's hope!) aspires to attend Oxford. She tells me she's awaiting the school's decision, the "uni letter." I'm really hoping for her. She seems fixated — maybe too much — on her Dad's well being, however, and I fear that could stunt her growth.
Heather is a by-the-books nastigram. Rumor has it she has a baseball bat tucked away behind the bar, and isn't afraid to use it. Still, I suspect she's got a good heart, and a lot of that toughness is for show.
Chloe is a bit of a free spirit. Very uppity. Easy on the eyes, not doubt, as Fred reminds us all.
On at least one evening, there was some old dreamer, sitting at the end of the bar, spouting off all sorts of random, supposedly inspirational stuff. Word is he has ulterior motives. Who knows, I'm just here to share my experience, not get caught up in all this gummy stuff.
Wrap Up: Should you go to Fred's Diner?
Yes, I think after all's said and done, Fred's Diner is worth an outing.
Just remember, this isn't Starbucks. I doubt you'll need a reservation, the place is almost always empty. Meh. If you ever get bored, you can always chat it up with Melissa, Chloe or Heather. Or, heck, better still, stare out the window and aimlessly watch the big-rigs roll by on the adjacent highway.
Photo credit: Jennifer Reiley