Sony is on a roll. Canon? Nikon? When it comes to innovation in cameras — stills, videos, full frame sensors… you name it — Sony seems to be leading the pack.
Case in point: this new compact Sony RX100 IV shooter.
Looks can be deceiving. This is not a simple point-and-shoot camera. Far from it. You get 4K video, Zeiss glass, S-log2, high frame rates (for high quality slow motion), and lots more. All for under $1,000 (USD). Best of all, the RX100 IV comes packaged in a beautifully machined body, that can be easily dropped into a pocket or purse. For foodies who want to take discrete, quality photos at restaurants, this camera is a dream. Ditto for street photogs who want to fly under the radar. And also for those, like me, who are looking for a "B-cam" to complement their main camera — for additional angles, b-roll, etc.
I've been shooting exclusively on Canon (EOS 70D most recently) for Stark Insider since 2009 (Vimeo channel). After a week with the RX100 IV, however, I'm beginning to wonder if that's necessarily the future. The a7S. RX10 II. FS7 Super 35 cinema camera. Sony is really innovating. And also competing. Price out most Sony models, and you'll find the competition — especially Canon — to be pricier, and lacking the depth of features.
So far this camera really impresses. As video is primarily my thing, I really appreciate that it can shoot 4K (though, only for up to 5 minutes). It may not be widely used today, but at least it somewhat future-proofs your investment. Then there's Sony's S-log2. I've read much about it, and watched many videos graded with that profile. But this was my first time experiencing it first hand. Joy! Grades quite marvelously in Premiere Pro, far better than I find with Technicolor/Cinestyle on my (amazing) Canon EOS 70D.
With all that, here's 5 great features about the 4th generation of Sony's powerful secret weapon.
Sony RX100 IV: 5 Killer Features
1. Shoots 4K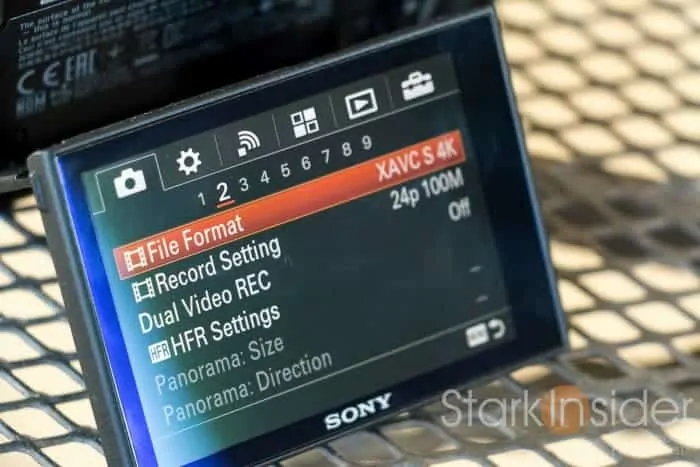 Yes, a headline grabber to be sure. And, yes, 1080p is there, and might be all you really need… for now. Eventually 4K will be the norm, so it's nice that it's here. Plus shooting in 4K does offer creative freedom when it comes to framing later in post. And this is a strong codec too. XAVC S. At 100 Mbps. Impressive.
2. Tiltable LCD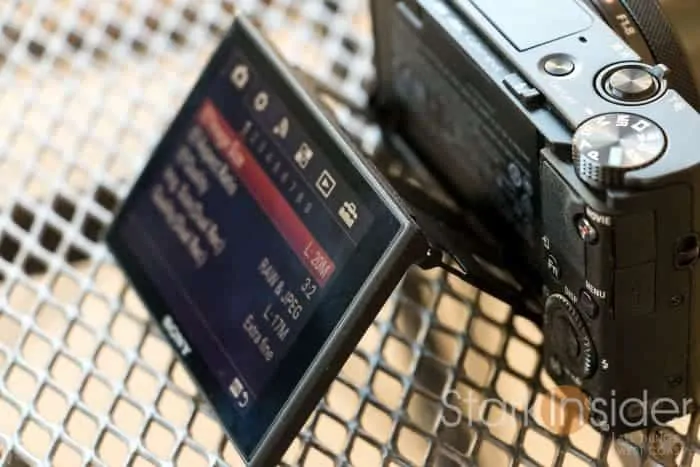 Want to get a high shot? Or dramatic shot from lower angle? No problem. Just as I find the articulating screen on the Canon 70D immeasurably useful, so too do I find the tiltable one here on the RX100 IV. I like that it's not too easy to move. There's enough friction to hold it in place while you get those creative shots. Sure enough, you can reverse it for selfies, but please…
3. High Frame Rates – Bring on the slo-mo!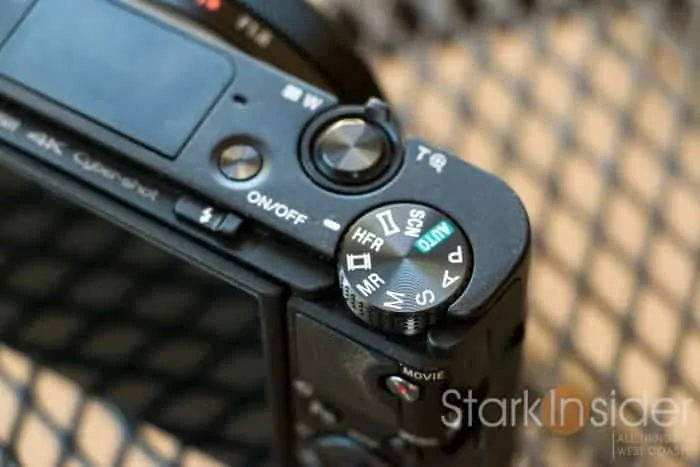 This one, indeed, goes to 11. That would be 960fps. If you know your slo-mo you know that's amazing, especially for such a portable shooter. Image quality takes a bit of a hit when pushing frame rates on the RX100 IV. But you do have two other choices (240fps, 480fps), and those yield equally impressive results. Cinematographer Philip Bloom demonstrates it with artistic aplomb in this messy video "Call the Cleaner":
4. Zeiss Zoom Lens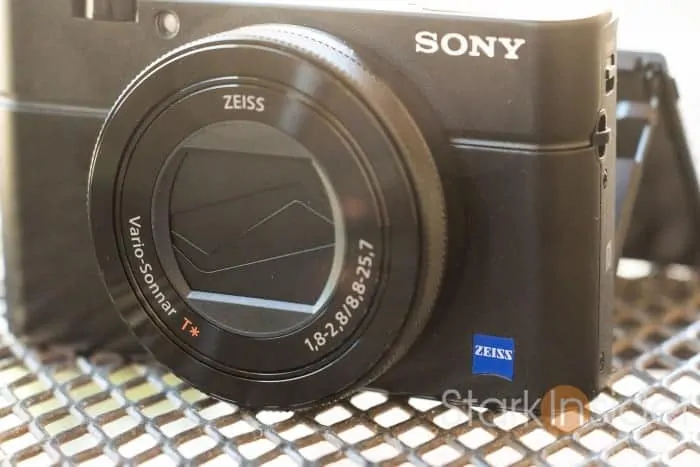 Since the lens is fixed, it had better be good, right? Fortunately the glass here is excellent. Zeiss is known for superb optical engineering. In my week with this camera I've been very impressed with the results — in both photos and videos. Crisp. Pretty. Magical. Call the results what you will, and pixel peep if you must, you'll find this zoom fast (f1.8) and flexible (24-70mm). It should be capable of handling a wide range of shooting situations.
5. Customizable Fly-by-Wire Ring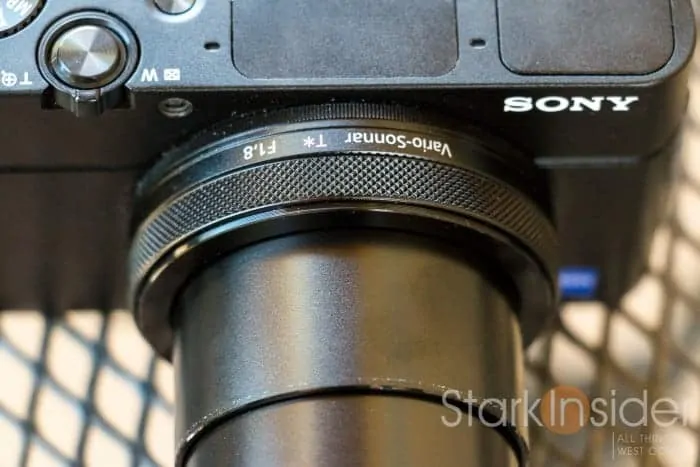 I'm a mechanical, feel-it, kind of guy. Crash zooms are my thing. I probably over use them. But I like being able to quickly get in close when filming an interview or event for Stark Insider. So fly-by-wire… hmm, not generally liking the idea of electronic interference between me and the camera. However, after spending some time with the RX100 IV, and attempting to keep an open mind, I've learned that fly-by-wire can be pretty handy. Like this little inconspicuous ring, seen on the lens in the photo above. It can focus, of course. It can zoom too. And it can also be used to adjust aperture. In practice, it becomes very handy when shooting in manual mode. I also what Sony has done with the on-screen graphics/indicators — they are helpful, easy to read.
And Plenty More…
There's an HDMI output. Pop-up viewfinder (gorgeous). Auto-focus. Face detection. Wi-fi. NFC. And on and on. Sony really did pack this one to the hilt with tech.
Still, a couple of nits.
Forget about external audio. There's no mic/audio in jack. So mounting a tiny shotgun mic (like a Rode Videomic) is not an option. And there's no hotshoe. Minor stuff to be sure, and, in reality, I suspect outside of the realm of the use cases for this camera. If you want those, head on up (for about $300 more) to the equally impressive RX10 II, a sweet bridge camera to be sure.
At $948 the Sony RX100 IV might seem like an expensive pocket camera. But it is oh-so much more. If you want more than just a basic iPhone photo, and want to take your creative potential to the next level, I'd highly recommend you check out this new Sony. I wasn't expecting to be this impressed.
I'm still in the midst of a purchasing decision for a cinema camera for Stark Insider. Canon C100 Mark II. Sony FS7. Or the upcoming Blackmagic Ursa Mini. Based on my experience with this little guy, I'm inclined to give the Fs7 very serious consideration.
More soon, I'm in the process of shooting video footage with the RX100 IV (it's so tiny in the hand!), and grading Slog-2 in Premiere Pro.