Qualcomm has taken the wraps (mostly) off its upcoming, next generation flagship mobile processor. Dubbed the Snapdragon 820, the chip set features, as you might expect, faster performance, lower energy draw, and the potential for improved imaging. Here's hoping it does away with some of the over-heating issues found in current Android flagship smartphones (LG G Flex 2, HTC One M9) running its predecessor, the Snapdragon 810.
At 14nm, the 820 has a new GPU, the Adreno 530, that Qualcomm says will boost performance by up to 40% over the previous generation. All that will use (conveniently enough) 40% less power.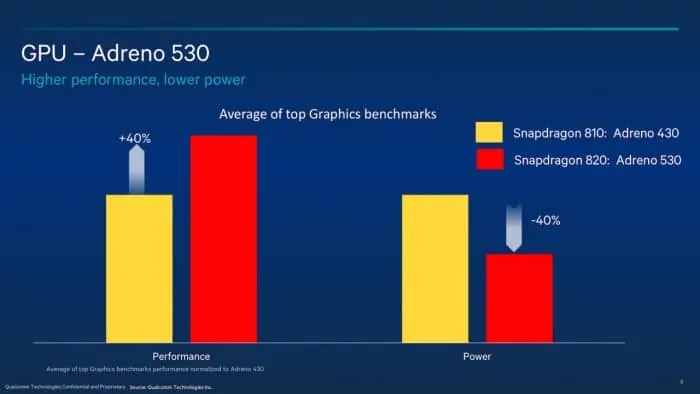 4K video should be a breeze. Per Qualcomm, the 820 will play 4k video via the HDMI 2.0 port (4K60). And, representatives say, it can even stream 4K wirelessly at 4K30 (proof is in the pudding on this one).
"Spectra" is the name Qualcomm is giving to the imaging chip in the 820. The company notes an emphasis on low-light performance, with the possibility of photos with less blur (here's hoping, this is a general weak spot for Android-based camera systems). And with color "as nature and artists intended it to be."
Even though the US-based semiconductor giant quietly unveiled updated chips for its low and mid-range, including the Snapdragon 212, 412, and 616 series (think of them like the BMW model range in terms of performance), most focus, at least in the tech press, is paid to the top range. Typically this is where the latest innovations happen. Be it VR, 4K, or advanced thermal dynamics, the 8-series has gives us a taste of what to expect from OEMs who plan to build handsets using the latest technology available on the market.
Qualcomm could use a hit. Earlier this year, Samsung opted to use its own Exynos chip instead for its flagship devices, such as the high profile Galaxy S6. Others too have opted for alternatives. With its well-received, well-priced Zenfone 2 ($300 USD), Asus went with an Intel Atom SoC.
For many of us the news of an updated mobile chip is an excuse to pour over in-depth PowerPoints, lengthy white papers, and jargon-laden spec sheets. For most, it will quietly mean exactly what we've come to expect each year in the smartphone world: faster, better, cheaper.
Devices — including Android flagship smartphones — running the new Snapdragon 820 chip should hit the market sometime in the first half of 2016. Here's hoping Qualcomm has licked some of the over-heating issues seen with most of the 810-based phones.