If you judge movies largely by the ending you may be slightly disappointed by Irrational Man. That would be unfortunate though, and perhaps even unfair because everything that comes before the abrupt sign off is deliciously dark, and quite the hoot.
Woody Allen's more recent films appear to be opening their arms to the masses. These successful efforts seem far more approachable, light-hearted; the kinds of movies that you sit back, relax and enjoy with some good old popcorn. Like Blue Jasmine (2013), featuring an endearing performance by Cate Blanchet, Irrational Man is also filled with interesting characters that do unpredictable things and whose actions immediately enact consequence on everyone around them.
Joaquin Phoenix, and his proud pot belly, plays a habitually drunk philosophy professor. When he stumbles onto the campus of his new college, the rumor mill spreads like wildfire. Who is Abe? Why are students so drawn to his teaching style? And why is it, that he can charm the pants off just about anyone? 
It doesn't take long for Parker Posey to "research" her fellow prof. While her husband is out of town, she shows up at his door with some wine. That doesn't sit will with Emma Stone's character, a wide-eyed (Emma is always wide-eyed) student taken by Abe's pontifications on the meaning of life and existence, and the excitement that a little Russian Roulette can bring to the most droll of dorm parties.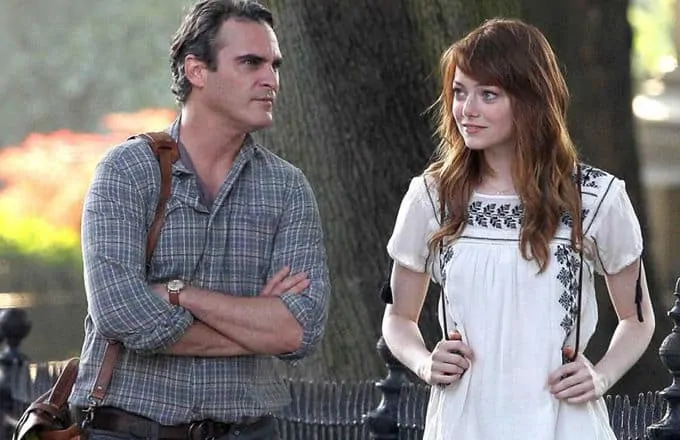 The three performances — Phoenix, Posey, Stone — are, as you might anticipate, top drawer. And with Woody Allen's sardonic view of the world, or at least, in this case, the gossipy nature of a walled-off world, such as the one found at this fictional Rhode Island campus, results in seemingly invisibly rain clouds of doom cloaking the leads. Oh, the dread. Life is not fair. Phoenix wants to cure his eternal unhappiness. And when a potential solution arrives, it's only just that is to flip the tonality of the movie, and all the lives within it. I can't say more to risk giving away the "twist" and the resulting consequences, other than to say it's surely the work of a very creative individual.
In particular, look for a sublime clinic on the art of acting inebriated by Parker Posey in one key bar scene with Emma Stone. Supreme.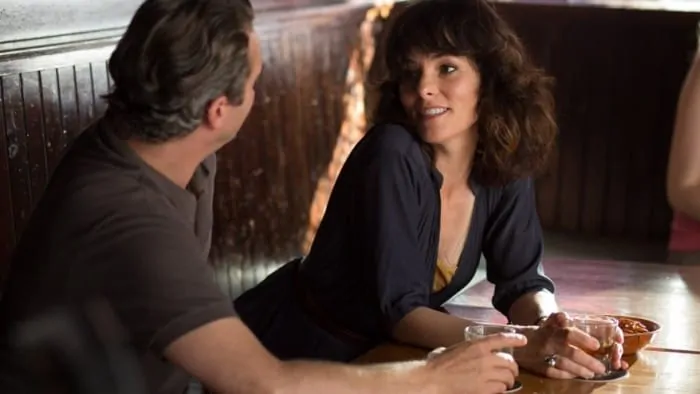 As for that ending? In my estimation at least, there was only one of two ways it could go. Woody Allen chose what I'd call the American way. Or the test-screening-friendly way. One that would appeal to the most movie-goers. That's too bad. Yes, the alternative would've been harder to play out (and possibly make the film too long). But it would've been far more impactful. As it is, Irrational Man is, in itself, popcorn. Light, fluffy, but not entirely satisfying. Still, three superb performances, a highly entertaining mid-point twist, and, even, several philosophical layers to digest should you choose to wax poetic, make for an agreeable movie that is, ultimately, easy to recommend.
Irrational Man is now playing San Francisco at the Embarcadero Center Cinema.
WATCH: Irrational Man official movie trailer