Jack Holmes' RFK will kick-off the 33rd season at San Jose Stage Company this September. Next up The 39 Steps, a stage adaptation based on Alfred Hitchcock's movie.
"In our 33rd Season, The Stage is thrilled to be working with Luis Valdez and El Teatro Campesino (ETC) to bring the world premiere of Valley of the Heart, exemplifying our mission to bring bold and politically provocative new work to our region," said Randall King, The Stage's artistic director.
The rest of the lineup: the World Premiere of Valley of the Heart, farce Boeing Boeing, and a summer musical TBA.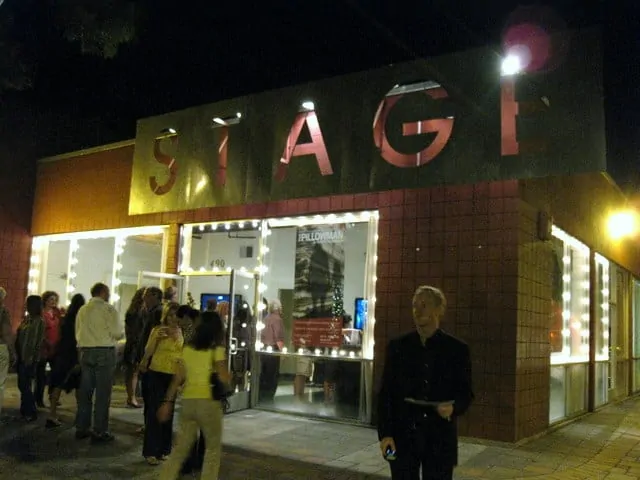 "Both Bobby Kennedy in his short yet inspirational life and Luis Valdez have dedicated their life's work to creating change by shining light on injustice and human rights issues. The struggles of RFK's legacy lives on in today's cultural leaders like Luis who take action and ignite hope in us all. We're proud to partner with Luis and El Teatro Campesino, and I look forward to presenting these important works to our community," added King.
San Jose Stage is wrapping its current season with the very well received Addams Family. You can read the Stark Insider review by Cy Ashley Webb here. Also, check out the Addams Family BTS video shot an hour before curtain:
With the San Jose Rep having shutdown, we're ever thankful that The Stage, and other non-profits, such as City Lights Company, are more than doing their part to raise the profile of downtown San Jose as a world-class theater and arts destination.
We're told The Stage attracts more than 30,000 patrons to downtown, and employs 150 local artists annually. Silicon Valley Business Journal ranked it 2nd largest professional theatre, and 8th largest performance arts organization in Silicon Valley.
San Jose Stage Company 2015 – 2016 Season

Artistic Director Randall King

RFK

By Jack Holmes
September 30 – October 25, 2015
Opening Night: Saturday, October 3

The 39 Steps

Adapted by Patrick Barlow
Based on novel by John Buchan
From movie by Alfred Hitchcock
November 25 – December 20, 2015
Opening Night: Saturday, November 28

Valley of the Heart

Playwright Luis Valdez with The Stage artistic director Randall King. Photo courtesy San Jose Stage.

San Jose Stage Company in partnership with El Teatro Campesino Present
Written and directed by Luis Valdez
February 10 – March 6, 2016
Opening Night: Saturday, February 13

Boeing Boeing

By Marc Camoletti
Translated by Beverly Cross and Francis Evans
April 6 – May 1, 2016
Opening Night: Saturday, April 9

Smash-Hit Summer Musical Sensation (TBA)

June 1 – July 17, 2016
Opening Night: Saturday, June 4

Shows run Wednesday & Thursday @ 7:30 pm
Friday & Saturday @ 8:00 pm
Saturday @ 2:00 pm Sunday @ 2:00 pm
With Clinton Stark contributing from San Jose.