Playing characters already engraved into the cultural DNA ain't easy. One false move and you're out of character, with the audience shifting in their seats, waiting for the thing to be over.
The Adams Family, which just opened at San Jose Stage Compnay, suffered no such problems. Maybe it was Lurch mumbling incomprehensibly guttural sweet nothings by the door as you entered, but it was obvious from the get-go that this Addams Family musical would be a win.
The audience recognized this at the outset when they automatically snapped fingers as the music came up. Bah da, da-dum. [Snap, snap] Bah da, da-dum. [Snap, snap] Bah da, da-dum. Bah, da, da-dum. Bah, da, da-dum. [Snap, snap].
Within moments, Bay Area dream team Will Springhorn, Jr. (Lurch), Johnny Moreno (Gomez), and Allison F. Rich (Morticia) each captured some element so essential to their respective characters that they just moved forward as that character, without provoking the man in the back of your head to start making comparisons. That's a swift trick to pull off. Moreno's Raul Julia-good looks, Rich's haughty remoteness, and Springhorn's ponderousness (further slowed by his clompy Ugg-like footware) make the San Jose Stage Company's current offering the don't-miss South Bay musical of the season.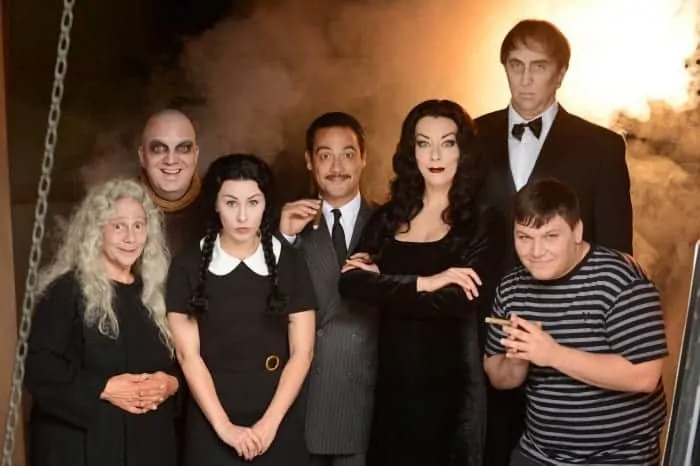 Springhorn, Moreno, and Rich can't be entirely credited with this success though. D. Scott McQuiston so perfectly nails twee Uncle Fester that you'll want to bring him home and rub his bald pate to make it glow in the dark. Donna Federico brings a soupçon of good-natured dementia to make Grandma come alive, and Zac Schuman has the awkwardly pudgy sweetness of Pugsley.
The question:

What could some fat, bald person of indeterminate sexuality possibly know about love?
One of the harder acting tasks fell to Courtney Hatcher, as Wednesday. This Wednesday is as gushy as any early adolescent, and by her own admission, is pulled in different directions that take her away from what the audience easily recognizes. Hard stuff to watch that girl do a pinky shake! And harder to watch Hatcher play a Wednesday who was required to lose that which makes her most Wednesday.
The show's live music and killer choreography had me running to Spotify to get another hit off this one.
The plot introduces the object of Wednesday's affections, the charming Lucas Beineke, played by Jeffrey Brian Adams, along with corporate tool dad Mal (Edward Hightower), and mom (Elise Yousset), who accidentally ingests the potion acrimonia, which Pugsley intended for his sister – at which point things get even more interesting.
Costume designer Abra Berman pulled out the stops, particularly for the white-faced Ancestors lurking around the gates of the crypt when they weren't singing and dancing.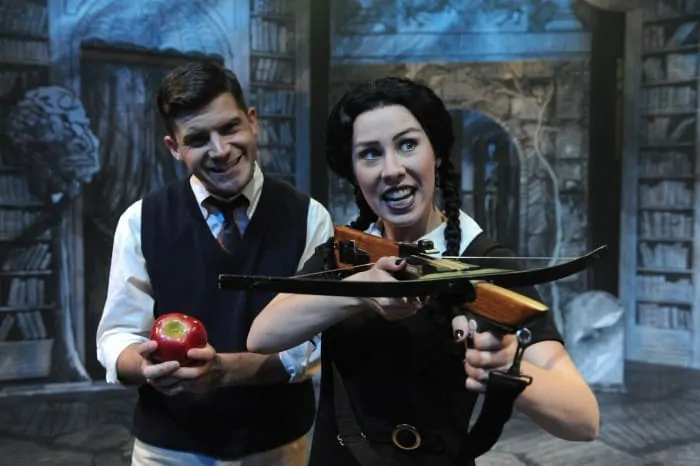 The show's live music and killer choreography had me running to Spotify to get another hit off this one. The very formulaic-ness of the plot is mirrored in Andrew Lippa's music and lyrics. You'll feel you've heard this before and indeed you have. Parts sounded so like Urinetown: The Musical that I thought Bobby Strong might make an appearance – but that's just more of the fun with San Jose Stage's current offering.
ALSO SEE: BTS: The Addams Family Broadway Musical (Video)
Adams Family is on stage until July 26th.
Photos: Dave Lepori.