"You never know what kind of creepy things you'll find backstage."
How true, especially when you're paying a visit to the Addams family residence. The iconic story about a dysfunctional family living next to a graveyard was adapted for the stage in 2010, and after a run on Broadway (starring Nathan Lane), then toured across the country.
Now, San Jose Stage Company is mounting an ambitious production of The Addams Family. I paid a visit recently to take a look at the set, and talk with the cast — what I discovered (as you can see in the above Stark Insider video feature) was straight out of the bizarre.
As if to emphasize stage director Tom Kelley's point about the unpredictability of the behind-the-scenes happenings in theater, he had a chance encounter with a hungry insect. Right during our interview. But the show must go on.
Spotted Backstage at The Addams Family Musical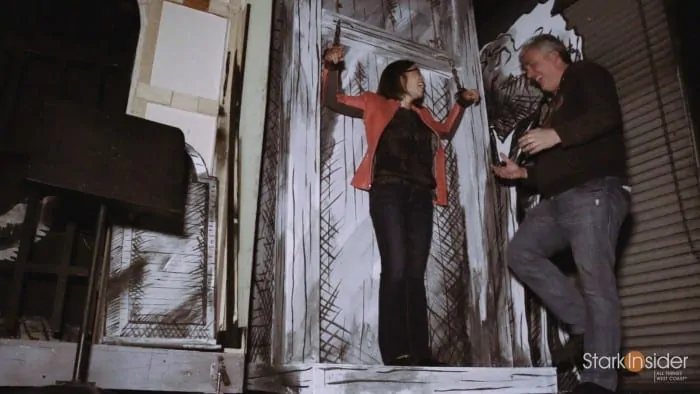 A torture chamber.
A spring-loaded bolt inches away from an actor's head.
Mega 8-inch boots right that would look right at home at a KISS concert.
A poor little tweeting bird that keeps losing its head.
A severed hand scurrying across the set floor.
Yes, you could say there were several firsts for us during the making of this video.
And, all the characters we've grown up to love are here: ice-cold Morticia Addams (Allison F. Rich), free-spirited and excitable Gomez Addams (Johnny Moreno), trouble-making daughter Wednesday (Courtney Hatcher), her straight-laced boyfriend from Ohio (Jeffrey Brian Adams), ominous Uncle Fester (D. Scott McQuiston) and Mr. Mumble and Grumble himself, Lurch (Will Springhorn Jr.), among many others.
The Birth of a Goth Family and Lovable Franchise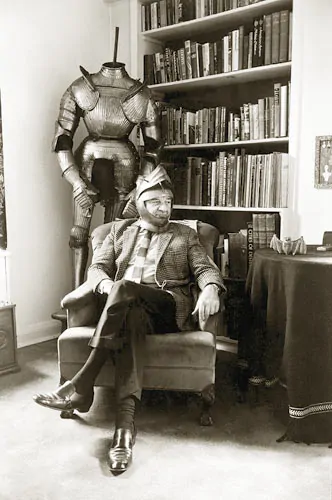 Cartoonist Charles Addams unleashed the gothic Addams family on America when his black-and-white panels first appeared in the New Yorker in the 1930's. They featured an unusual family with macabre tastes in clothing, homes and food trying to fit in with normal people. It was the anti-thesis of the white picket fence and the American dream. Many could relate to the everyday obstacles facing the family — and their distinctly disturbing lifestyle resulted in never-ending opportunities for humor.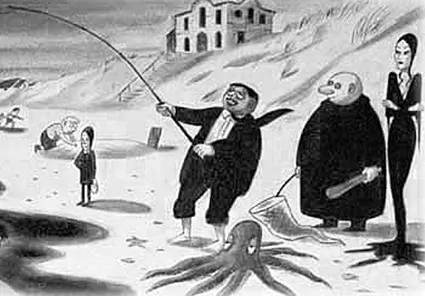 As you might imagine, based on his eye for capturing quirkiness in everyday situations, he enjoyed collecting unusual objects. Crossbows. A coffee table made from a civil war embalming table. Medieval armor. It seems Addams enjoyed being surrounded by the macabre. Whether his home space influenced his work, or vice-versa, I can't say, perhaps a bit of both. Either way, selling scary has become big business for the Addams Family, which is now a monster franchise:
— A popular ABC television series was produced in the 1960s. Despite only lasting two seasons, it spurred a cult phenomena (perhaps similar to Star Trek, also cancelled after a relatively short television run).
— In 1991, the Addams family made a high-profile move to the big screen with a film adaptation starring Raul Julia and Angelica Houston. Box office was strong with receipts estimated over $100 million. Again scary sells!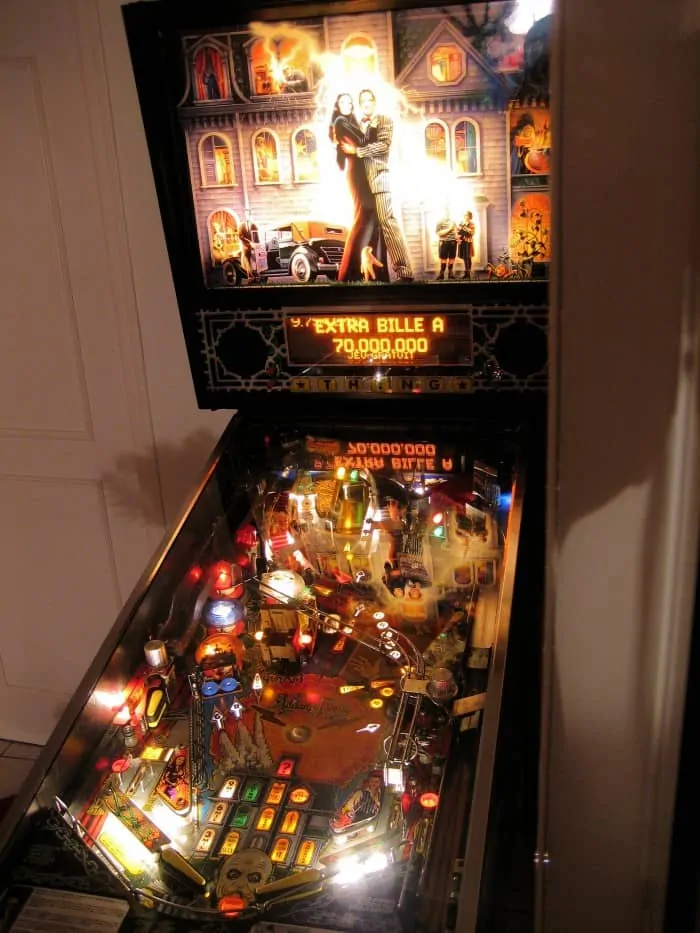 — Countless Addams Family-themed games have been released over the years, including a pinball machine that has become the number one grossing table of all time.
Like Fish Out of Water – A Comedic Device
"You can flip family expectations," stage director Tony Kelly says as he explains his approach to the material. "It becomes a great way of learning about comic logic even, how to tell a joke by looking at those cartoons."
A satirical inversion of the American family is how some have described the Addams Family. That they do not realize that other find them frightening and are delightfully oblivious. As Kelly says, that can "provoke" the situation for laughs.
The Addams Family runs through July 26 at The Stage in downtown San Jose. Based on what I saw during my visit, I'd say you're in for a darkly humorous, unpredictable, and most certainly, unconventional evening of musical theater. And lady killer? My acting debut in a "scene" with the great Johnny Moreno (last seen in the superb Venus in Fur) may or may not not go exactly according to plan..
It's show time!
WATCH: BTS The Addams Family Broadway Musical @ The Stage
Lead Photo: Dave Lepori.