Reports are pouring in all over the place today — email, Twitter, Facebook, Instagram, web sites — that harvest in Northern California is underway.
If true, this would be the earliest wine country harvest ever. Typically harvest begins in August, though in recent years we've seen that happen as early as late July.
It's not entirely surprising, however.
Bud break came early this year, and, it seems to be happening with regularity — climate change? Many in the press have been predicting an early harvest. And Spectator's Tim Fish wonders if "uncertainty is the new normal."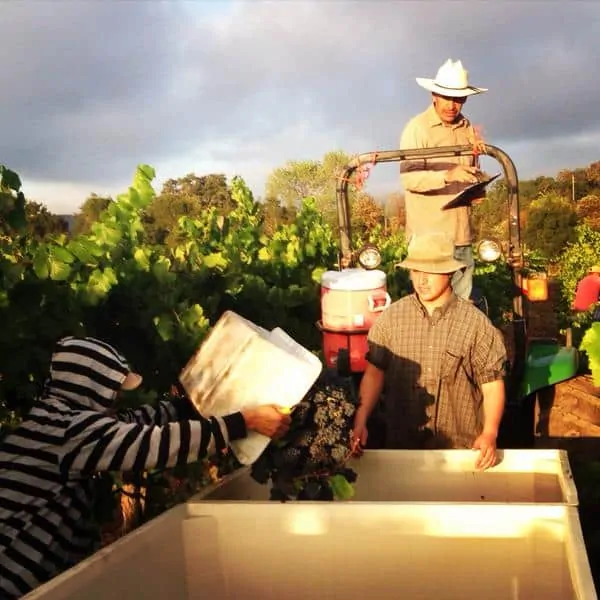 "So far, this year's growing season has seen alternating weather patterns of warm and cool temperatures, resulting in an early bud break, followed by a long, relatively cool flowering and fruit set period and culminating in what looks to be one of the earliest harvests in recent memory," said the Napa Valley Vintners trade group via email.
Hooray, #NapaHarvest is officially underway! Check out https://t.co/rbyUgVs239 for the latest. pic.twitter.com/iOUFEoKbCd

— Napa Valley Vintners (@NapaVintners) July 22, 2015
A giant truck full of picking bins arrived today. The start of #NapaHarvest 2015 is coming soon! #winewednesday pic.twitter.com/imYk7Quak4

— Paraduxx (@paraduxxwine) July 22, 2015
Veraison is in full swing in Merlot at #Pahlmeyer Waters Ranch. Looking great! #MerlotMe #MountainWines #NapaHarvest pic.twitter.com/70049ZCtp5

— Pahlmeyer (@Pahlmeyer) July 22, 2015
Harvest usually lasts a few months, before heading into "crush" season (a wonderful, cooler time to visit Napa).
ALSO SEE: 10,000 grapes & New World Grand Cru – Randall Grahm's bold new venture
Mumm Napa (Rutherford, California) also confirmed that it began picking grapes for their sparkling wines today, and it was their "earliest harvest on record."
"We expect the first load of grapes to arrive at the winery around 9:30/10:00a.m., coming straight from Game Farm Vineyard which will be harvested early that morning."