Misift is one of my favorite Pebble apps. Each night it automatically tracks my sleep. In the morning I can instantly see how many hours I've slept with a quick glance at my Pebble watch — and now the color Pebble Time (review). In addition, I can easily see weekly trends, activity, and even get an estimate of hours of "deep sleep", of which I suspect there is never enough.
But, recently I've taken to Android Wear. So my Pebbles sadly see less wrist time these days. But I do miss Misfit.
Enter the Flash Link tracker.
It's a low cost wearable that lacks a wrist strap, or screen. In fact all you'll find on the tiny disc (that can be easily clipped to clothing, or attached to a keychain, or simply dropped into a pocket) is one, single button. It's a welcome approach. In a world of increasing complexity it nice to see a manufacturer embrace simplicity. A single purpose device. The new Apple Watch, on the other extreme, is an example of a complicated product that can do convenient and helpful things, but takes a few days to come up to speed. But, a single button? How Yo!
At only $20, it seems Misfit is taking trackers into commodity territory. Those who weren't convinced about fitness trackers and were apprehensive about dropping a Benjamin on a device they may not like or use, now suddenly can take a chance for a song. Are we eventually going to see these things at supermarket checkouts next to the gum, miniature flashlights and tabloids?
As you might expect, all the magic for the new Link comes from the Misfit companion app. Available for Android and iOS, it presents all the information you'd come to expect from a fitness tracker: steps, sleep, activity, distance, and more.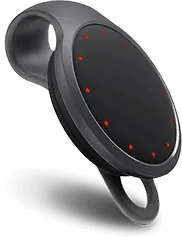 Battery life is, in this day and age, extraordinary. Per Misfit it should last up to 6 months (we'll find out later when we review one).
The "smart" button can be configured for a variety of tasks: to take a selfie, connect with Spotify or a Harmony Remote, or, yes, apparently even with Yo.
So now I can discretely wear a Flash Link, and while my LG G Watch (or Moto 360, a pretty one!) charges can still use Misfit to track my sleep, and get helpful activity information throughout the work week. Admittedly, I'm a two-wearable kind of guy… My name is Clint and I live in Silicon Valley…
I wonder if smartwatches will be next?
Will Huawei or Xiaomi or another newcomer shakeup the market with a low-cost smartwatch running Android Wear? It seems likely, at least at some point in the next 6-12 months.
Meantime, Misfit has upended the entry level fitness tracking market with a $20 device that looks to offer quite a bit of functionality in a tiny, easy-to-use package.
Your move Fitbit.