They're called Dash Buttons. For $4.99 a piece, Amazon wants you to attach them to appliances, or in general around your house. Push the button on the small, USB-sized device, and it's like using the highly successful (and a credit card's worst nightmare) "Buy Now with 1-Click" button you find across Amazon's web site. An order is automatically placed via Prime, and you needn't suffer the huge inconvenience of placing the order via the Amazon app.
The first wave of buttons, which are available now to Prime members include various household necessities such as dish detergent, paper towels, pet food, disinfecting wipes, diapers, bottled water, garbage bags, instant coffee, and on and on. By my count, as of today, there are 18 buttons available for purchase (each are $4.99 US).
Some of the more interesting buttons include ones for Kraft Macaroni (because what's better at 2am on a Saturday morning?), Olay make-up, and Gatorade. The possibilities are, of course, endless.
How do Dash Buttons work?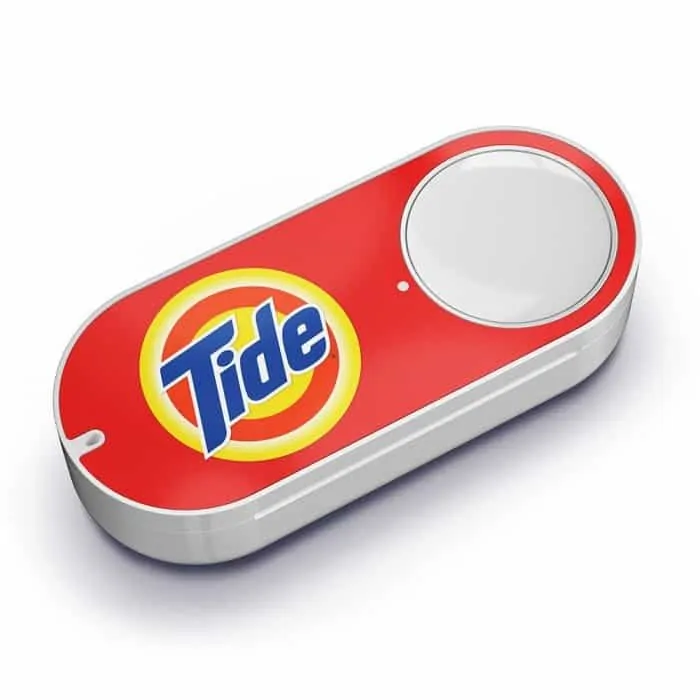 You attach them in convenient locations around the home (hang, place, or stick with adhesive backing). When you're running low on a particular item, simply push the button. Et voila. Amazon places the order, all without you even having to — the humanity — pull up a web browser or your phone to do the same thing.
Buttons are programmed using the Amazon shopping app. Connect to your home wi-fi and use the app to specify which products are ordered for a specific button.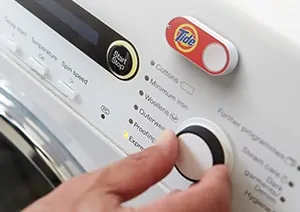 For example, you might place a laundry detergent button on your washing machine. Run low on detergent, no problem. Push the button and a box of Tide is on the way — an order confirmation is automatically emailed to you.
You've got to be kidding me?!
Nope. This is real.
Amazon wants to turn our homes (and offices) into an extended collection of brick & mortar stores. Creepy. And possibly ingenious.
Don't let running out ruin your rhythm.
By providing honest-to-goodness, physical Buy it Now buttons, Amazon is betting that we'll find the ease-of-use and convenience addicting.
E-commerce transactions in more places, with less friction: Amazon is extending its e-commerce engine and platform into more places, or, at least, Bezos and team are attempting to do just that.
Opinion: The Amazon Dash Button Fiasco

John Dvorak at PC Magazine had this to say:

"The Internet of Things will invite the worst in people, just as this Amazon button will encourage everyone who sees it to push the button, over and over."
Will it work?
I'm not so sure.
After all, pulling up the Amazon app and buying something is not that hard. Also, what if a child inadvertently (or purposely!) orders 20 boxes of Gatorade thanks to that tempting button on the refrigerator? You might not like that. Amazon will.