It must be something in the air. Or, maybe it's that when you're in Napa you can't help but feel anything but happy-go-lucky. The sun. The stunning vista. And, yes, that wine. That might help explain the charitable mood bidders found themselves in at this year's edition of the esteemed Auction Napa Valley.
Napa Valley Vintners, the organizers behind the annual auction (and Premiere Napa Valley, held earlier in the year) and representatives of 500 member wineries, announced that $15.8 million was raised. Hall Wines hosted, and Opus CEO David Pearson was this year's honorary chair. He said:
"While $15.8 million is a number that reflects the abundance of giving that we will extend to families in Napa Valley, I am reminded of a singular example of how far these funds go in creating a strong, cohesive community. Just a day after the South Napa Earthquake last August, an immediate cash infusion of just a few thousand dollars to the American Canyon Family Resource Center provided essential food and emergency supplies to a multitude of families in dire need. Imagine what we can continue to provide for our community with this year's Auction Napa Valley's proceeds."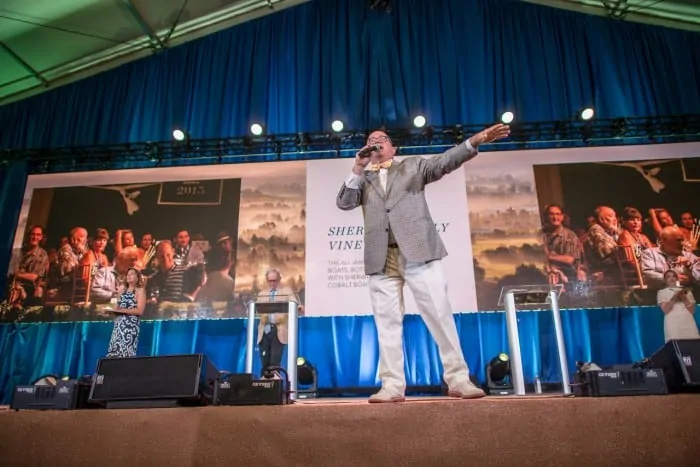 On Saturday, 850 guests attended a "wine country lunch" prepared–composed!–by Chef Michael Chiarello (who perhaps rivals the one and only Jean-Charles Boisset as most visible Napa personality… or, maybe not). Later in the day 51 lots were auctioned off — a look at some of the more eclectic and interesting 2015 ANV lots.
Singer-songwriter John Legend made a surprise appearance and performed "All of Me," the best selling song of 2014 (12.3 million units).
Most importantly, however, is that $15.8 million will go right back into the community. You can discover via the ANV web site how the annual funds are allocated or click here to read the 2015 giving report (pdf). A sizable portion goes into healthcare nonprofits, as well as education (classroom programs and youth development).