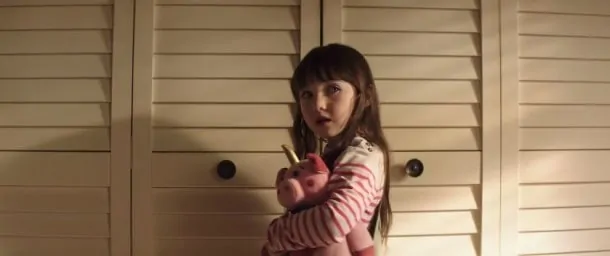 They're heeeeere…!
And I'm not too sure they need to be. They being the benevolent force and mysterious creatures so famously brought to the suburbs in Steve Spielberg's pop culture pièce de résistance Poltergeist (1982).
The ghost story starring relative unknowns JoBeth Williams and Craig T. Nelson became a landmark film for several reasons. On the surface everything appeared normal, all is well in ticky-tacky America. Who knew evil would enter into this innocent–very M&Ms innocent–world through a little girl? Well, maybe those who saw a sleeper film that came about ten years earlier called The Exorcist. Like that masterpiece set in an everyday context Poltergeist too was a ghost story for the masses. It wasn't bloody, it was mystical, magical even.
Featuring iconic imagery such as when little Carol Anen Freeling sits in front of a television apparently on the fritz (a la Videodrome?) and slick direction from Tobe Hooper, it was the kind of experience that epitomized the 80s zeitgeist so well: the dark side of the American Dream, a strong family unit torn apart by forces beyond their control, and the sense that the surface is indeed superficial. Similar themes propelled E.T. to massive boxoffice success around the same time.
They're baaaaack…!
But do we need a Poltergeist reboot?
Sam Raimi (The Evil Dead, Spider-Man series) directs, and that's an encouraging first step. Yet, despite his obvious talents, and eye for visual drama, it seems to be an impossible task, remaking a film that is forever seared into the public psyche. Likely the marketing strategy here will aim to appeal to millennials and maybe generation X; those who look at an M&M as a candy, not a mega-commercial tie-in.
After watching the new Poltergeist (2015) trailer, my fears seem to be concerned:
— style over substance
— slick, but manufactured scares
— generic, action-movie style visuals juxtaposed against flat acting
All the same reactions I have had to some of the more high profile remakes, all of which were lifeless, pale, and unnecessary imitations: Psycho (1998), Friday the 13th (2009), The Omen (2006). All of them witches! I say. Because at the end of the day, if I'm going to spend two hours watching a classic horror film I will no doubt watch the original.
Besides, you have to wonder, with all the stories available in the world, all the opportunities to bring something fresh and original to the big screen, why turn to the past?
WATCH: Poltergeist official trailer (2015), directed by Sam Raimi
And compare to original Poltergeist from 1982 (per suggestion in comments):