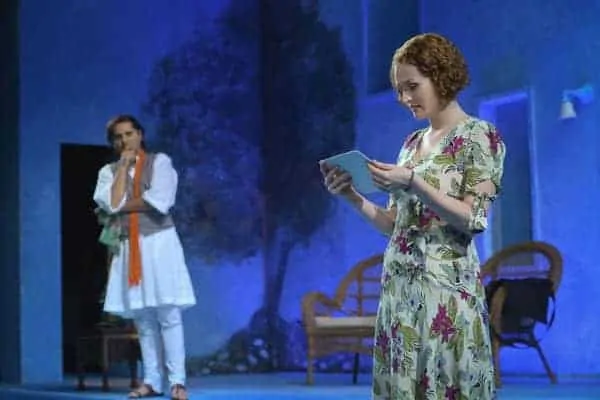 Sometimes you know you're supposed to like a piece of art–be it a painting, a sculpture, or, in this case, a play. If the work has acclaimed history, and esteemed people behind it, then it makes the case that much stronger. Which is why, after the first few scenes of Indian Ink at A.C.T. I felt somewhat discordant.
A celebrated playwright, Tom Stoppard. A revered director and artistic presence in the local and national theater scene, Carey Perloff. And established, renowned stage actors in the likes of Brenda Meaney, Firdous Bamji, and Anthony Fusco (quite possibly the actor I've seen most often on stage since we started covering theater on Stark Insider in 2009).
Yet, the quality piece parts don't quite seem to gel, at least not on this evening.
In particular the chemistry between free spirit poet Flora Crewe (Brenda Meaney) and shy painter and unlikely suitor Burad Das (Firdous Bamji) didn't click.
Individually each actor gives particularly charming, amusing and deft performances. Meaney has a way about her that quickly reminds one of Lady Mary Crawley from Downton Abbey. She's proper and sophisticated alright, but just affable and vulnerable enough for us not to fall hook, line and sinker for her mysterious, cultural journey. Bamji too is a treat. Quirky mannerisms, many to do with shyness intermixed with cheekiness as he attempts to paint the visiting Crewe, are simply the stuff of comic prowess. Later, though, when the two find themselves in a bedroom scene, any sort of charged eroticism at play, perceived or otherwise, is depleted by the lack of a spark. At worst, it's an extended and awkward moment.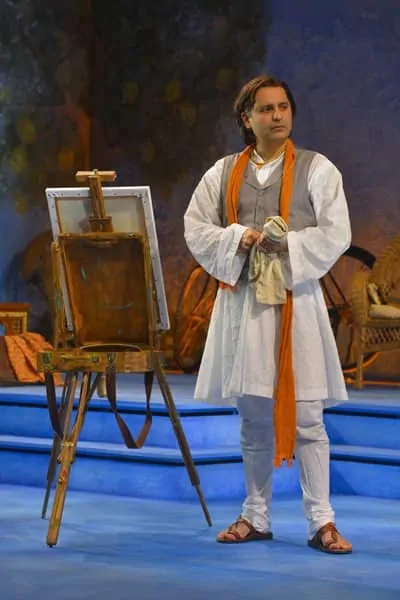 Stoppard fans may vehemently disagree. They may be right. You either live and breathe the dialog, and the (artful) cuts between the present and past, or find yourself disconnected by the steady state, of a story arc that seems to mostly run at idle. It's dubbed epic, but at times, it simply feels long.
A.C.T. trademarks are all here fortunately, including a lush, beautiful set. Textures and lighting adorning the walls of the Indian home are striking–bright colors, earthy tones, pretty details. When the lights went down in the house, and the curtain went up, we see Flora Crewe arriving, and being fawned over by her adoring, accommodating hosts. Servants bustle, luggage is whisked away. Namaste gestures and pleasantries abound. The colors, poetry of the movements, and quirky charm of the proceedings are perhaps reminiscent of what the Wes Anderson film The Grand Budapest Hotel might look like if brought to life for the stage. Because this is Stoppard, however, you need to invest mightily, and for some, that just might be too cumbersome.