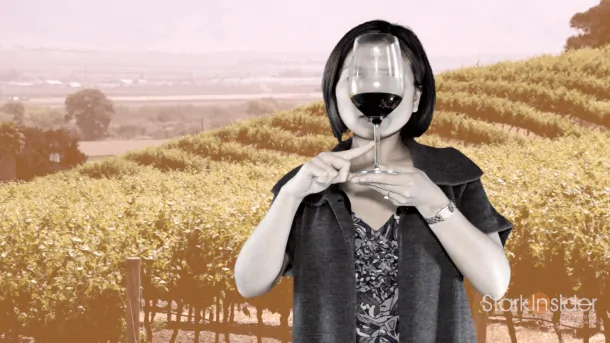 Santa Lucia Highlands may well be one of the wine world's last great secrets. Located a short drive just south of Silicon Valley, about 45 wineries call the AVA home.
Recently we stopped by one of the wineries, run by a famed generational wine family–more on that when the final video is cut.
It was a remarkable day, coastal fog drifting over the Santa Lucia Range from the Pacific, a special gala that brought together the region's winemakers, and an informative panel on terroir earlier in the day. Oh how I wish I had a drone when we visited, the vistas!
Interestingly, I rarely hear much about the Santa Lucia Highlands in the press, or on wine web sites. In some ways it reminds me of Livermore Valley to the north, another AVA that has been around for decades, and, yet, doesn't seem to get as many mentions as it should. Regardless, if you haven't heard of SLH before, you probably have at least heard of some of the wineries: Talbott, La Estancia (a great Costco pickup!), Mer Soleil (furthest to the north and the first you'll pass heading 101 from Silicon Valley), Paraiso, Hahn Smith, and J. Lohr, among many others. This is your spot if you love Pinots and Chardonnays.
Over the weekend, Loni and I gave ourselves yet another video challenge, this one involving the (dreaded) green screen (last weekend, on location: Beat's So Lonely in Union Square). 24 hours to record, publish a video. Create, create, create–for better or worse. No boundaries, no second-guessing, and, possibly, no logic.
What you see here are some of the outtakes which will be cut into the final Santa Lucia Highlands video, which is now working its way through my (somewhat backlogged!) edit queue. In the final version, we get a great tour of a winery, learn about the history of SLH, before Loni heads to the "wine tasting laboratory" and "wine dream laboratory" where things get, well, get… all Stark Insider-ish…
Remember: feel the body.
WATCH: Dreaming of Santa Lucia Highlands (Outtakes)
Dreaming of Santa Lucia Highlands – A Wine Adventure (Coming Soon) from Stark Insider on Vimeo.