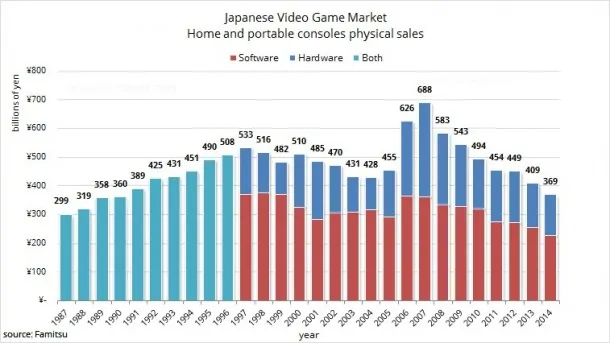 According to a new metric, video game sales in Japan peaked in 2008 and have been on a steady and substantial year-over-year decline since.
Famitsu magazine published a chart which tracked 27 years of the video game industry. The late 1980's and early 90's saw growth, which stabilized in the 00's before spiking in 2006 with the arrival of the next generation consoles–64-bit systems such as the Sony PlayStation 3 and Microsoft Xbox 360. At its peak the following year video game console sales, including hardware and software reached 688 billion yen, or approximately $5.8 billion in current U.S. dollars.
In 2014, based on the Famitsu chart, the console market is has fallen almost 50% since its peak.
The news doesn't come as much of a surprise. It's no coincidence that the console's best days came before the introduction of the Apple iPhone in 2007. Mobile gaming has exploded along with the app economy. Most analysts believe smartphones and tablets have taken huge chunks of sales away from the traditional market. Consumers appear to want to game on-the-go, and feel a freedom not offered by consoles which require users to, in a sense, be tethered to their living rooms.
Another theory points to the lull in development cycles. According to Ollie Barder of Forbes, games typically take two to three years to complete. With the next gen PlayStation 4 and Xbox One having launched at the end of 2013, that would mean the industry won't see the next wave of big game title until well into this year, and possibly into 2016.
Blockbuster Games Not Dead
Huge console blockbuster games appear anything but dead. Take Destiny for example. Developer Bungie reportedly spent in the neighborhood of $500 million to develop and market the PS4 exclusive first person shooter. Despite modest reviews, payback came quickly: 1 day is all it took for the studio to recoup its investment.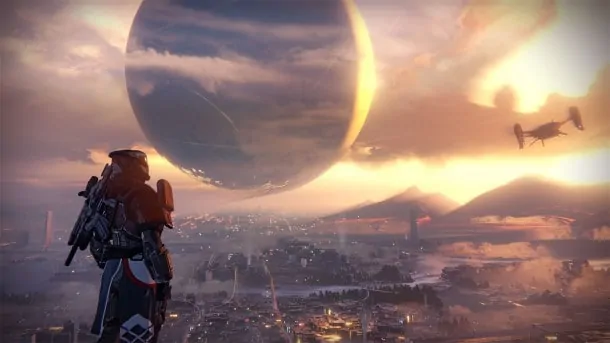 Rockstar Games made over $1 billion in a matter of weeks with its mega-franchise entry Grand Theft Auto V. And Activision's Call of Duty, a cross-platform title that runs on multiple systems, moved 5.8 million units in 2014.
So it may be early to write-off the video game console just yet — and doesn't it seem like we do this every other year?
Research firm Gartner paints a rosier picture, perhaps suggesting the console downturn is mostly behind us. It predicts the mobile market to reach $22 billion in 2015, but console revenue to double that, at approximately $55 billion, in just two years.
Subscription Model
Another trend in the video game market to watch is that we've seen all too well in other sectors such as music and movies. And that, of course, is the subscription model.
Sony recently announced it would offer a subscription model called PlayStation Now that enables customers to play a back catalog of PlayStation 3 titles for $19.99 per month. Both Microsoft and Sony also offer subscription services–Xbox Live and PlayStation Network–that offer gamers premium console, and access to online content and multiplayer gameplay. Recently these services have become notorious for being the ongoing subject of several hacker attacks, most notably during the Christmas holiday period.
If successful in building subscriber bases, revenue could become more stable and predictable for companies such as Microsoft, Sony and Nintendo.