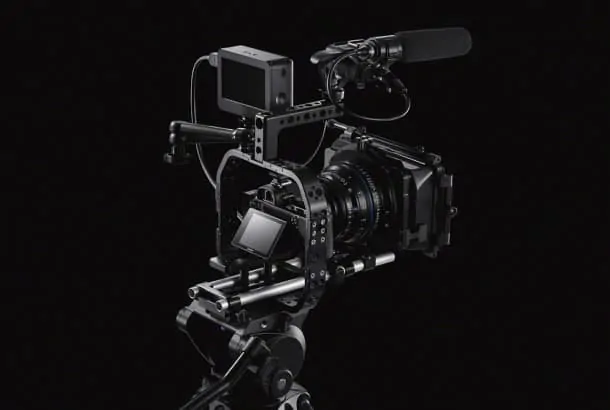 Which camera would work best as kitted out run-and-gun workhorse: the Sony a7S or more expensive (yet more capable of course) Sony FS7? And, is Canon even still in the game? Here's my current state of mind as we possibly transition from Canon DSLR to Sony for Stark Insider videos.
A camera revolution is underway. Many pro-sumers, indie filmmakers, doc shooters, and music video folks probably already know all about it. That is: you can get amazing camera gear for a fraction of what would cost even just two years, with capability rivaling that of even some Hollywood equipment. Hyperbole? Possibly, but not by much.
Take two of Sony's most recent camera entrants.
The Sony a7S is a full-frame camera that came out last year. It competes very effectively against what was once considered the one DSLR to rule them all: the Canon 5D Mark II (and now the III). Except Sony has upped the game by competing aggressively. First, on price. The a7S is only $2,500. By pro standards a bargain especially given the 5D Mark III lists for $3,100. Further, the Sony employs (an increasingly trendy) mirrorless design which makes the camera lighter and smaller. Better still, it performs remarkably well in low light. As some would say, "it sees in the dark!". That's a bonus for me as we often shoot in dark barrel rooms at wineries, or backstage at Broadway shows, or at dimly lit restaurants across the SF Bay Area.
Meanwhile, up a notch is the newly introduced Sony FS7. Unlike the a7S which can take stills or video, the FS7 is aimed clearly at the professional video market. Build in XLR inputs make capturing clean audio a breeze. A beautiful Super 35 sensor produces filmic like results up to 4K in resolution. And the ergonomics (maybe a first for Sony in such a model?) are finally up to snuff – you and shoulder mount the camera, you can handhold and run-and-gun, or you can put it on a tripod, however you please. Then, again, the price: $7,999. If you know film and pro video you know immediately that's another veritable bargain. Its nearest competitor, the Canon Cinema C300, retails at $11,999 (body). That's 50% more. Not. Insignificant. Add to that the face that the C300 is now three years old, and you begin to think that, yes, it's true Canon is slipping a bit, and Sony is indeed bringing on the hurt!
Yesterday I wrote about moving to Super 35 for Stark Insider videos. It's a bit of a ramble. In the end I really concluded that the best option would be a dual camera approach. From Sony. The a7S when steal is needed, such as shooting in a tightly-quartered Sushi restaurant as we recently did at Treebones in Big Sur, or perhaps to put the subject at ease, when a big honking 18-135mm zoom/telephoto would result in the reindeer effect. Then we would use the FS7 for traditional setups – when interviewing musicians at events such as Live in the Vineyard, or doing travel segments, or covering regional film festivals such as MVFF, etc. It seems to make sense: a7S for high quality stealth and low light, the FS7 for balls-to-the-wall gorgeous 4K and supreme quality, lut (S-log3) and quality codex (XAVC). Biento! Then…
Then, a commenter on my Super 35 plans suggested maybe starting with just the a7S would be the right thing to do. Put the extra cash saved from also picking up an FS7 into lenses, rigs, other gear and accessories. Aside from striking fear across the heart of my sensor ego–I shoot Super 35!–the more I studied the possibilities last night, the more it made sense.
A run-and-gun Sony a7S set-up might look something like this:
Option: Sony a7S Run-and-Gun Config for Stark Insider

Cute little a7S in a Movcam cage. Hopefully Newsshooter is okay with my re-publishing it here. They've got a great video review of the Movcam for a7S here, by editor Dan Chung.

Sony a7S camera $2,498

Sony Vario-Tessar T* FE 24-70mm f/4 ZA OSS Lens $1,200

Movcam cage (these look well engineered) $260

Sony battery x 2 $80

Black rapid shoulder strap $35
That comes to just over $4,000.
I'd also get a prime lens – a 35mm or 50mm Zeiss. And a Metabones IV lens adapter so I can use my Canon glass (especially that beauty known as the Sigma 18-35mm ART). So maybe pushing $5K.
I already have a Zoom H6, mics, some Zoom H1s, and tripods, etc. So really this is just an upgrade to my current system which is built around the Canon Eos 70D. A superb camera. But I could use better quality files, for grading in Premiere Pro.
Later, with the savings from not having bought an FS7 I could get an Atomos and do external 4K recording, or invest in better glass, some sort of gimbal, and on and on. I guess it's the age old trade-off between buying more camera bodies, or gearing up on existing stuff.
Rolling shutter on the a7S concerns me a lot. But I'm hearing and seeing conflicting accounts. If I head down the Sony path I may start with the a7S, and later, if there is still that primal need for Super 35 (and built-in XLR, NDs) then I will likely move on to an FS7 – though I'd like to see more reviews first.
Meantime, I'm going to (probably) do this one last time:
Wait.
Wait to see if Canon finally (finally!) steps up and delivers a truly ground-breaking, or at least equalizing response. Maybe a C300 Mark II at NAB in April?
In the end I know this: gear won't improve my work one iota. It may give me an opportunity to be better in a given situation. In the end, though, people far, far (far) more artistic than me are making glorious stuff with "merely" an iPhone or merely a Canon T2i.
Funny, there's a tendency out there in the video community to hyper-focus on detail and sharpness tests. I find I'm the opposite. I like to put grain into stuff. Give my footage Filmconvert and all that good stuff to achieve sort of a dreamy, ethereal feeling. I fail at that most often. But as I've known from building Stark Insider for about 6-7 years now, the more fails you get, the quicker you'll get to your wins. Yes, I used to be in sales. Back in the day I used to sell JVC a/b roll edit systems. Then in Ottawa I became the in-house specialist on Fast technology at distributor called OM Video, what was then one of the first NLE offerings out of Canada (Vancouver I believe?). Glory days, and how lucky we are today to cut & paste and move bits around a digital timeline at will!
Part of me wonders, though, could Super 35 or a7S or FS7 or Blackmagic, et. al. have better captured this moment Loni and I experienced at the San Francisco Art Institute…
Wrong's What I Do Best – San Francisco Art Institute from Stark Insider on Vimeo.
By the way, I went through similar over-analysis last year. In 2014, my spreadsheets and planning were all about Blackmagic. I did nothing – kept shooting on the 70D. Thank goodness, for run-and-gun and event stuff I do I'm not so sure the BMD gear, phenomenal to be sure, are well-suited for my stuff. In 2015 it seems to be all about Sony, mirrorless, 4K and Super 35.
Over the last few years it's been much easier for me making these moves, requiring little thought: from a Canon Vixia camcorder to Canon EOS Rebel T2i to Canon EOS 60D to Canon EOS 70D (that dual pixel touch-based auto-focus and subject tracking is stellar). Maybe those upgrades felt more palatable because none cost more than $1,500!?