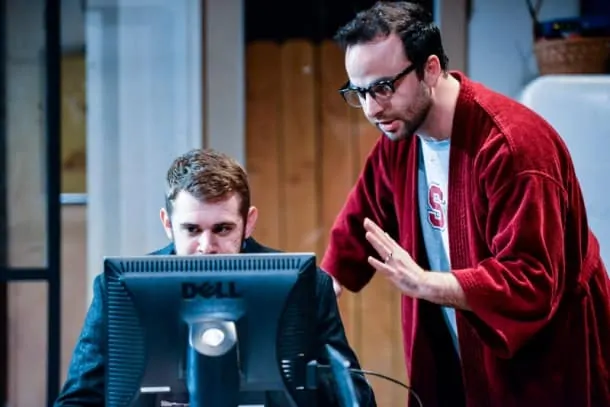 Hello World.
Silicon Valley has its own television show (on HBO). Now it quite possibly has its own play.
Build, which opened over the weekend at City Lights Theater in San Jose, hits pretty darn close to home, deftly zeroing in on this region's most unique, quirky, and captivating elements: wealth, greed, compassion, ego, narcissism, and desire for community. Various themes, often at odds, drive this new work with fresh energy and lingering tension. Silicon Valley is at times a paradox. There's the pursuit of the vaunted IPO and the desire to become instant millionaires. Then there's the apparent need to save the world. What good is a line of code if it can't forever change (and save) the world?
Written by Michael Golamco (NBC's Grimm), Build smartly personalizes the Silicon Valley experience by honing in on two video game developers. Kip (George Psarras) and Will (Max Tachis) are pedal-to-the-medal, in the last mile of completing the sequel to their mega-blockbuster hit Maelstrom. Will is organized, focused and adamant about staying on schedule. Unfortunately his partner is the exact opposite, dreaming about the possibility of an open source core game engine that he can share with the world, rather than appeasing corporate HQ. He refuses to leave his grandmother's Palo Alto ranch home, preferring to mope around in a bathrobe, write poorly documented code, and work on a secret project. His legendary genius is necessary, however, and Will needs to do everything he can to keep his coding partner on point, even if it means being tethered to a small kitchen table, hammering out code and and bug fixes well into the midnight hour.
As the two devs work towards the deadline (imposed by an off-screen VC known merely as Malcolm) there's plenty of creative tension on how to go about following up to the sequel to their monster hit. There's plenty of pill-popping, philosophical debates, and at least one revelation that helps explain Kip's obsession with artificial intelligence (played wonderfully by Morgan Voellger).
Build has so many juicy, point-on themes, it leads to one yep-seen-that-done-that reaction after another. Anyone who has worked at a start-up (or even in engineering operations at larger tech companies) will immediately understand the common axises of friction:
Bug fixes vs. new features
Open source vs. commercialized software
Deadlines vs. artistic freedom
But, of course, in the end this technical infrastructure (to serve up further geek speak) is merely an (incredibly) accurate backdrop (first time I've heard "Gold Master" be used on a stage) to what is a story about love, loss, and belonging. To say more would be to possibly reveal the twists and turns these two caffeinated guys endure during the ninety minute play.
This is my first show at City Lights in quite some time. And I was immediately floored by the set. It's a beautiful mess. Pizza boxes, empty soda cans, and all manner of cables and tech gear are strewn about. Several LCD panels line the ceiling. They provide for some of the play's most dramatic visuals. That, plus a projector (which I was told by marketing director Rebecca Wallace was made possible through a generous grant by the Knight Foundation) is used to spectacular, sort of Matrix-like, effect. If there was an attempt to invoke awe and wonder at the possibilities of A.I. and virtual reality, then mission readily accomplished. Add to that ultra-cool 80s'-electronica music (also by actor George Psarras who serves as City's resident composer and sound designer) and you have some searing visuals not soon to be forgotten.
Acting-wise I think City has just set a new bar for itself. These are three superb performances, believable, enjoyable in every sense. George Psarras has the lethargic, paranoia-angst, but brilliant thing down to perfection. And clean cut Max Tachis is ever believable as the newly minted multi-millionaire who drives a Ferrari (not a Lambo!) and the kind of guy who would have installed a massive LED screen on one of his (hipster) condo's walls. Morgan Voellger delivers several monologues with robotic likability (not sure that even makes sense?) – I was reminded several times of Scarlett Johansson in something like Under the Skin or Lucy. Especially look for a hilarious analogy involving Tetris.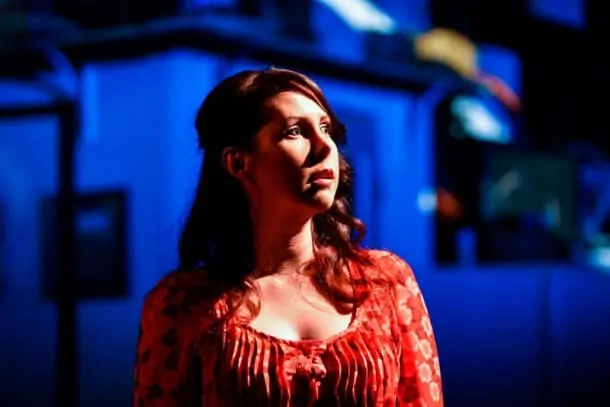 There are some minor nuisances, perhaps mostly perhaps related to the script, which I understand is still being honed (this is only the second run, after debuting in Los Angeles in 2012). Actors spend an inordinate amount of time at a small table, typing, typing, and typing some more on their computers. We get that they're developing code, but there could be more opportunity for backstory, or to use other parts of the set. Loni, my wife who joined me for opening night, disagrees, and says that's exactly the point – this is their life, at least until the game ships.
Interestingly, we're living in a time, in tech at least, where developers, and especially those who work at hot start-ups, are the new cool kids. Engineers used to be the guys hidden in the backroom, skulking behind server farms. Now they–rightfully–are basking in the (well-paying) limelight. Just ask around companies here and find out what they're paying in the form of up-front signing bonuses, and stock grants (usually restricted, unlike the options of yesteryear). Add on top of that social media, and you get all kinds of interesting things happening, especially in San Francisco: hackathons, "product hunt" parties with line-ups around the block, VC-pitching contests, to name, but a few of today's intriguing and new tech community building events.
2015 is off to a roaring start for theater here in the San Francisco Bay Area. Build was a pleasant surprise, and should be high on not just a theater-goers list of must-see shows, but also for developers and technorati alike across the Valley.