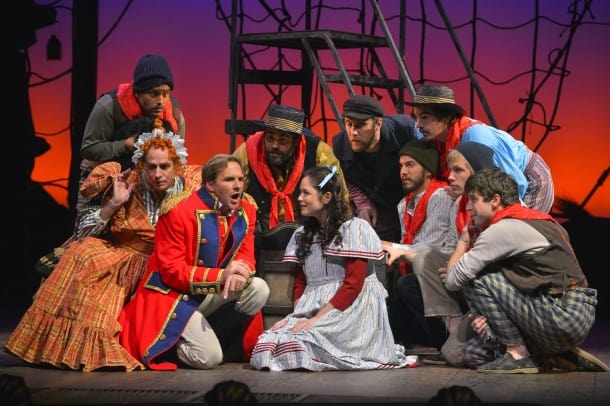 If you missed the touring Broadway production of Peter and the Starcatcher that blew through San Francisco last year, take heart. The TheatreWorks production opened this weekend. Brit wit, good writing, and strong casting make it enjoyable for adults and kids alike.
Peter and the Starcatcher is the prequel that makes Peter Pan make sense. If you balked at J.M. Barrie's 1902 novel as a child, perhaps because families named Darling, dogs named Nana, and astral beings like Tinkerbell were a walk into the weird, this show is for you. Unlike the J.M. Barrie book, which I always suspected was written to satisfy some adult version of cute, this play provides some much-needed legitimacy to that Barrie story, savaged as it was on recent network TV. While hairy-chested mermaids, cross-dressing governesses, and pirates that speak in rhyming couplets sound implausible, you'll learn how Peter got his name, why he can't grow up, and how he ended up at Wendy's bedroom door with the Lost Boys.
If Rick Elice's superior script gives this play it's loft, the talented Adrienne Walters goes a long way in making this particular production so successful. Walters, a relative newcomer to local stages, attracted considerable attention with her 2013 appearances at the Aurora, in Our Practical Heaven, and her more recent work at Foothills Theatre, where she appeared in Little Shop of Horrors.
Walter's baby face makes an ideal 13 year old Molly. It softens some of the more potentially obnoxious bits of this know-it-all 13 year old, and hints at a possibility we can fast forward into a plausible mother of Wendy.
As Black Stache, the "pirate with scads of panache" Patrick Kelly Jones affects a '70's persona – which he pulls off without being entirely too grating. This is vital because the Stache riffs through some of the best lines in the play. You need a certain mental acuity to completely decode Stache' dialogue. Nimbly delivered by Jones, it makes the play work for adults as well as kids.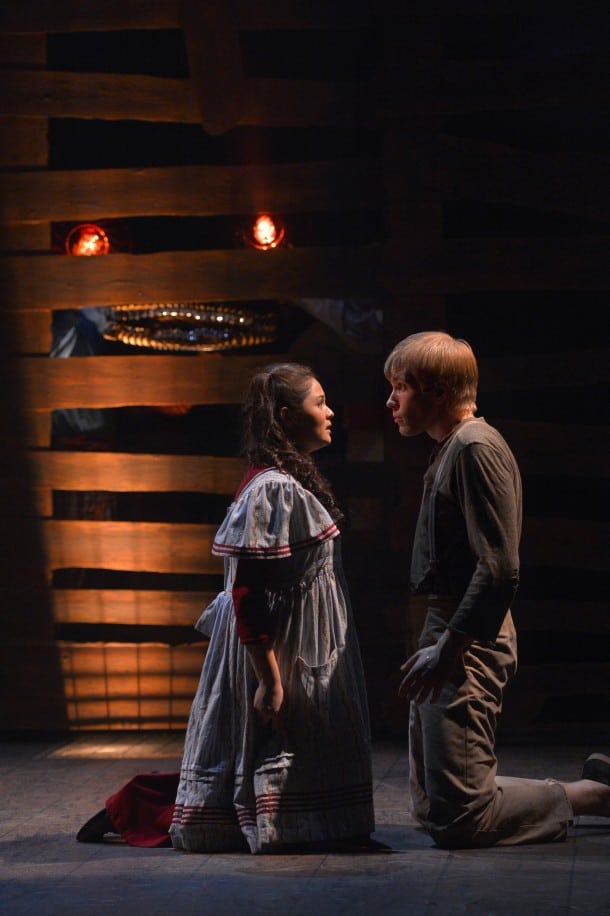 Ron Campbell gives us the cross-dressed nanny, Mrs. Bumbrake, whose humor, like that of Black Stache, operates at multiple levels. Michael Gene Sullivan appears in multiple guises, including the dynamic Fighting Prawn, Grempkin, Mack and others. Sullivan's the kind of actor that brightens whatever production you find him in and Peter and the Starcatcher is no exception.
The only off note was that this stage seemed a touch small for this productions. While the cast more than capably pulled it off, the set, heavily laden as it was on this small stage, threatened to look crowded in the busier moments.
Peter and the Starcatcher will be at the Lucie Stern Theatre in Palo Alto through  January 3rd.