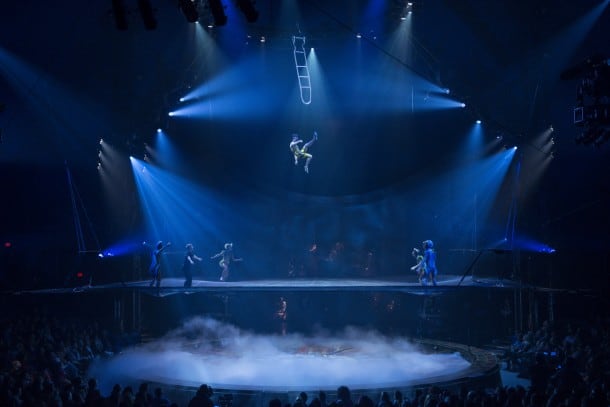 The Kurios – Cabinet of Curiosities posters have been plastered in BART stations and Muni stops for weeks now – with buzz a-plenty surrounding the premiere of the new Cirque du Soliel.
Artistic director Bruno Damagnac positively burbles with enthusiasm for this new venture, which marks the 30th anniversary of Cirque. "Kurios is a happy show," he enthuses. "It treats the industrial period – the end of the 19th century, where there were lots of inventions and everything was possible."
Leave it to Cirque to put a positive spin on a time period in which the creation of wealth paralleled gritty tenement flats, filthy air, disease, and other symptoms of industrial disease. However spin it does, along with contort, fly through the air, dine on an upside down dining table suspended from the top of the chapiteau (big top), and putt-putt around in a delightful steam engine. In short, Cirque is back in town – and more mind-boggling than ever.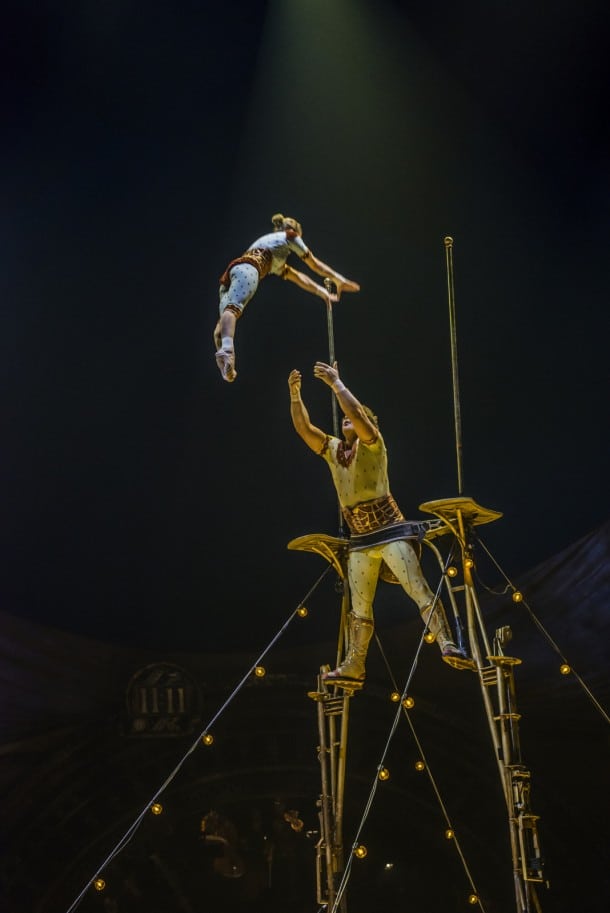 The creations of costume designer Philippe Guillotel were as ingenious as the 19th century inventions making an appearance throughout the show. I'd happily sit through many Thanksgiving dinners, first with my relatives – and then with all of yours – if I could wear the contortionists' electric orange and sky blue skin tight leotard and makeup, that looked like a rainforest beetle on acid. Steam punk crossed with extra-planetary insectoid visions shared the stage with a cartoon-like Dickenian old lady and made inventor (Antanina Satsura and Anton Valen), and an all too real house cat.
ALSO SEE: Backstage Tour: KURIOS – Cabinet of Curiosities by Cirque du Soleil (Video)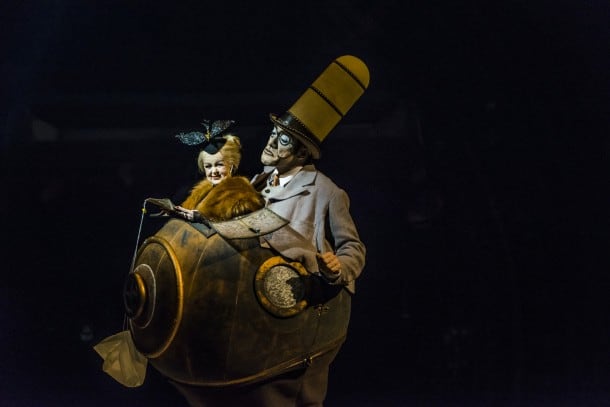 Cirque du Soliel is unparalleled at creating fantastical environments peopled by surreal beings doing things barely imaginable. However, they're even better when their show also lean toward the human – or super-human – than toward the non-human. As much as we want to be thrilled by things we can't imagine, we also want to be tickled by things that we could imagine our alternate selves just possibly being capable of – like putting some 10,000 hours of practice to be a tenth as good as Cirque's yo yo guy. Moreover, the game stops being interesting if we ever forget that these superhuman performers are human. Kurios seemed to find a better balance between these human and non-human elements – which is why this show is one of the best I've seen in years.
Kurios – Cabinet of Curiosities will be at ATT Park through January 18th.
WATCH: Backstage at Cirque du Soleil KURIOS at AT&T Park