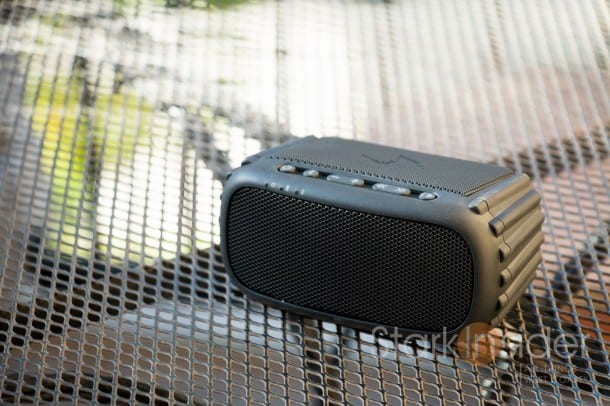 I get no shortage of Bluetooth speaker review units. Over the past few years these portable devices have exploded in popularity. They come in all sizes, price points, and colors, not to mention some that are outlandish in style. So when one rises above the pack I tend to write about it. And here's one that should… ahem… float your boat.
Ecorox looks like just about every other speaker out there, except for one important thing: it's 100% waterproof (IPX7).
That makes this compact unit (3″ x 5.3″, 2.11 ounces) ideal for the shower, the pool, or outdoor situations such as camping or at the beach where moisture or rain can be a factor.
It seems like most designs go for one of two approaches when it comes to these speakers: (1) minimalism design with virtually no buttons (relying instead on voice updates), or (2) discreet buttons for all functions. This one, made by a company called Ecoxgear, fits into the latter. Which you prefer is a matter of personal  preference. I will say that it helps a lot to have individual, tactile buttons. With this speaker you get transport controls (previous, next, play/pause), a power button, dedicated Bluetooth pairing button, and volume controls. In addition, there are three LED status lights: power, battery and Bluetooth.
The Ecorox can be used as a speakerphone (with a noise cancelling mic) – similar to the ever popular Jambox.
What about sound quality?
Fortunately, being waterproof doesn't compromise fidelity. Most won't mistake this for a premium Bose unit. Then again, this is half the price, and can withstand the elements. Compared to the Kinivo, a low-priced marvel of a speaker, the Ecorox definitely has more punch. Most of that comes from the mids. You get decent bass (for such a small speaker), and relatively crisp highs, but it's the mid-range that really comes through. Whether or not that appeals to you, will depend largely on the style of music you listen to. For classical, or jazz this may not be the best speaker. To my ears at least, though, it sounded terrific for rock, pop, rap, and music varieties that rely on a wall of sound.
Battery is rated at 10 hours, though we got slightly less. And the speaker features micro-USB for charging, and, an 3.5mm aux input located behind a weatherproof seal.
The Ecorox retails for $129 (you can find it at the Apple store), but there are deals to be found online.
ECOROX Waterproof Bluetooth Speaker by ECOXGEAR
Floats (IPX7 waterproof rated), shock resistant, speakerphone, mountable (threaded connection on bottom)
6W stereo speakers
10 hours rated battery life
4 out of 5 stars
$129.99 retail
IN PHOTOS: Ecorox Waterproof Bluetooth Speaker