Tire pressure is one of those mundane things. You never (care to) think about it, until you notice a performance problem with your car – or maybe you notice the MPG dipping, or squealing when cornering. Thing is, I'm one of those people who loath heading over to that corner of the gas station where the dreaded water/pressure machine is located. But I do it on a regular basis, because we commute all over the SF Bay Area for Stark Insider — up to SF for a show, or to Napa for a wine event, or downtown San Jose for a tech conference, etc. The miles add up fast on trusty little Prius.
I want to keep the car running, and running safely. Though the Prius will alert me when a tire is low (with a yellow icon in the dash) it doesn't tell me the current pressure of each tire – it's either right or wrong. I have another, older sports car that doesn't have a tire pressure monitoring system at all.
Wouldn't it be nice to be able to add a tire pressure monitoring system to your car (without breaking the bank with an aftermarket product)?
I happened to stumble upon something the other day on Indiegogo that might do the trick. It uses…
Bluetooth!
It's called FOBO Tire, and it's billed as the "World's First All Bluetooth Smart TPMS."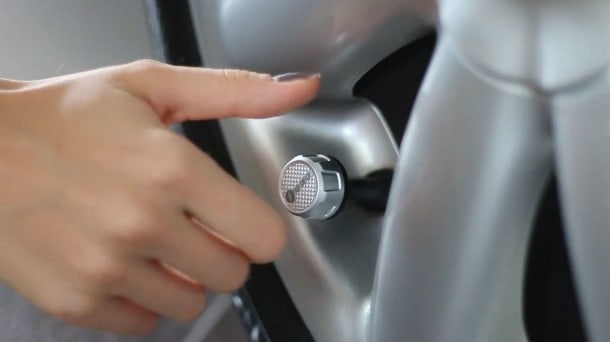 After spending a few minutes checking out the campaign I backed it. The idea of retrofitting TPMS thanks to Bluetooth to my tech-starved cars sounded, well… it sounded pretty cool (and, yes, a little geeky).
To install the system you simply replace the valve caps on each tire of your car (or bike) with FOBO tire sensors. They are Bluetooth enabled, so the fun begins when you pair them with your smartphone (iOS, Android):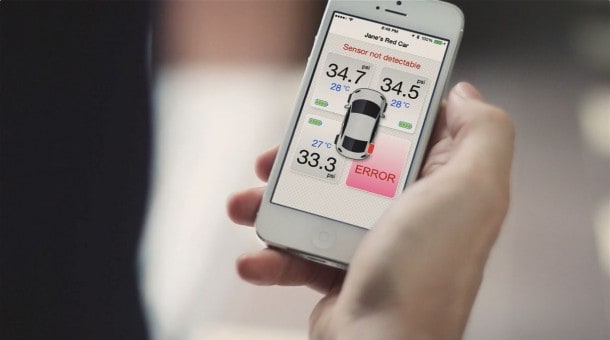 In the app you'll see a live readout of tire pressure. Each of the sensors does require a battery (CR2032).
Many early backers were concerned about theft. Someone could just walk past your car and unscrew the valve caps. Apparently this has been solved with some sort of theft deterrent feature (of which I don't know the details). Also the sensors are locked to your specific account so they can't be reused.
The FOBO campaign is still open. You can get a set of sensors for $90 (organizers say they'll retail for $149 USD). They are scheduled to ship in November.
So far the idea appears to have caught the attention of many a crowdsourcer. As of today (10/9/2014) the FOBO Tire campaign has raised $154, 905 of its original $28,000 goal. Organizers' new stretch goal is a cool $250K.
Now the only question remains is:
How well does the FOBO Bluetooth TPMS perform in the real world?
I will put them to the test shortly when they (hopefully) arrive next month and I can commute up and down the highways of Silicon Valley putting the system to the test, checking tire pressure on my Nexus 5. Yes, this sort of tomfoolery actually does get my pulse going.