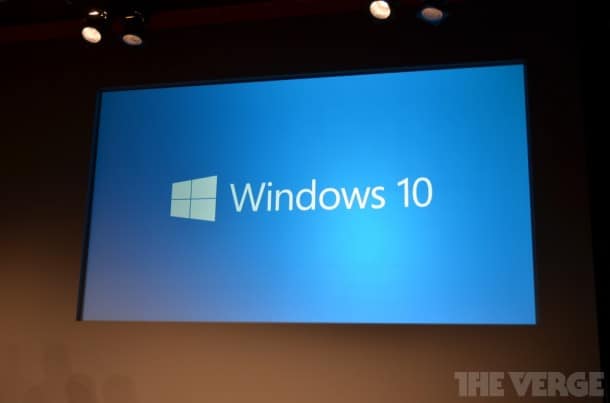 For the first time in as long as I can remember a tech company had made a chronological exception in product naming. It won't be called Windows 9. That would, I guess, be too logical. Not to mention predictable. Contrarty to what many were predicting the new release also won't be called Threshold (I liked that one).
Instead, the massively re-worked update will be known as:
Windows 10
Based on the preview Microsoft gave to a small media group this morning in San Francisco, it looks as if the company is backtracking (finally) on some key decisions that irked many with the much-maligned Windows 8 (i.e. Vista for the 21st century).
Most notably, the Start menu returns in all of its glory. It's been re-jiggered. Now you can include Metro tiles. They can be re-sized and sit alongside long lost hits of yesteryear such as: Documents, Printers, File Explorer and… Command Prompt. On that last feature – when was the last time an exec walked you through the ins and outs of the command prompt at a product demo?
It appears as if Microsoft is combining the "best" of Windows 8 with Windows 7 in an effort to satisfy both enterprise customers, and those using touch-based devices such as the Surface tablet. Key navigation buttons will be up-sized depending on the task at hand. I remind slightly skeptical whether Microsoft can address both worlds (mobile and desktop) with a one-size-fits-all platform approach. Regardless, it's clearly the path it will continue to head down. Windows chief Terry Myerson emphasized at the outset of the presentation that Windows 10 is about "one application platform" – one product family, one platform and one store. I like the focus.
The Start Screen–the one that virtually every desktop user wanted switched off–has also now morphed into something resembling the bastard child of Win 7 and 8. Actually, it's quite pretty. You get the familiar tiles of Metro, plus you get the taskbar and menu on the left that lends familiarity to traditional desktop functionality. Not too bad actually.
That Microsoft is trying to morph the past (Windows 7 and 8) into the future (Windows 10) makes sense, at least from a customer satisfaction perspective. During the Q&A the Windows team noted that keyboard and mouse users prefer Windows 7, while touch users prefer Windows 8. Unlike Apple with its split strategy (Mac OS X for desktop, and iOS for mobile), Microsoft is trying to integrate the whole enchilada into one operating system. Safe to say the reaction to the strategy so far has been mostly negative.
I've been using Windows 8 since it first hit the scene. I've turned off the Start screen so that I'm greeted with the familiar desktop – a place where I do 99.9% of my work, primarily in Adobe apps such as Premiere Pro and Lightroom. From time to time I do pop into Metro. The Bing apps (now re-branded MSN) are top notch. I've yet to find better finance, and news apps – they run brilliantly on the Surface Pro too. Yes, Microsoft can definitely still get things right.
The highlight for me this morning was the decision to skip "Windows 9" all together. It's as if 8 was such a fiasco that not only the company, the employees need to distance itself as far away as possible, but so too did the product name.
Windows 10 will be free for existing Windows 8 customers and is scheduled to ship "late 2015."