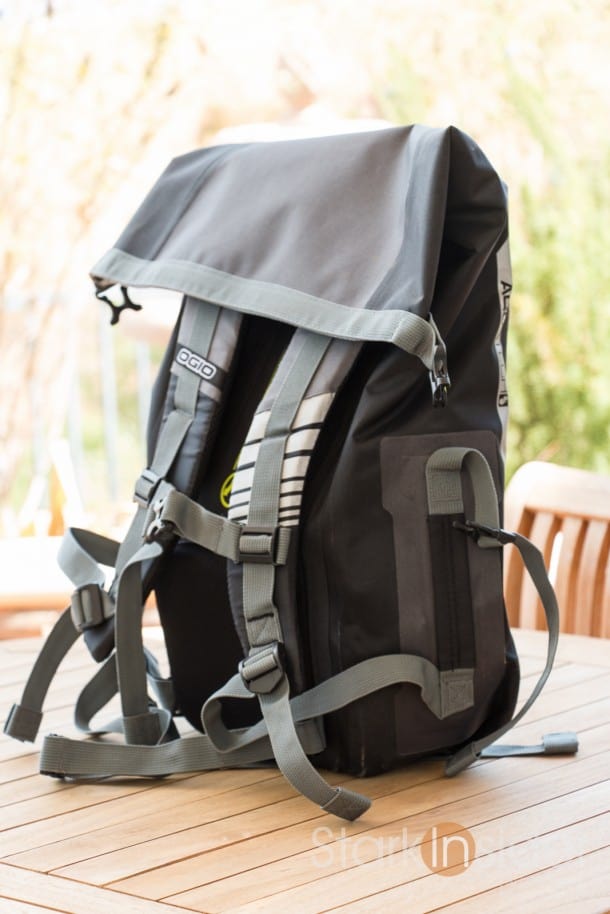 Ogio makes a range of backpacks and bags (and also mobile kit like bluetooth speakers) well-suited for the mobile warrior, student or field worker. This one, dubbed "Stealth", maybe one of our favorites. It has the traditional backpack form, but includes a myriad of useful and clever features.
If you live in a rainy (or snowy) climate the first thing to not with this Ogio pack is that it's waterproof. Pick it up and you'll immediately appreciate it heavy-duty 400D nylon materials and design. Roll top construction along the top ensures the elements don't find a way in to your iPads, laptops and cameras.
The "Aquatek" logo is more than just branding. The narrow strop along the side of the pack also serves as a safety feature thanks to its reflective screen print. In addition the entire bag is coated in a 360-degree reflective material.
Storage-wise, this thing is a beast. On the rear there's a front zippered stash pouch–ideal for things like notebooks, pens, batteries, cables, what have you.
An internal sleeve accommodates laptops up to 15″ in size (there's also a second smaller one for a tablet). We had not issues sliding in a MacBook Air (13-inch) and an iPad into the sleeve. There was still room to spare.
Accessing everything is made easier with Ogio's clever (and, again, well made) liner which pops out of the main bag.
I was impressed too with comfort. You know when you walk long distances in warm weather with a backpack and you find yourself with perspiration accumulating backside. Not fun. In my tests the (dramatically named) "Air Flow System" does seem to make this a non issue. Small bumpers create channels of space along your back. The net result is the entire bag's surface doesn't rest against your body. Instead, air can move up and down and help alleviate build up of heat (and moisture).
Straps are solid, with a containment system that keeps the whole deal satisfyingly secure. I doubt you'll be wanting for much when it comes to robustness.
Okay, then there's the price.
$129.95.
Yes, not the most inexpensive bag out there. But given the All Elements Pack is likely to last many, many years, and assuming that you put thousands of dollars worth of your most cherished gear and electronics into it, all things considered it could be one of your best mobile gear investments.
Ogio All Elements Pack
RATING: 5 out of 5 stars – Highly recommended
PRICE: $129.95
WHERE TO BUY: Look online at places like Amazon ($199) or at Ogio direct
Waterproof Backpack for mobile gear
Dimensions: 20.5 (rolled)" H x 10.5″ W x 6.75″ D 
Weight: 2.5 Lbs.
Capacity: 1600 Cubic Inches
IN PHOTOS: Ogio All Elements Pack