Cult wines are interesting beasts. They're rare (by design). They're expensive (by design). And they're lust-worthy (by design). On that last point, when it comes to marketing wines, over the years I've enjoyed trying to understand and decode, with varying degrees of success, how wineries approach selling these luxury goods. By any rational measure it's almost foolhardy to think some of us would ever pay or consider paying $400 for a bottle of wine. Then again, year after year, thousands do exactly that. On the grand scale of fine wines actually, that's really not that pricey. First growth Bordeaux any one?
So when the latest cult wine marketing package arrived at our doorstep I was anxious to see what story awaited.
We're certainly not talking about a CVS $12 shelf talker here
In the past I've enjoyed fine parchment from the likes of Scarecrow and Harlan and Bond. This one was for a wine called Promontory. Never heard of this before! It was an "inaugural offering" – kind of like an IPO of the wine world.
The letter was addressed to the real brains behind the operation, my wife Loni, the would-be wine collector (though seldom wine drinker). I, of course, intercepted the "offering" to see what was what.
Could the marketing team behind Promontory instill enough lust to prompt a $1,200 allocation purchase (3 bottles in wood box, limit 1 per customer)?
As is always the case it seems with cult wines, the paper upon which the letter from winemaker Cory Empting was bespoke. An accompanying photo of a picturesque valley was alluring, and printed on equally impressive card stock.
The prose was predictable enough:
Natural progression into the 21st century…
Building a dream…
A world apart…
And then the icing on the cake, the closing words:
… you would somehow find yourself transported to another dimension of appreciation, wonder, and delight.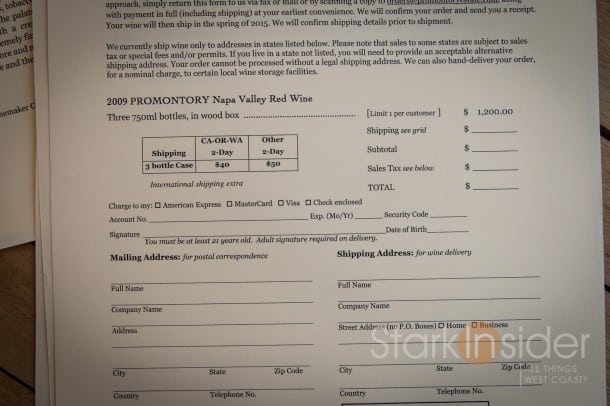 I'll admit, it's hard not to get warm and fuzzy (kind of like what Dicky "I wish you my kind of success" Fox would elicit in Jerry Maguire). The combination of the heightened reality that the words convey, along with the quality of the packaging and the solitary image of this impressive Napa landscape can tickle the fancy… if even for a fleeting (and insane) moment.
And that is the idea here: emotion.
We're certainly not talking about a CVS $12 shelf talker, one that I'm looking for at the last minute to satiate my ever-growing love for Napa and Sonoma Chardonnay. That is about convenience and price.
I suspect getting people to spend hundreds of dollars for a bottle of wine is quite similar to getting people to buy other rarefied, non-discretionary luxury goods – a purse, a painting, a sculpture. A marketer tries to push buttons. Interesting to note that in the winemaker letter, humbly offering us an exclusive $1,200 allocation (the honor!), there are no technical mentions. Nothing about harvest process. No mention of brix or tannins. And no discussion of aging, barrel types, etc. For this is a story. A generational story – no surprise there. Pedigree is key with cult wines.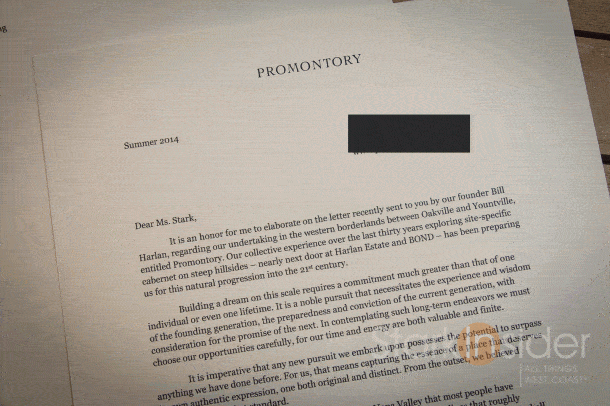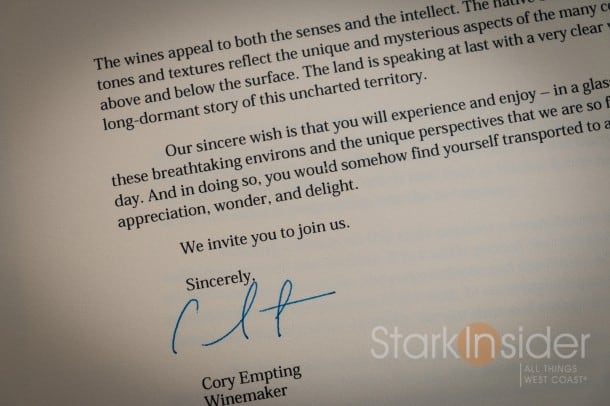 Then there's the price.
$1,200 for a wood box of three 750ml bottles. Limit 1 per customer… because we don't want you spontaneously buying 10 cases and then trying to eBay them or something.
Yes, $400 per bottle.
That in itself can actually create a compelling reason to buy. For some buyers, it will afford bragging rights. They will likely tuck it away in a massive underground cellar (or Batcave), and proudly showcase it to friends (don't touch, just admire please). That's all well and good. I'm quite certain there are savvy buyers who will look to flip the wine, like a condo. And maybe there are serious oenophiles who will buy an allocation, age it 10-15 years, then open it at precisely the right moment to celebrate a special family occasion.
One thing I doubt. I doubt that someone would receive their Promontory allocation, open a bottle immediately, and chug it from the bottle Animal House style. Too bad. It could make for a delightful YouTube video.
After I finished admiring the Promontory marketing package I had a feeling of deja vu (all over again). When had I experienced this feeling before – inexplicable and illogical lust? Other stuff I received recently in the mail used similar marketing devices. What company was that…?
Oh, right:
Porsche.
Anything that Porsche sends me in the mail gets stored in a special shrine in my home office.
Three page glossy spread of the Porsche Doppelkupplungsgetriebe double-clutch transmission.
Stunning.
A 50th anniversary 911 on the barren German autobahn.
Drool.
A super zoom closeup of a button that controls PASM.
Yes, please.
Thanks to years of Porsche marketing my desire is woefully uncontrollable. I study these things for what seems like hours upon hours. Story-telling in the hands of German engineers gets the best of me every time. And if, like this cult Promontory red wine, I can only dream about ever owning one, at least I can relish in the fact that I've got this really nice package of marketing materials to add to my collection.