Summer in the city means summer at the San Francisco Symphony. The season's off to a smashing start this week with Pink Martini and The von Trapps at Davies. While Pink Martini could undoubtedly make a journey to purgatory (or your accountant's office) a scintillating experience, this year's concert was even better than previous years, with special guest artists, The von Trapps (yes, those von Trapps!).
Let's get one thing out of the way: while China Forbes was not there, the Pink Martini web site has her singing the lion's share of upcoming US concerts, with Storm Large picking up this summer's European concert dates.
Storm Large is one of the few singers I could possibly imagine with Pink Martini. She brings a high-energy stage presence all her own, and – and unlike all the other top-notch female pop singers, can sing the gajillion languages required by the group. Unlike Ms. Forbes, whose ability to go from girl-next-door to vixen gives the band a nuanced tongue-in-cheek smirk at times, Ms. Large remains in vixen mode. However, both approaches serve the material well. The opening number, Amado Mio, brought her new converts as it showed off her range and subtlety of phrasing.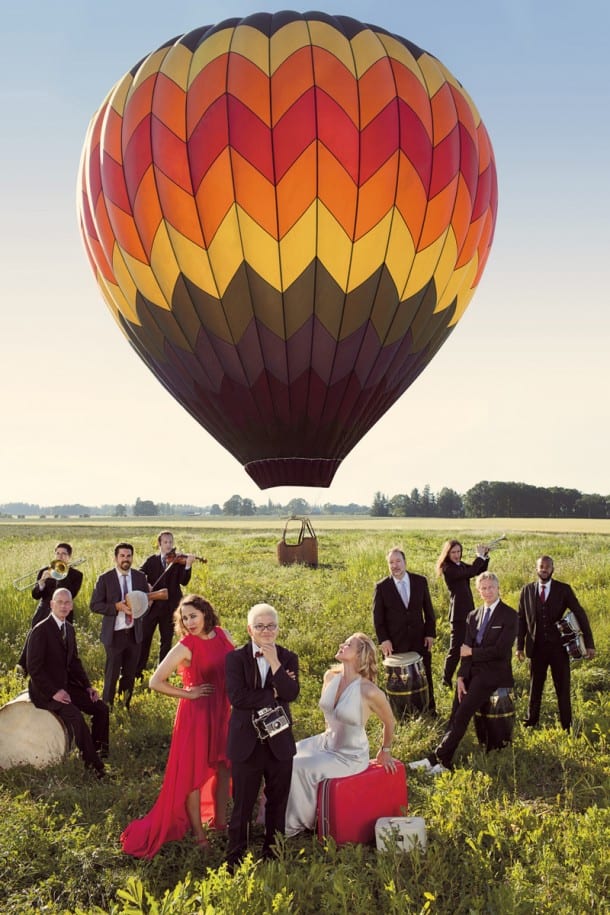 The band – now an august 20 years old – played two sets, with approximately nine songs in the first half and twelve in the second. They goosed their song list, removing standards (such as Sympathique) that are inseparable from Ms. Forbes and adding more from the two albums produced in 2013. Other standards, like Timothy Nishimoto's Zundoko-bushi (which sounds straight out of a Japanese "Mission Impossible"), Donde Estas Yolanda (also sung by Nishimoto), remain firmly in place.
The von Trapps (great-grandchildren of Georg and Maria, and grandchildren of Werner, better known as "I'm incorrigible" Kurt) joined the group in both the first and second halves. These von Trapps, three young women and one handsome gent, wear their legacy from what Thomas Lauderdale called the "last great optimistic American movie" lightly. Also from Portland, they were the perfect addition to Pink Martini, singing in multiple languages (I noted at least Japanese, German, and English, but who's counting?) and bringing a sweetness to the stage.
The first half of their material included an Austrian folk song and a Japanese number called the Tango of the Black Cat. They closed the first set with Dream a Little Dream. Done a cappella, with only a hint of percussion, their slightly odd harmonies were entrancing and unexpected. They returned in the second half to morph Debussy's Au Claire de la Lune into Dream a Little Dream of Me, complete with ukulele and melodica (cross a tiny keyboard with a harmonica). Going from improbable to even more so, they performed Hushabye Mountain from "Chitty Chitty Bang Bang."  However, for all practical purposes, Dick van Dyke never saw this version.  Thomas Lauderdale was right in saying that it might have been crossed with the likes of Mozart's Requiem.
Pink Martini concerts usually end with the audience in a conga line out the door. However, this audience wasn't going to let the band go that easily. While a conga line started, most folks used it to get closer to the stage, and bailed once there.
Davies Symphony Hall is a little bit of heaven on nights like this, bringing in folks that might not otherwise play with the SF Symphony Orchestra. For example, this summer includes Melissa Etheridge, ARRIVAL (a dynamite Abba tribute band), Cheyenne Jackson, and more – and that doesn't begin to include their free concerts at Stern Grove and in the Civic Center. At least some part of your summer should be with this community treasure.