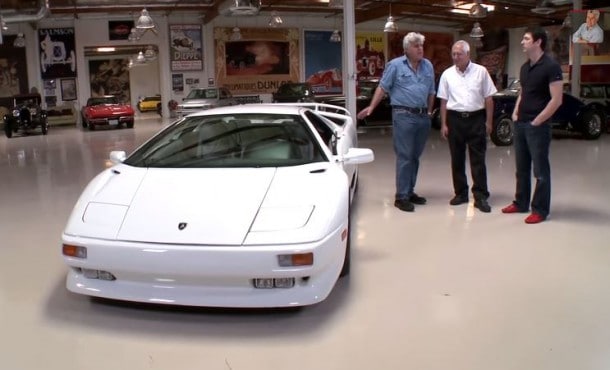 Wonder what late night icon Jay Leno is up to these days?
Since retiring from NBC's The Tonight Show in 2013 you might think he's doing any number of things with his free time. Touring comedy clubs. Mentoring young comics. Managing his personal finance team.
"David E. Davis [Car & Driver] once said, 'Everyone should drive a V12 at least once in their life'. I say you should drive one at least once a day."
One place you won't find Leno: on the golf course. He doesn't play. "I'm into cars," he says. These days, you're most likely to find him inside his famous Los Angeles garage, where he houses scores of classics, hot-rods, and an eye-watering number of supercars. There he does what all of us car guys love to do. Tinker. Wax. Ogle.
But I was surprised to learn Jay Leno has become a bit of a YouTube sensation.
Jay Leno's Garage has been around for a while, pumping out entertaining, often highly personal shows every Sunday, and yet I never really gave it much notice. Until, that is, I stumbled upon a marvelous episode featuring a white Lamborghini Diablo:
What a sound!
"Come on, let's go for a ride."
Leno's show is chit-chatty, and relaxed. The premise is straight forward: each week he takes out one of his car, talks about the particular model and its history, analyses the interior, before then hitting the streets of L.A. for a test drive.
Guests, usually engineers or product specialists, talk with him about design, engines, and trends. In several episodes he takes exotics up into the hills above the city where, amazingly, there is virtually no traffic whatsoever – a perfect opportunity to perhaps push that 65mph California speed limit.
Jay Leno's Garage could even be considered Top Gear lite. While it doesn't have the thrilling test track shoot-outs the latter show has become so famous for featuring, and it certainly doesn't employ the delightfully wonky Brit humor, the camera-work, and up-close-and-personal nature of Leno's approach is proving to be quite successful. In fact, Leno even references Top Gear when he notes that Jeremy Clarkson was able to brake a Mercedes-Benz SLR McLaren from 120mph to a stop faster than most sports cars can from 60mph.
Fans appear to like what they're seeing. His YouTube channel now has almost a million subscribers, and has over 91 million views – this, with just mostly old, rich, white guys talking about cars.
A little Googling reveals that Leno is up for an Emmy.  His show, along with Jerry Seinfeld's entertaining Comedians in Cars Getting Coffee, will compete in the same category (Short-format Nonfiction Program).
Interestingly, I could not find any shows related to Ferrari. Leno's favorites appear to be supercars made by Aston Martin, Lamborghini (he owns a red 1986 Countach), and, especially, McLaren (he recently took delivery of the first McLaren P1 to hit U.S. soil… a wild machine). Perhaps Leno is too far down the wait list at Maranello?
Watch a few episodes of Garage and you might even get some valuable advice. For example, Lambo + Escort radar detector + bright red paint = prison.
If you're a car guy — even one, if you're like me, with an everyday budget, but lofty car fantasies — then Jay Leno's Garage is a real weekly thrill. Highly recommended.