Another big tech non-surprise caught everyone on guard today at MSG.
If New York looked extra vibrant, extra saturated, extra sharp this evening I guess we can all thank the new Super AMOLED displays on two new tablets–ones we've already seen thanks to countless, endless, never ending "leaks". Those would be the Samsung Tab S 10.5 and 8.4 tablets. As you might have surmised, they feature 10.5-inch and 8.4-inch displays (if you've been following the tablet market for the past few years it would seem 8-inch is the new 7-inch).
Calling them "the best tablets that Samsung" has ever made, executives schooled a tech press core on why AMOLED is so great. Hint: everything just looks better. A lot of that has to do with something the company calls an "adaptive display" that will alter the  behavior of the screen. For example, if you're reading an eBook, these new Tab S tablets will sharpen the text and slightly defocus or soften the background resulting in better contrast and visibility. The result? Less eye fatigue.
The S 10.5 and S 8.4 both run Android KitKat, and feature Samsung's Exynos 5 Octa processors (for the Wi-Fi models) – again, all information that has surfaced on Twitter many times over.
Samsung Galaxy Tab S 8.4

Exynos 5 Octa 1.3GHz Cortex-A7

Super AMOLED display 2560 x 1600

3GB RAM

Cameras: 8MP rear, 2.1MP front

16 or 32GB storage

microSD expansion, supports up to 128GB

4900mAh battery

6.6mm thick

294 grams

$399

Samsung Galaxy Tab S 10.5

Exynos 5 Octa 1.9GHz Cortex-A15

Super AMOLED display 2560 x 1600

3GB RAM

Cameras: 8MP rear, 2.1MP front

16 or 32GB storage

microSD expansion, supports up to 128GB

7900mAh

6.6mm thick

465 grams

$499

Both available in bronze or white

Simple cover available in white, blue, ivory, red, black, bronze
What to make of these new tabs? Steve Kovach over at Business Insider, summarized it pretty effectively in this Tweet:
tl;dr Samsung's new tablets are giant versions of the Galaxy S5

— Steve Kovach (@stevekovach) June 12, 2014
I guess I'm not alone in thinking that all these new models are looking virtually identical to their predecessors, many of which are just (literally) months old. If Samsung were playing the Stanley Cup finals their strategy would be very clear: shots on goal. Just throw everything out there. Hope for a lucky bounce (tablet model) and hope we'll care en masse. Apple, meanwhile, is steady state, opting to unveil significantly improved iPads only once per year.
The problem with Samsung's flood-the-market approach is that buyers become wary. Why would I buy a new Tab S 8.4 when a new, even lighter, even faster, even best-ever-yet again just a few months down the road? Take a look at Slickdeals, Groupon, Woot, and any number of online discount shops and you'll see why "suggested retail price" doesn't really mean a whole lot when you endlessly saturate the market.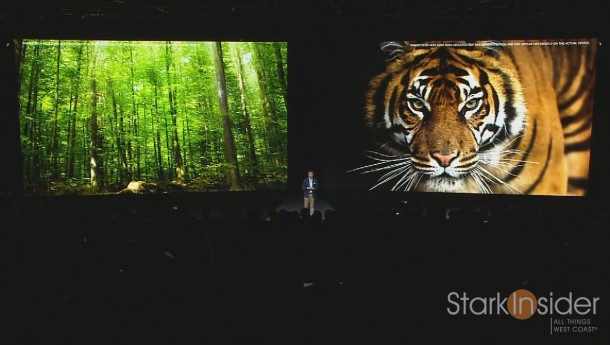 Interestingly, as the tablet market slows, and many tech companies shift to wearables, Samsung seems content to march out one faux leather device after another. Hey, it's 2010! Let's party!
Regarding the presentation, it was not exactly electric. Very corporate and safe. Replete with excruciating music used during intros that reminds of the stuff they play when speeches go long at the Academy Awards.
About those tablets?
They are slick. No question, Samsung is making some nice kit when it comes to tablets. Personally I still prefer the on-screen navigation buttons found in tabs like the LG G Pad and Google Nexus. And, for the life of me, I don't know why Samsung product managers insist the "back" button go on the right when naturally going back in a book, magazine, or even video control, means going left. Seems like a counter-intuitive implementation. Every time I see a Samsung tablet I cringe when I see that wrongly placed button (or maybe it's just me?). Oh, and that gold trim…? I'm thinking it's not quite the bee's knees.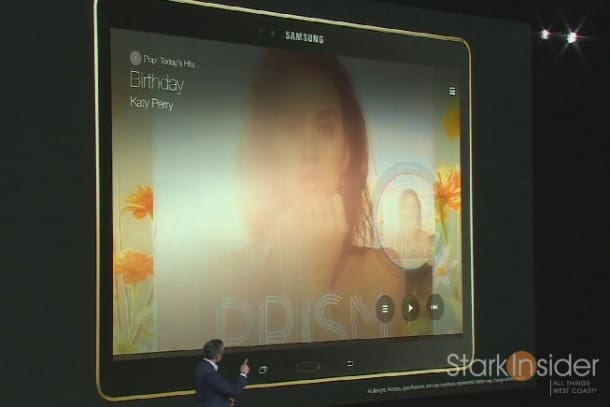 The new Tab S tablets are here. My advice: if you're interested wait 60-90 days after their release and pick them up for 50% at a clearing house. Or, do what I'm going to do, and hope Google really astounds at I/O later this month and unveils the vaunted Nexus 8. That would definitely be my next.
Both Tab S models will be available in July with LTE launching "shortly thereafter."
Tab S 10.5 (wifi) retails for $499 and Tab S 8.5 (wifi) for $399.
#USA