Stark Insider theater review: David Mamet's American Buffalo, playing the Aurora in Berkeley. Cy Ashley Webb says the production exceeds all expectations. Read on for the full review.
Darn few plays can truly be called American classics. After Our Town, A Streetcar Named Desire, The Crucible, Death of a Salesman and a tiny handful of others, the list abruptly ends. However, were it not for the non-stop obscenity (thus, at least for now, barring it from most high school stages), American Buffalo, would  join these works.
These actors leverage every bit of humor to balance an otherwise gritty story.
Like the Arthur Miller, Tennessee Williams, and James Thurber, David Mamet tapped into a vein of Americana that doesn't usually make it to the stage: a lower class whose dreams are as ill-formed as their capacity to make them real. Moreover, we recognize Mamet's trio of wannabe con men, Donny, Teach and Bobby. We recognize them in movies, street corners, and even brother-in-law jokes. Truth be told, they make Miller's Willie Loman look like a stunning success story. These are the characters that Loman feared his son would turn into.
Since not a whole lot happens in this play, the success of a production rests largely on how nuanced a portrayal the cast can muster. Here, the Aurora's production exceeds all expectations.
Donny (Paul Vincent O'Connor) is the senior statesman of the group. As a shop owner (albeit of a junk shop with fourth rate junk), he's the most plausible. We like him because he leads with a genuine sense of kindness. However, this small light invariably flickers out in the bombast of Teach (James Carpenter). Teach has the kind of  self-righteousness and ability to flip flop that could garner him a seat in Congress. If "constancy" isn't his middle name, "con" is. Unlike his two associates, action is his game. His volatility and restlessness require him to be taken seriously, despite his ill-fitting and mismatched leisure suit. Bobby (Rafael Jordan) is the sweet one. He's like the high school kid who sells himself out for a moment of friendship. In a different world, his insecurity might work better for him.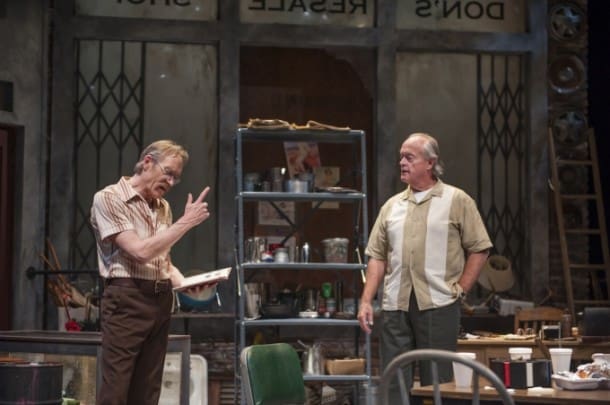 Much has been made about how these characters elevate their scheme to steal a coin collection as "business." However, making parallels between rapacious capitalists and corner store con men is too easy, and Mamet's too smart to let the story rest there. The heart of this piece isn't in the ideas as much as it is in the characters – and here O'Connor, Carpenter and Jordan do justice to the work and to their audience. These actors leverage every bit of humor to balance an otherwise gritty story.
MORE STARK INSIDER: Preview of Napa Valley Festival del Sole (Video)
While American Buffalo is contained entirely in Donny's junk shop, Teach and Bobby do go in and out of the shop, bringing stories of the world outside with them. We're aware of fellow poker players who exist in a world offstage. However, they seem unreal and we're never quite sure of their relative importance. This effect works well because it reinforces the audience's need to avoid taking anything at face value.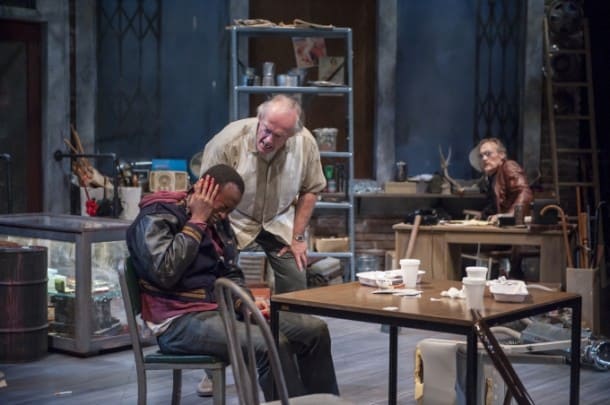 Set design by Eric Sinkkonen was quite different from anything I've never seen on the Aurora's tiny thrust stage, with almost every available surface, including airspace, packed with junk shop clutter. While the high backlit shop sign simultaneously defined the space and hinted at the world outside, I wondered if the clutter blocked the on-stage energy, which seemed – even in the second act – inexplicably muted despite the actors' stellar performances.
American Buffalo will be at the Aurora through July 20th. Just watching these actors bring Mamet's humor to the surface is worth the price of admission.