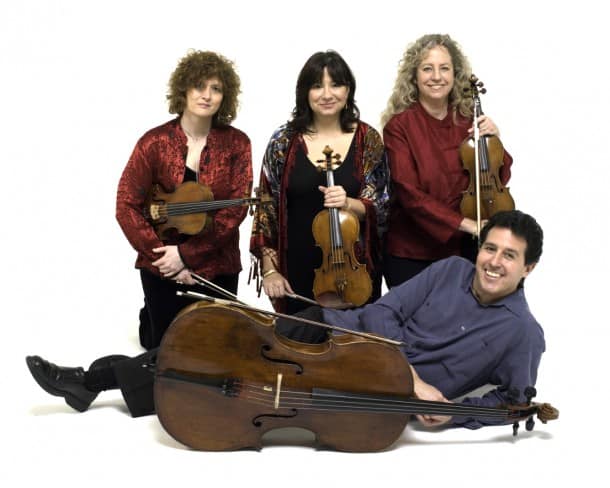 If you listen to the Ives Quartet play the third movement of a quartet they commissioned Julian Pollack to compose in 2013, it should be immediately apparent why it reminds me so much of the Goat Rodeo, that mind blowing quartet made up of Yo-Yo Ma, Chris Thile, Edgar Meyer and Stuart Duncan. Don't worry – Susan Freier hasn't swapped her violin for a bass and there's nary a mandolin in sight. However, the energy in Sunday's Palo Alto Salon came as close to that of the Goat Rodeo as could be possibly contained in a residential neighborhood.
This music is very different from that normally performed by the Ives Quartet, who are more comfortable straddling the worlds between Papa Haydn and Henry Cowell. However, it's not exactly like the music found on Julian Pollack's CDs, either. Just as the Goat Rodeo is a genre-jumping experience, this Pollack quartet composition is what the Ives Quartet refers to as music for the vernacular: classically structured music with an unmistakably bluegrass feel.
This genre bending isn't entirely out of place for Pollack, whose jazz piano is informed by the minimalism of his friend John Adams and others. Relying on repetition and subtle distinctions instead of harmonic motion, the beauty of this music is achieved by what violist Jodi Levitz characterized as the mechanical metamorphosis of sound. However, unlike compositions by minimalist composers, this is what the Ives Quartet repeatedly referred to as music in the vernacular – music we all know and love.
The commissioned work performed by the Ives Quartet was a three movement quartet. While the first movement introduced two separate themes, there the classical parallels ceased, as this felt more like a reel (despite efforts to characterize it as 6/8 gigue). The second movement was a ballad – with big sweeping musical statements and lush harmonies interspersed with what one of the quartet called film noir moments. The final movement is a hoedown.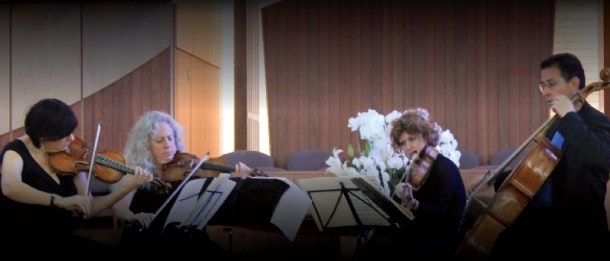 These salons are appreciated as easily as those who think John Adams might be  related to the Revolutionary War brewer as it is by those who plumb the writings of Milton Babbit. Only in these salons do you get to hear uber-top notch musicians s-l-o-w down minimalist sections of music, to better illustrate how infinitesimal changes in beat or accent shape the piece across time. This experience made me want to figure out how to run some John Adams through Garage Band so as to stretch out the music and perhaps catch what I've been missing all these years.
At the end of the salon, some one in the audience asked what would happen to this piece. Since it's future is unsure at best, one hopes that the Ives release the first two movements on Youtube. While I can understand not recording it, it's just too darn good to gather dust.