There's a lot of interesting stuff on Kickstarter. And there's also no shortage of fluff. This one fits into the former. The "iStick" according to founder Daniel Chin is "the world's 1st USB flash drive with integrated Apple Lightning connector." That means it not only works on a Mac and PC, but will also support the iPhone and iPad.
Do backers like the idea?
Seems like the answer is yes. The campaign has raised some $750,000 in only 2 weeks. The original funding goal was $100,000 so, yes, the idea is a popular one.
USB keys are a dime a dozen, and at first blush this one looks no different. Slide the button on the top side and you find out why this one is special. On one end you get the aforementioned and speedy lightning connector; on the other USB (but sadly only 2.0).
iStick will be available in 8GB, 16GB, 32GB, 64GB and 128GB models. Other nifty features include integration with DropBox and Google Drive, movie streaming, and Apple MFi certification. If the campaign hits $1M the team will add Airplay support as part of an iStick movie player. Currently the iStick Kickstarter project sits at about $766,000 (I'm still on the fence).
This is the first USB to grab my attention since I saw one a few years back shaped like Gumby.
As someone who works on both Mac (MacBook Pro) and on PC (desktop) this will be extremely handy for transferring videos and photos in the field – something I need to do on-the-go all the time while working for Stark Insider. Being able to connect it to an iPad on the road is a real plus when reviewing footage (a free universal iOS app is required to transfer to iDevices).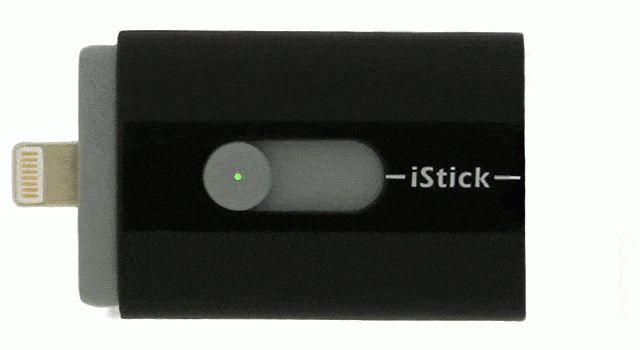 All good, but what's the catch?
Let's talk pricing. Are you sitting comfortably?
At $129 the 8GB iStick is the cheapest. At  $399 (!) at the top end you're going to spend the equivalent of an iPad Mini. On the upside if you back the project, you'll get a 50% discount – which makes things slightly more agreeable.
You can see iStick in action in this video demonstrated by a model in a house apparently made of paper:
Long live the flash drive!
[iStick on Kickstarter]