A 1939 hit, DuBarry Was a Lady starred Ethel Merman and Bert Lahr (better known as the Cowardly Lion). The Dubarry phenom didn't end there, going on to become the 1943 movie starring Lucille Ball, Gene Kelly, and Red Skelton, with music by Tommy Dorsey. Part frolic, part farce, this Cole Porter bit of silliness was undoubtedly a welcome diversion during the war.
That's all so much history though. 42nd Street Moon opened their production of this classic just last weekend, leaving one to marvel at how well the show has held up over the past 75 years. Unlike many of its contemporaries, Dubarry doesn't feel like a museum piece, of interest only to academics, old show buffs, and Lucille Ball fans.This distinction partly inherent in the writing, but also to smart casting and large dance numbers that would otherwise seem impossible to pull off on the tiny Eureka Theatre stage.
Among the smart casting decisions was Bruce Vilanch
Among the smart casting decisions was Bruce Vilanch, whose huge personality and corporeal self more than amply filled the roles of Louie and Louis XIV. While some might not cotton to the Bennie Hill style of humor of this six-time Emmy winner whose four years on Hollywood Squares seem indelibly written into the consciousness of anyone who watched  after school TV, I suspect those folks weren't in the audience. Ashley Rae Little doubled as May Daly and Dubarry. While the abrasive style of this character can grate, that's a defining feature, not a bug, in this nearly two-hour production. She played Louie's unrequited love interest clearly and without the ambiguity that would have destroyed comic tension.
However, taken together, Vilanch and Little's performances, which were darn good, had a certain predictability. That's not a bad thing; in fact, it's what made this show so good. However, the real surprises were Nathaniel Rothrock and Rudy Guerrero. Fans might remember Rothrock's killer tap dancing in I Married an Angel. This time around,  director and choreographer ­­Zack Thomas Wilde smartly decided not to let Rothrock's cleanly defined moves dominate the production, allowing for other equally superb talents, such as Rudy Guerrero, to shine through.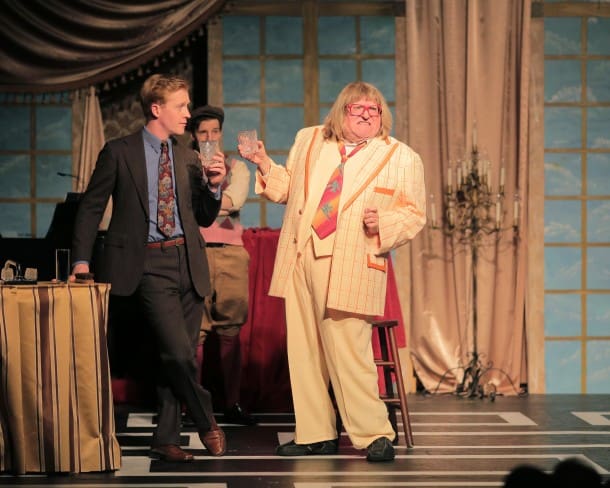 Another surprise was Jack Mosbacher, who doubled as Alex Barton and Alexandre. It's hard to do much with this straight man role. However, Mosbacher's vocals endowed the character with a focus and depth that would have been otherwise lacking.
MORE STARK INSIDER: It's Friendship! Comedian Bruce Vilanch talks Tina Fey, "being sick of me", Broadway revival (Video)
The acoustic problems that so bedeviled the Eureka in the past were largely absent. However, bits of dialogue that were directed to the wings tended to drop out, especially if you were sitting on the opposite side of the theatre. Dubarry runs through May 18th. This largely flawless production will surely win new fans to this work.
WATCH: Behind the Scenes at 42nd Street Moon with Bruce Vilanch