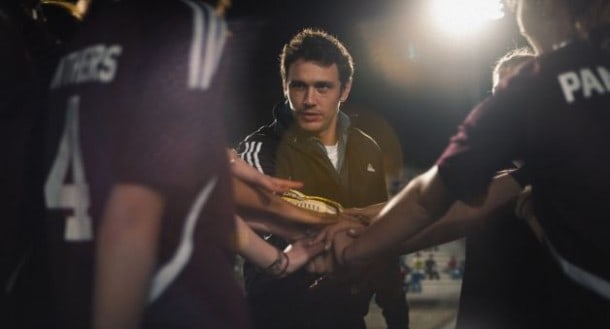 For many of us Palo Alto represents the epicenter of Silicon Valley. Located next to Stanford's enormous (and gorgeous) campus the town bubbles over with eclectic energy — one that comes from a mix of students, tourists, VCs, and money-money. It's here that actor James Franco grew up. His book Palo Alto Stories, a sort-of poet's version of an arthouse short story collection, chronicles those early days. Now it's coming to the big screen.
Palo Alto, the film, has several interesting storylines, not the least of which is that it will offer a (significantly) different perspective on life here in Silicon Valley, then, say, the satire Silicon Valley on HBO. Though I have yet to see Palo Alto (it anchors the San Francisco International Film Festival next month, with press previews happening this week), I'm guessing we will not see any Office Space like stapler moments.
Those who have screened the film last year at various festivals–Telluride, Venice, TIFF–has been receiving generally positive press, notably a strong write-up from Variety. If the material its based on is risky, then the decision to hand over the reigns to a first-timer is equally–and likely appropriately–risky, as it youthful. And that brings us to at least one other interesting aspect to this production:
Gia Coppola.
This is her directorial debut. No pressure.
Just the name "Coppola" itself reverberates, mostly across Napa these days, but forever in the halls of cinematic history. With The Godfather (1972) her grandfather created what is widely regarded as the greatest film of all. That would be one of many staggering successes. Coppola would own cinema through the 70s and into the 80s (well, okay, a certain Stanley Kubrick might have something to say about that). His daughter Sofia heralded in the Coppola melchanoly phase with the splendidly introspective Lost in Translation (2003). A trifecta of genius, it simultaneously launched her career as a writer-director, re-energized Bill Murray has a serious comedic actor, and brought the world's attention to a siren named Scarlett Johansson.
When Palo Alto is featured as the centrepiece of the San Francisco International Film Festival next month we'll get a first hand look at the local reaction not only to Gia Coppola's filmmaking acumen, but also to a decidedly non-Silicon Valley perspective of High School life in Silicon Valley.
Palo Alto opens theatrically across the San Francisco Bay Area on May 16.
(Landmark Embarcadero in San Francisco, Shattuck in Berkeley, Guild in Palo Alto, Camera 3 in San Jose, Rafael Film Center in San Rafael, Nickelodeon in Santa Cruz)
WATCH: Trailer for PALO ALTO