Can a Student become a Master? In this preview video of The Artist Diaries, Loni Stark tackles the California coast in a plein air painting challenge featuring renowned artist Bill Davidson. Random passer-byers make for some interesting and unexpected conversation.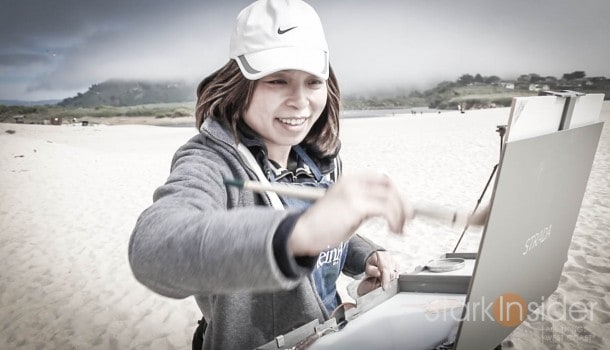 One of the highlights of the Plein Air Convention and Exhibition here in Monterey is the afternoon painting sessions. After all, this is all about plein air. So every day, after the panel discussions and painting demos, all 750 of us head outdoors and bring brush to canvas. In four days, we set up in four different sites: Asilomar State Beach, Carmel-By-The-Sea, Point Lobos State Reserve and the Fisherman's Wharf (right next door to the hotel). To stay the views and vistas have been spectacular would be an understatement.
Though my early "work" in oils had me concentrating mostly on structures (a barn, the Lucie Stern Theatre in Palo Alto, a street scene from Rome), it was time to challenge myself with landscapes. As I'm discovering it might not be as easy as I had originally thought. The primary issue I'm encountering, at least at this point, is related to identifying the focal point. Because landscapes are broad, with so many potential points of interest it's essential to find one. If not, the eye has no where to focus. The painting loses meaning, interest. The first thing I'm learning to do after setting up the easel is to use the "composition finder" to scan the horizon – and look for focal points. I'll admit, I've had a few false starts!
ALSO SEE: Colbie Caillat Live in the Vineyard, Napa (Video)
Fortunately on this afternoon at Asilomar State Beach I was within the company of two fun women, and artist extraordinaire from Atlanta, Bill Davidson. At times, what with all the joking around and good natured ribbing, it felt sort of like a Monterey edition of Three's Company (or maybe that's Four's A Crowd?).
One of the interesting things about plein air is the camaraderie.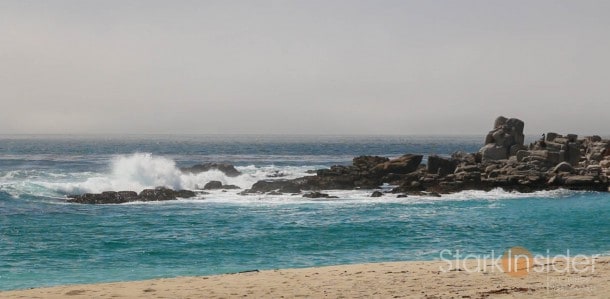 It may seem like an anti-social endeavor, with a painter and her easel, standing alone, dwarfed by the spectacular California coast line. No doubt, there are many times when we paint alone. But, as you'll see in this episode preview of The Artist Diaries, it can be the exact opposite. On this day I setup on a path leading to Asilomar State Beach. A steady stream of colorful locals and talkative tourists alike passed by during the four hour painting session. Conversation would start as expected: How long have you painted? Where are you from? What makes a great painting? Then… it gets decidedly off-beat. Anything goes! For Clinton Stark, my patient, loyal videographer and partner in crime, it often makes for perfect, unscripted subject matter.
MORE STARK INSIDER: The Artist Diaries: 'Among Giants' in Loreto Bay (Video)
Anyways, that's probably more than enough pre-amble. I'm out on the wharf this morning in Monterey, tackling my last plein air challenge. Did I mention I love the perpetual soundtrack the seagulls provide? This is truly a lovely area. Quick aside: Crystal Fish. All you need to know about sushi here. I ate there twice this week, including last night at the bar. Top notch.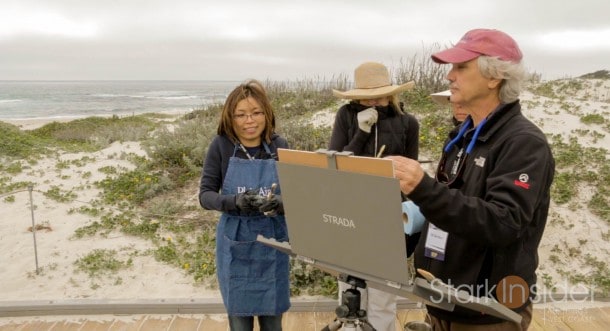 Okay, here's a preview of The Arist Diairies – Monterey. This one was shot on a late, chilly afternoon. Special thanks to "guest star" Bill Davidson for going above and beyond, and helping me to attack the canvas with confidence (something I've struggled to do this week).
WATCH: The Artist Diaries – Asilomar State Beach, Monterey
Artist Diaries – Monterey Plein Air (Preview) from Stark Insider on Vimeo.