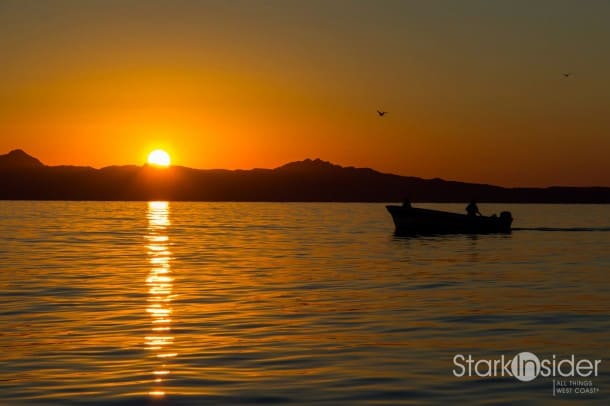 Loreto is such an overwhelmingly beautiful place, that if you go you must bring a camera. Any camera. Use your phone if you must, whatever you do don't miss an opportunity catch a heart-stopping moment. From the towering Sierra de la Giganta mountain range that runs down the spine of the Baja, to the expansive blue Sea of Cortez, and myriad of hand-crafted pieces of art, and clothing, this is a little fishing village that brings new meaning to stunning, not to mention sensory overload.
Essentially, it's the perfect getaway. It is for us, at least. It's the polar opposite of life here in Silicon Valley, and, yet, is easily accessible via LAX, taking only about half a day door-to-door.
Loreto is located in the Southern state of the Baja, known as Baja California Sur (the state to the North is simply Baja California). The two states form Baja proper, a peninsula that extends south of California. If it weren't for political borders, in fact, it would just be one long, narrow (from 30-50 miles wide) piece of land.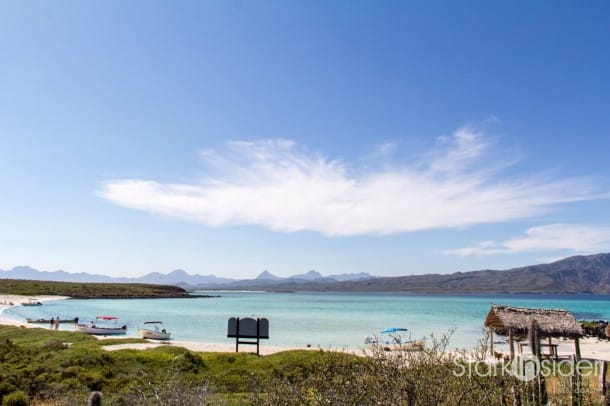 I've been traveling to Loreto for about eight years now. Both Loni Stark and I have written on Stark Insider about our Baja adventures, predominantly good. Just recently, the Associated Press wrote a tight summary of Loreto calling it a "quite seaside gem" – the article was syndicated across various newspapers (thanks John P.). It's a great read for those looking for a quick backgrounder or considering a visit.
Things did get dicey circa 2008. With the onslaught of the global recession and the big real estate crash, the developer of the resort we had bought into–Loreto Bay–went belly up. But an amazing thing happened. Home owners took control of their destiny. Construction eventually resumed again. In 2013, Mexican billionaire Carlos Slim bought the neighboring hotel, golf course, tennis complex, and other assets. That was hugely positive news. Now if you visit Loreto Bay, you'll find a nicely finished Paseo that divides the resort in two–the seaside and mountainside. Landscaping is mostly complete, and gorgeous. Small businesses, some run by locals, other by gringos, are popping up. Meantime the town itself has also seen myriad improvements since I first visited Loreto in 2006: the Malecon had a makeover and now features wide, walkable pathways along the Sea of Cortez (with incredible vistas to spare); roads have been paved (most used to be dirt); Internet coverage is increasingly common (though speeds vary); the town square in front of City Hall was also given a makeover.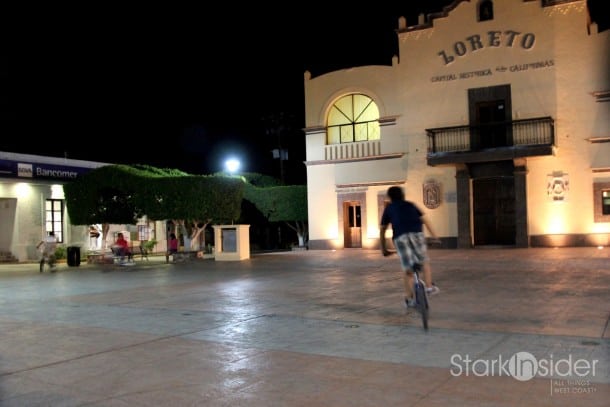 When I began reviewing some of our archived video footage that we've shot over the years in Loreto and Loreto Bay I realized that our published pieces were scattered all over the place–on YouTube, on Vimeo, on Facebook. In trying to figure out what parts of the region we had yet to produce video for I realized that it night be helpful to pull together all of them into one Loreto video gallery. And, so, with that rather random preamble, here's my attempt to pull together all of the Stark Insider video coverage–in reverse chronological order–of Loreto, Loreto Bay, and the Baja California Sur region. Most of these are travelogues, some are music videos, some are just pure silly. Maybe it was the scorching Baja sun?
If you have any questions about Loreto or Loreto Bay feel free to leave them in the comments! I hope to see you in Loreto some day!
VIDEO GALLERY: Loreto, Loreto Bay, and Baja California Sur
1. Our Lady of Loreto – "Morado"
2. El Rey del Taco, City Hall, Our Lady of Loreto, Malecon, Sea of Cortez
3. Painting the Sierra de la Giganta mountain range
4. Sunset Walk in Loreto Bay
5. Farmers Market in Loreto, Baja California Sur
6. Loreto Food and Wine Festival (every March)
7. Baby Hummingbirds (spotted along the walkways of Loreto Bay)
8. Touring Loreto shops (and happy dancing!)
9. Conchita's – Inaugurating our new casa with a blue lizard
10. Loreto Calendar photo contest
11. "The Napa Dance" featuring scenes from Loreto
12. Strolling shops in town
13. Kayaking as birds dive into the Sea of Cortez
14. La Palapa Restaurant
15. La Michioacana Ice Cream Store (best in town!)
16. Touring a Loreto Bay Casa
17. Clams at the Al Mar Clam Shack (just off highway 1, south of Loreto Bay)
18. Spa Flores
19. Giggling Dolphin Restaurant
20. Kayaking in Loreto Bay on the Sea of Cortes