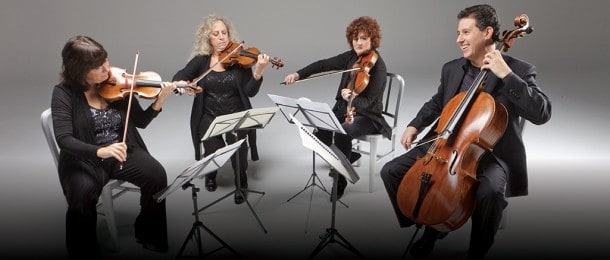 On Sunday, March 9th, the Ives Quartet came together for another one of their popular salons in their Music in Context series. In between movements of the "United" String Quartet No. 3 and the "Mosaic" Quartet No. 4, they chatted about local boy Henry Cowell, whose compositions through the '20's, '30's, and '40's laid the groundwork for Steven Reich, Lou Harrison, John Cage, and others.
Cowell is no stranger to the Ives Quartet, as they performed the United Quartet in October, 2012 and the Mosaic Quartet just last month. Even more on target were their two January, 2014 concerts at San Quentin in January, 2014, organized by pianist Sarah Cahill who was taken with the idea of playing Cowell's music in the place where he was incarcerated. According to Cowell biographer, Joel Sachs, the United Quartet was written in the three weeks that Cowell spent in the San Mateo County Jail before being transferred to San Quentin and the Mosaic slightly earlier, in 1935.
These Salons are a perfect way to learn about any composer. Here, the Ives Quartet  uses these pieces to provide a better sense of Cowell's aesthetic. They are an excellent window into the work of this prolific composer, who Charles Seeger (father of Pete, Mike and Peggy) distinguished from Copland and other contemporaries as being "unconventionally unconventional."
The first movement of the Unity Quartet No. 4 begins with a piercing s 5-beat single note riff by violins (Bettina Mussumeli and Susan Freier), repeated almost to the point of painfulness before being overtaken by viola (Jodi Levitz) and cello (Stephen Harrison).  Building from this single idea,  an almost syncopated pizzicato cello section follows, before returning to the original idea.
The second movement of the United was enhanced by Freier's brief explanation of the use of col legno, a bowing technique that she characterized as having a twiggy sound, and ponticello, or bowing on the violin bridge, which produces a coldly ethereal tone. One of these days, I'd love it if Freier or Mussumeli could expand a bit on bowing techniques.  Music was interspersed with stories of the Cowell mentor Charles Seeger, and Charles Ives, who underwrote many of Cowell's projects.
The group moved on and performed the second movement of the Mosaic Quartet. Levitz characterized viola sections as "absolutely vertiginous" and a "cruel viola joke." Harrison pointed out that this has intimations of early phase music, which would be later credited to Steve Reich, some 30-odd years later. In comparison, the second movement of the United Quartet was less spooky. The tone of this embraced opposites: dreamy, but not relaxed; fluid, but still tense, and propelled forward by curious rhythms. In many ways, this movement was was lingered longest after the concert ended. The unaligned rhythms (cello and viola in 2/4, violins in 3/4)  are found in much of his music. Cowell's biographer Joel Sachs noted that Cowell honed this technique in San Quentin, where he worked a jute machine, making twine. He "adapted the physical movements required by the jute machine as exercises in irregular rhythms. His jerky gesture quickly attracted attention, which is the last thing a prisoner wants… Cowell's wife later speculated, "I don't think it ever occurred to him that he was producing thread of very uneven thickness."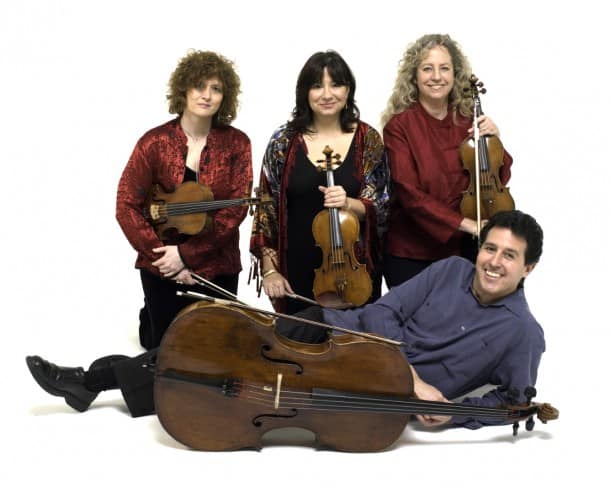 Like many thinking people in the 1930's, Cowell flirted with communism. Here, his communism was as idealistic as political, informing a music that he wanted to be as accessible to a banker as to a bricklayer. Ultimately, however, he was turned off by social realism and Stalin's treatment of Shostakovich.
Other movements of the Mosaic Quartet followed, including the percussive movement of which involved Freier using a fist to strike the body of her violin, and Harrison using a open hand to slap the shoulders of his cello. The group closed with the first movement, which Harrison characterized as hymn-like, in part because it's the only time the group plays the same music simultaneously. If this is hymn-like, it belongs in the church of psychedelia, with its lugubrious cello section and oddly discordant harmonies.
The Mosaic Quartet has been recorded by the Colorado String Quartet. Like much of Cowell's music, the United Quartet does not appear to have been recorded – at least in any medium accessible on Spotify, iTunes or YouTube.
The next of these salons will be on May 18, 2014, when the Ives Quartet will discuss Julian Pollack and popular music becoming classical. Given that there virtually nothing like these salons anywhere on the Peninsula, these events are well worth taking in.