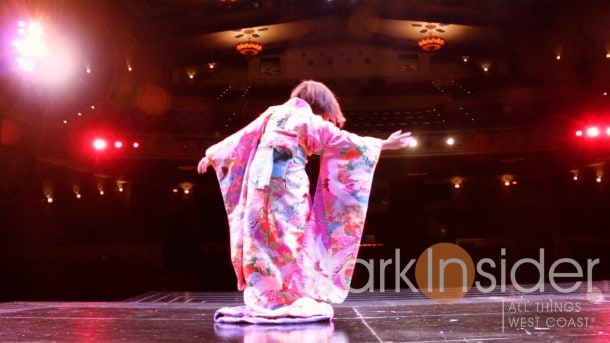 There's a trick to walking properly in a Japanese kimono without falling over. You turn your feet in slightly. And bend at the knees. Mezzo-soprano Nicole Birkland, who stars as Suzuki in Opera San Jose's Madama Butterfly, demonstrated the technique. I watched carefully. Later, though, I couldn't quite the hang of it. So I had to–violating I'm quite certain every cultural norm– quickly improvise. As you'll see in this video of my backstage adventure at the California Theatre the results were … mixed (to put it politely).
Madama Butterfly (Madame Butterfly) is, of course, one of the most famous stories of all time. Puccini didn't hold back one iota. The resulting three act opera has everything worthy of a colorful stage production: love, betrayal, sacrifice. And, those costumes! Alyssa Oania's pieces are smashingly, gloriously beautiful.
Stage director Brad Dalton tells me he's changed up the ending a bit. He refused to give an inch when I asked him to do tell. He would only say it would give the piece a "sharp punctuation point."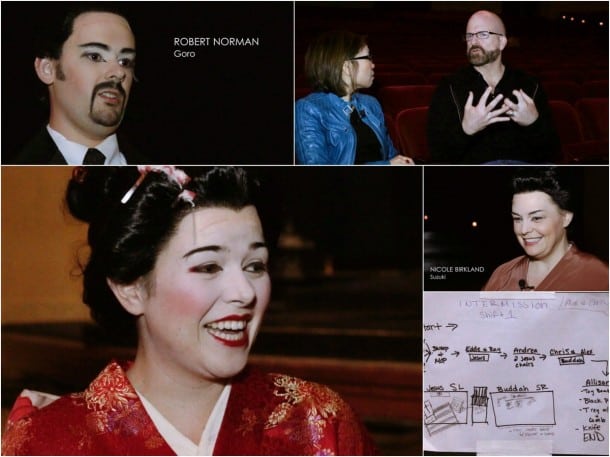 And, since we talk about tech from time to time on Stark Insider, I had to ask Brad if he was still playing his favorite iPhone game. Last time we spoke, he was in town to direct the lavish Anna Karinena. He spoke enthusiastically about the show with me. And also about that little game known as Angry Birds. Watch to find out what's on his iPhone these days, and what he does between demanding opera schedules to relax.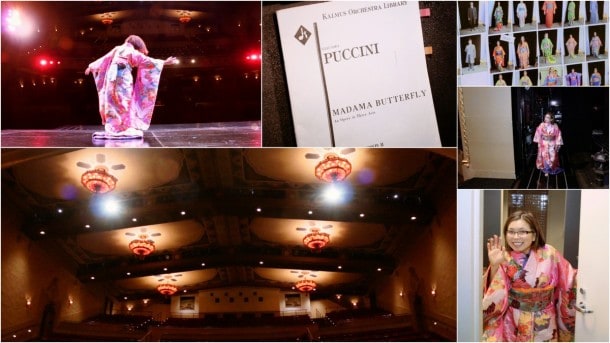 There are eight performances of Madama Butterfly at the California in downtown San Jose, with opening night on February 15th. Take a look at this Stark Insider TV episode for a glimpse of what to expect, and also a backstage tour. And, if you do by chance find herself wrapped in a lovely kimono, you'll want to pay close attention how to walk without toppling over (tip: don't do what I do!).
Butterfly! Butterfly!
STARK INSIDER TV: Backstage at Madama Butterfly – Costumes, Betrayals, Geishas
A very special thanks to the cast and crew of Opera San Jose for being so generous with their time to speak with us. And for giving us time on stage in that beautiful kimono with full lighting. Thank you so much.