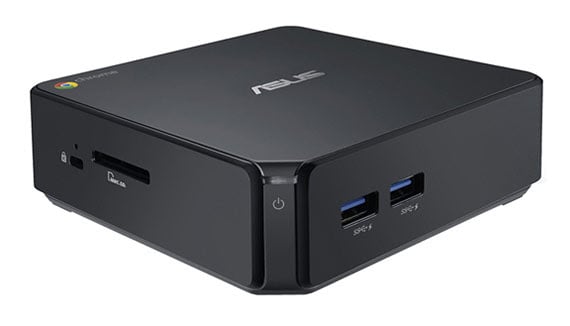 Asus today announced the Chromebox. As you might guess from the name, it's a small, tidy package (4.88 x 4.88 x 1.65") housing an Intel processor (a fourth generation Celeron, i3 or i7), and loaded up with the Google Chrome operating system on a 16GB SSD. Starting at $179, according to Asus the Chromebox will be hitting stores in March.
All the requisite ports are here including a SD card reader, 4 USB 3.0 ports, and HDMI and DisplayPort outputs. The wireless chip supports 802.11 a/b/g/n and the Chromebox also supports Bluetooth 4.0. Spec-wise, all-in-all a pretty impressive package for a sub-$200 device.
Asus also generously includes 100GB of space on Google Drive for two years. That alone is worth about $120 (Google charges $4.99 per month for 100GB). Not too shabby.
Like the Chrome-based laptops, I'd expect this low-priced, compact PC to be perfect for the education market. It would also do well for a home PC used for simple tasks such as checking email, social networking and web browsing. Decked out with the optional i7 processor and the Chromebox becomes a bit of a beast in a box – that is, until you realize you won't be able to run things like video editing software such as Adobe Premiere Pro or other software that requires the full-blown Windows- or Mac-based OS. Then again, that is not the point. It will be perfect for running apps found on the Chroms Web Store, and stream video with ease from services such as YouTube, Netflix, and Hulu.
The overall packaging reminds me of the Intel NUC (Next Unit of Computing), a compact PC designed for a variety of applications where a large, expandable case (increasing the animal of yesteryear) is not needed. I've discovered, as so many others have apparently across forums, that the NUC is the perfect form factor for building a home theater PC. Mine runs XBMC and streams movies from a Synology networked attached drive. Great stuff! You won't be able to use the Chromebox for that obviously, but for a low cost PC with some impressive internals, it should find its way into plenty of classrooms and offices – environments where budgets and space constraints are the order of the day.