The most amazing thing happened. Last night, we were strolling downtown San Jose. Quite enjoying the rain actually – oddly, while most of the country is suffering from ice storms and severe winter weather, California is enduring a drought (I heard this morning on NPR possibly the worst in 500 years, dating back to when Sir Francis Drake was returning home to England).
We were enjoying ourselves immensely!
The situation was dire!
So there we were, taking in the beautiful lights, shimmering off store windows and puddles, and such. Then, by chance, as we walked by the stage door, at the rear of the (gorgeous) California Theatre, someone approached my better half, Loni Stark. It was someone from Opera San Jose.
The situation was dire!
Curtain was in less than 45 minutes. Madame Butterfly had fainted. Could Loni step in as the understudy for this performance? It was last minute, yes, but fortunately Loni sort of knew the lines and songs. Never one to shy away from an opportunity to hit the stage, she agreed.
Even better luck: I happened to have my Camera EOS gear with me, some lavaliers and lighting. Plus, enough batteries and memory cards to shoot at least an hour of backstage footage and interviews.
What luck!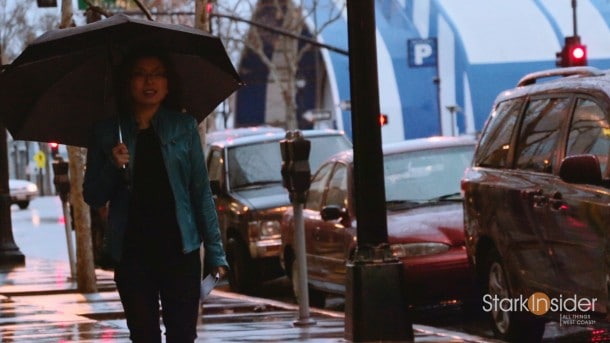 No question, I thought, I must film this backstage adventure – for posterity at least, and, well, also in hopes that others too would find interest in the Opera San Jose performance of Puccini's Madama Butterfly.
I always tell people, carry your camera.
Anything could happen!
You never know when you might walk past a stage door, and be summoned on stage for a performance in front of a packed house. Case in point: Here's what went down last night in San Jose at the California…
Stay tuned for more. Did I mention? We're twice as fun… but only half as smart.